The use of multiple social media platforms is strongly associated with depression and anxiety.
Ceaseless data and easy access to information is what has us wired to our mobile phones all day long.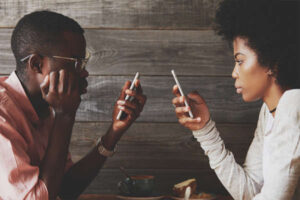 As we become endlessly attached to our smart devices, we complicate our labor, the ability to practice mindfulness, minimize distractions and productivity.
Even though smartphone and device penetration is peaking across the world, people are trying to cut their relation to technology.
A Statista survey determined smartphone owners in the U.S. check their phone 47 times a day; 85% of them do it while talking to friends and family. 80% of users do so within an hour of waking up or going to sleep.
However, a recent study published by Deloitte showed 47% of smartphone users in the U.S. have made efforts to stop using their device so much by turning it off or keeping the mobile out of sight.
Here are some reasons why you should start doing so as well:
A Kent State University study showed that higher cellphone usage correlates to higher anxiety levels. If your phone is distracting you from educational or professional duties, leave it at home for a day or hide it away for a period of time. The constant ringing, vibrating alerts and reminders can put a cellphone user on edge.
It's better for your health
"Nomophobia" is being proposed as the name for the fear of being without your cellphone.
According to a study of 1,000 people in the UK, 66% of the population fears losing or being without their phones at any given time.
Some of the symptoms include anxiety if you have lost or cannot use your cellphone, obsessively checking to make sure you have it with you and constantly worrying about losing it. Interestingly, the study found that women suffer from this more than men.
It's actually depressing you
In a Forbes study, 61% of respondents reported feeling jealous, depressed or annoyed after checking their devices updated or social media.
While time spent on social media is considered a risk factor for mental health problems, the more important factors may be related to which platforms are used and the user's online experiences.
A study published online in Computers in Human Behavior in December of 2016, found that the use of multiple social media platforms is more strongly associated with depression and anxiety among young adults than time spent online.
These findings come from a national survey of 1,787 young adults that asked about their use of 11 popular social media platforms: Facebook, YouTube, Twitter, Google Plus, Instagram, Snapchat, Reddit, Tumblr, Pinterest, Vine and LinkedIn.
You are not just damaging yourself!
You're damaging your cellphone
When was the last time you turned off your phone or let go of your devices? You might not remember. But if you constantly keep your phone on, you can damage the phone battery life. If you are having trouble with some functions of your phone, try to turn it off at least once a week.
You're forgetting your real-life relationships
According to a Forbes survey, 3 out of 5 people admit they spend more time on their computer than with their significant others.
Do you really need to be on your phone while with them, too? If you haven't turned off your phone on a date since the first one, go electronics-free for a night. It's bad enough to interrupt what you are doing with those you love to do something that will undoubtedly leave you more stressed.
Start disconnecting today
Turning off your phone weans you from your dependence on the need of constant communication. If you've read this post without turning off your phone, you just might be addicted to it.
Signs of cellphone addiction include considering your phone part of you, an inability to wait to check your phone, experiencing distress when you don't receive alerts and more.
Take some time to sit back and relax. You need to recharge your mind and body.