Brian Householder, CEO of Hitachi-Vantara, explains why the company looks for innovative solutions that benefit both business and society.
Hitachi Data Systems (HDS) the data system provider subsidiary of Hitachi Group that offers solutions for commercial and industrial companies, became Hitachi-Vantara last year.
By unifying the operations of HDS, Hitachi Insight Group, and Pentaho into an integrated business it is currently capitalizing on its social innovation capacity in operational technologies (OT) and information technologies (IT) to provide cutting-edge data solutions.
After 14 years occupying different roles throughout the company, former president and chief operating officer of Hitachi-Vantara, Brian Householder, was appointed CEO last April. His previous jobs include working in Storage Networks, The Parthenon Group, and Procter & Gamble. From 2003, he also helped in creating many of the key initiatives of HDS.
"We decided to create this new organization a little over 12 months ago and announced it in September (…) "We got the whole thing aligned and created a new brand very quickly. Something that would usually take about one or two years, we did in six months."
Making the most of data
Hitachi-Vantara's market focus is helping customers improve their business outcomes with innovative tech solutions that Householder believes will ultimately not only change the way companies operate, but also the way the world works. "Having that greater good as part of our mission is really a lot of what drives us," he insisted.
According to Householder, the company's mission is that its customers begin to "own" their data and learn how to maximize their analytical capabilities with a view to improving their business models. He views Hitachi-Vantara's Internet of Things (IoT) solutions as giving customers the keys to unlocking the value of what's happening within their enterprise.
"We are bringing the operational technologies, as well as the IT technologies of Hitachi, out into the marketplace and really starting to address a lot of the challenges you see present in the Fourth Industrial Revolution," Householder explained.
"If you look at Hitachi's heritage, it's been in the operational technology business for over 100 years. We've been in the IT business for close to 60 years, there's really no other company on the planet that has the IT and OT expertise that we do. This combination is really what IoT is all about."
According to Householder, the first way to do this is for companies to optimize their data environment by modernizing the infrastructure they already have of instead of replacing it completely. The second approach is driving top-line growth for both partners by showing customers how to utilize insights and data correlation, thus enabling customers to leverage data as a core strategic asset.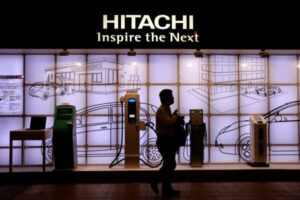 Yet the road ahead has only just begun. Householder pointed to a recent study by McKinley's which concluded that less than 40% of companies have actually digitized their environments, and for the CEO, the two most strategic assets a company has are firstly its people and secondly its data. Householder insisted that companies currently analyze less than ve percent of their data, which can pose a risk to their business model.
Critical partnerships 
When it comes to partnerships, Householder believes that Hitachi-Vantara's advantage lies less in supply chains and more in the concept of an effective and dynamic ecosystem. He says the company invests a lot in such partnerships and have an award-winning partner program through which they look to build strategic alliances to create and co-create solutions by bringing the best of their partners' technologies and intellectual properties.
"Every year we realign, but our most strategic partnerships are going to be less than twenty, and it's going to be focused on the ones we have the most value to provide to, as well as the most value we can combine and provide to our customers," he explained. "We're also very much focused on making sure we're aligned on the entire go-to-market process, making sure we're really set up for success in working with those key partners."
For Householder, the biggest challenge is how quickly the market is moving, so it all comes down to speed of execution and making sure you have the right people and talent aboard to make that happen. "What we're really focused on in the next 12-24 months is having the right leaders in the right roles to take us on this future journey and how it will drive these new business models", the CEO concluded.