Exelon (Nasdaq: EXC) was born in late 2000 with the merger of PECO Energy Company and Unicom Corporation. It's now the most significant energy provider in the U.S. with 18,000 employees serving more than 10 million customers in five states and the District of Columbia through six energy delivery companies: Atlantic City Electric, Baltimore Gas and Electric (BGE), ComEd, Delmarva Power, PECO, and Pepco. Exelon COO Calvin Butler gave CEO North America this exclusive interview.
Calvin Butler moved from BGE – where he was CEO beginning in 2014 – to lead all of Exelon's six energy delivery companies in 2019. A lawyer and ISO-certified auditor by education, he now has more than 28 years of leadership experience in the utilities industry as well as in regulatory, legislative, and public affairs. As of December 30, 2022, Exelon's current CEO, Chris Crane, will retire from his position, and the Exelon Board has named Butler as the incoming president and CEO and member of the Board of Directors. "[Exelon is] uniquely positioned to lead the nation and our industry to a clean energy future that is safe, reliable, affordable, and equitable for all," Butler says. "I appreciate the Board's confidence in me and will do everything I can to serve our customers and communities, keep our employees safe and move the energy industry forward."
Butler's appointment coincides with a historic transitional time in the energy industry and a recent split that moved Exelon's generating plants and trading business into a separate, independent corporation, Constellation Energy Corporation (Nasdaq: CEG). Butler favored that split because as a pure transmission and distribution company, Exelon is now able to leverage the power of its six energy delivery companies to focus on customers, communities, and best-in-class operations.
"Exelon has been running its operations on a world-class level and dividing the company has helped the entire organization, from corporate services to utility operations, to have a more integral and lasting positive impact on the communities they serve," he explains.
According to Butler, that split, driven by several factors, was a pivotal contribution to the company's ongoing financial success as well. "We looked at the value that that split created for our shareholders. When we announced that split in February of 2021, we were valued as a combined entity at roughly 40 billion dollars. A year later, when it was solidified in February of 2022, Exelon was valued, based on stock price, at about $57 billion," he says. "It just goes to show you it was the right thing to do to unlock that value of both companies."
Between 2022 and 2025, Exelon plans to have invested 29 billion dollars in its infrastructure. The company is growing its rate base at 8 percent annually through well-informed investments in technology and systems to aid reliability and resiliency. The goal is to keep prices down, increase customer satisfaction, and ensure physical and cyber security. "We're committed to 6 to 8 percent earnings growth in our guidance period. So that's what we're doing, we're growing," he says.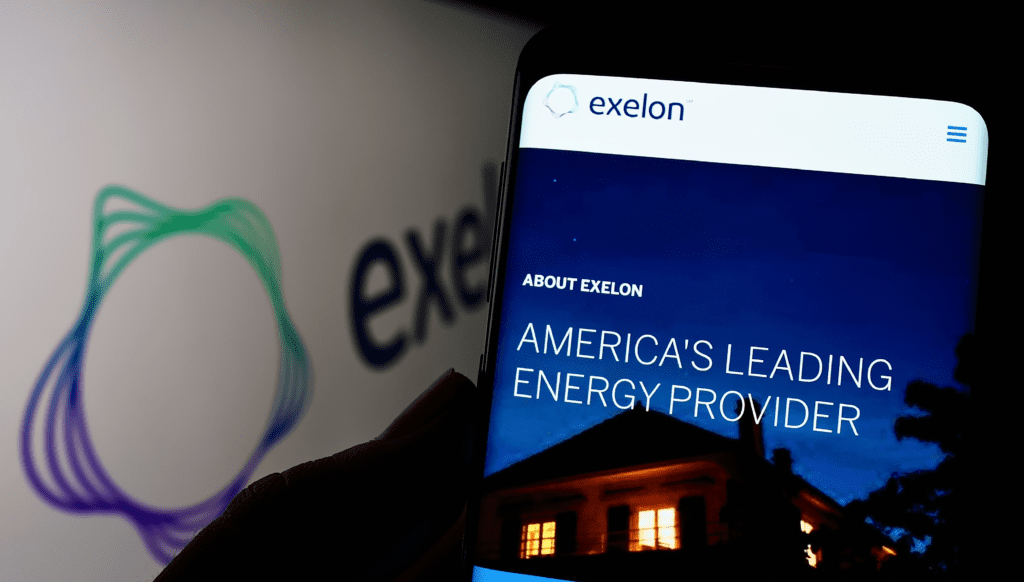 In addition to creating a rock-solid financial foundation for Exelon, Butler says that the split from power generation helped bolster the company's role as an equitable community partner. "We can now sit at the table with all our stakeholders and say, 'We will give you the facts about your energy delivery options as a customer, a regulator, a legislator to help you decide.' We will make the vision for the future happen in partnership with you because it's our duty to deliver the gas and electricity."
"The thing about Exelon's perspective is that we represent urban areas that are very diverse, as well as rural areas and coastal areas," Butler says. "Our diverse locations allow us to understand best practices across the industry and work with regulators and legislators."
Though other power companies serve 10 million customers, most serve only one jurisdiction. Exelon is unique because it powers some of the most diverse jurisdictions in the U.S. from Atlantic City, New Jersey, to Philadelphia, Pennsylvania, to Wilmington, Delaware, to Baltimore, Maryland and the District of Columbia, as well as Chicago, Illinois, where its headquarters are located.
Butler is proud to say that Exelon's relationships and perception within the communities it serves are substantial and integrated. "We're viewed as an economic partner, a job and workforce development program creator, and a key partner to small and medium-sized businesses. We serve our communities knowing all communities face challenges."
Clear and confident of his values, aspirations, and duties, Butler is passionate about Exelon's sustainable road map, Path to Clean. The company's sophisticated and forward-thinking initiatives match the highest ideals discussed in November's COP27 United Nations Climate Change Conference, in which representatives from 190 countries convened to discuss possible energy action plans to protect our planet for future generations.
Exelon is determined to go above and beyond to help decarbonize the energy sector. "We serve some of the most diverse communities across this country. We know, based on the data, that climate change and dirty air impacts Black and brown communities more than anyone else. When we talk about the urban areas, we as a company have a responsibility to step up to the plate and be not just part of the discussion, but part of the solution."
One ambitious component of Exelon's Path to Clean is a move away from fossil-fueled vehicles. "We're going to electrify our transportation fleet by 30% by 2025 and 50% by 2030. Why is that important? We know that transportation electrification is one of the most significant ways you can impact cleaning the air sooner than later, more than anything else."
He explains that this transition's impact will be equivalent to the carbon removed by one million trees planted and grown for 10 years. Exelon also plans to reduce its business-driven emissions to net zero by 2050. To stay on course and expedite technological innovation, Exelon is partnering with various organizations, including Argonne National Laboratory and the Electric Power Research Institute (EPRI).
"We're putting energy into our equity efforts because you can't leave communities behind in this transition," Butler says, explaining that bus emissions have a massive impact in low-income, densely populated areas. To mitigate that problem, Exelon is investing in bus electrification. "Exelon is leaning in," Butler says. "We put our own plan in place, and so now when we sit at the table with regulators, legislators, and customers in general, they know that we're as committed to achieving that goal as they are." Butler clarifies this remark with the caveat that there are no "one size fits all" solutions when it comes to utilities. "It needs to be a portfolio approach," he says, explaining that the affordability and reliability of power sources and the unique needs of a community all have to be taken into the equation.
A firm believer that strategic partnerships help accomplish goals much more quickly, Butler credits the current political administration for its willingness to lead the effort by investing money and technology in clean, sustainable energy. He also cites the advantages Exelon's size and scope provide regarding partnering for success.
"Our scale allows us to have different relationships with our suppliers. The conversations those partnerships foster allow us to work ahead of time to understand what's happening in the marketplace and determine how we can get ahead of it."
Butler says that one of the most effective strategies Exelon has implemented is segmenting its suppliers. "We have suppliers for our transformers, our wires, our IT, our construction . . . . because the relationship and conversation are different with each."
He adds that Exelon's scale allows the company to create a win/win situation with smaller partners. "The smaller partners also make us better. Those companies tend to be driving innovation because they need to." One of his favorite win/win strategies has to do with the supply chain. "Some of our larger vendors have partnered with some of our smaller vendors to bring them up to speed, and they have become very robust within our system." Butler says that growing smaller suppliers into large ones expands Exelon's universe of suppliers in a way that benefits all. "I'm a true believer that one plus one equals three in this equation. I tell them all the time, 'Don't feel like you're giving up a piece of the pie. Just think of it as your pie is growing, and you're getting a bigger piece.'"
Butler and his team of committed and driven CEOs are constantly working toward measurable goals in the many facets of operational excellence. A believer in teamwork and sharing best practices across the organization on every level, his standards are high and clear.
"We have business groups who talk about what we're doing well and what we could do better. We look at best practices from other utilities and see what we can gain. We then institutionalize those best practices within the Exelon family."
Butler wants every energy company under Exelon to operate in the top decile of all utilities in the country in safety and the top quartile in customer satisfaction. "From a pure operational metric, that's how I gauge and evaluate the CEO and his leadership team, so bar none, that is what they strive for each and every day. That is what we've achieved."