<img src="https://ceo-na.com/wp-content/uploads/2018/02/00-1.jpg"/>
Here are some predictions for apps in 2018, according to App Annie.
2018 will become the 10th year in which the Apple App Store and the Android Market came into service.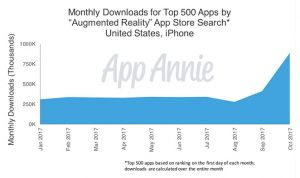 Across this decade, apps have conquered the market and shaped the future of digitalization, as mature market users spend over 2 hours a day submerged in them –which equals to one month pout of every year, according to the App Annie index–.
This type of numbers has shaped the app economy we know today, which by the end of October 2017, blew past the 100-billion-dollar mark, as the iOS App Store and Google Play had more than 2 million and more than 3.5 million services available, respectively, App Annie reported.
Today, apps are not only developed by the second, but they have reached a level of maturation where they play a key role in industries such as banking, retail, travel and entertainment, facilitating the way people interact with their products and locations.
By the end of this year, the site studied, more than 40 countries around the world generate over 100-million-dollars each in consumer spend for iOS App Store and Google Play combined.
Expectations for the app market: What´s to come?
This trend of continuous growth will follow in 2018, as an App Market Maturity Level study predicts the worldwide consumer spend across all mobile app stores will grow approximately 30% year over year to exceed $110 billion in 2018.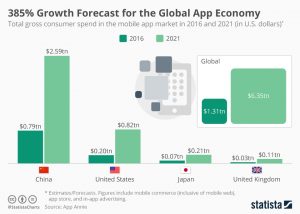 It is also expected to continue seeing games as the majority of overall spend, however, growth rate among downloads outside games will peak and outpace gaming downloads.
Augmented Reality (AR) is also making itself way across the industry, as Facebook, Google and Apple are trying this new software to accelerate AR production, a new window of opportunity for the industry.
Leading and emerging markets
China, says App Annie, will figure as the key market for app consumer spend in 2018, while markets like Brazil and India will increase as smartphone penetration is also on the rise.
Habits, relationships and partnerships among shopping customs are set to change soon, as mobile will be a core part of the shopping experience regardless of channel.
It will be interesting to see how developers surpass the boundaries of what's currently possible and deliver on these needs over the app economy's second decade, so, bring it on 2018!