Mattel is cutting more than 2,200 jobs as finances are not looking good after the demise of Toys R Us.
Mattel is in trouble, after facing its fourth strait revenue fall this past quarter, 2,200 jobs are at risk of being slashed by the company. The company had roughly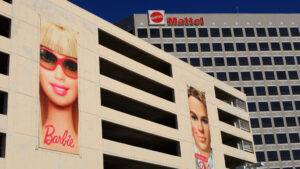 28,000 employees as of Dec. 31, according to a regulatory filing.
This is part of a $650-million cost-cutting plan announced last year by Chief Executive Ynon Kreiz.
The toymaker announced July 25th it suffered a drastic 9% slump in its share price to $14.83 in after-hours trading after closing down 19 cents, or 1.2%, to $16.29 in regular trading Wednesday. this, summed to facing in 2017 its lowest trading level since the summer of 2015.
Continuing on its efforts to save costs, the company announced the selling of factories in Mexico to move the company away from doing its own manufacturing, focusing more on the development of intellectual property.
Toy industry analyst Richard Gottlieb has stated that while the company reaches out to cutting factories as its first step towards restructuring, it is not sure that this decision will strike a chord with consumers.
Gottlieb continues explaining that Mattel moves toward movies and games, in a need to ensure it broadens its audience outside of just children, like Hasbro has done with its Transformers movies.
Efforts made, but not the wanted result
Mattel recently launched its campaign "360-degree systems of play" with the intention to improve earnings and sales growth, nevertheless, ideas have fallen into a delay and are failing ti revolutionize the industry that has been dominated for a while by Hasbro, who saw its stock grow 40% this year and trading at its all-time high just in 2017.
The main focus Mattel has established for the future is the investment in digital toys, live content and interactive gadgets for the five core brands that reign the brand which include Hot Wheels, Fisher-Price, Barbie and American Girl. However, despite anxious surprise for the future, profits seem to remain flat for the remaining year while sales only predict a push-up of 3 percent.
Another concern for Mattel would be that Hasbro has also announced improvements in the digital platform that increased notably during the first quarter of the year.
A bright mark for the company has been the steady revenue rise of Hot Wheels and Barbie, that still charm kids around the world as sales increased 12% for the doll line, a third straight gain, and a 21% advance for Hot Wheels.
An industry on the downfall, but with big competitors
Despite that some toymakers are doing better than others, the industry is being pressured by online developers and big-box retailers such as Amazon and Walmart.
Hasbro beat second-quarter revenue estimates last week even as it too saw revenue fall, at least partly because of the Toys R Us liquidation, according to The Los Angeles Times.
Hasbro has established alliance with the Disney franchise on a very important level, as its been given the responsibility to distribute Star Wars, Harry Potter, Disney and Disney Princesses, considering like Star Wars: Rogue-One and Disney´s Beauty & The Beast live-action movie.
Hasbro´s CEO, Brian Goldner, also surprised as he confirmed their market superiority with the inclusion of superheroes toys such as "Guardians of the Galaxy: Vol. 2", who received a great demand from kids who rushed to local stores to acquire the movie collection.