Are losses being taken seriously?
Chesapeake Energy, Netflix, Nextera Energy, Tesla and Uber have collectively lost US$100 billion in the past decade, but nobody takes it seriously.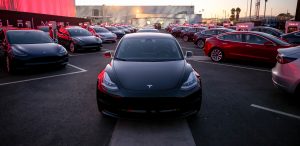 Tesla, a maker of electric cars, has so far this year missed its production targets and lost US$1.8 billion of free cash flow. No matter. As its founder Elon Musk muses aloud about driverless cars and space travel, its shares rise like a rocket—by 66% since the start of January.
The company reportedly fired hundreds of workers recently and is facing a complaint from the United Auto Workers.
Losses have made the company lose its top-spot in the automaker market.
A group full of losses
Amazon lost US$4 billion in 2012-14 while building an empire that now makes money. Nonetheless, it is rare for big companies to sustain heavy losses just to expand fast.
For example, Steve Jobs and Apple lost just US$874 million in its worst year:, 1993.
Firms that burn piles of cash are often gloridied in an era when growth is sluggish and few companies reinvest all their profits.
But losing a billion dollars or more a year is a wildly risky a air and the odds are that such businesses will fall at. Surprising? Probably not.