There is not much of a privacy risk associated to current technology: patients.
People are leading healthier, more informed lives thanks to wearable tech.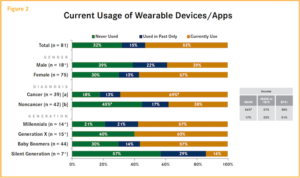 These devices are capable of becoming a crucial part of your day-to-day activities as they can help you track everything from your health and fitness to location and social media accounts.
As information becomes more immediate, wearable tech has come to fit perfectly among the highly-connected lifestyles we have today. Just in 2016, this market saw a worldwide growth of 27.3%, 2017 showed a 10.3% peak, according to IDC, however, adoption is still on the rise among millennials and senior adults.
Although these gadgets have been rising and brands like Fitbit, Xiaomi, Garmin and Huawei lead the industry, costs are still a worrying matter for people, as a Healthcare Analytics News report states.
Findings reveal that twice as many patients are concerned with costs than they are with privacy, as there is a lack of appreciation of how risky privacy issues can be among ready-to-go gadgets and technology.
The study found that 60% of respondents who are familiar with wearables are currently sharing the data with their healthcare providers, and over the next five years, this percentage is expected to peak as much as 26%.
Familiarity among wearable tech and apps
The recent market research study conducted to 100 patients who have at least 1 chronic condition, 4 in 5 patients said to be familiar with wearable technology.
Cancer patients seem to be significantly more familiar with the technology than patients without cancer.
According to Lee W. Jones, PhD, director of the Exercise-Oncology Research Program at Memorial Sloan Kettering Cancer Center in New York, New York, wearable tech has the potential to help physicians facilitate continued improvements in lifestyle changes or for those patients who are not doing very much, the information could help initiate change.