No other company can equal Chart in the liquid gas supply chain. CEO Jill Evanko explains how the Georgia based company found the pieces needed to get there.
—
Chart Industries' success story is as interesting as its growth opportunities.
Perhaps few thought that a company rooted in a history going back to 1859 would one day become a one-of-a-kind global manufacturer of highly engineered equipment servicing multiple applications in the clean energy and industrial gas markets.
Today, the Georgia based firm offers a full solution in cryogenics and its capable of designing and manufacturing highly engineered cryogenic equipment used in every phase of the liquid gas supply chain. "No other company can do that," according to Chart Industries CEO Jillian Evanko.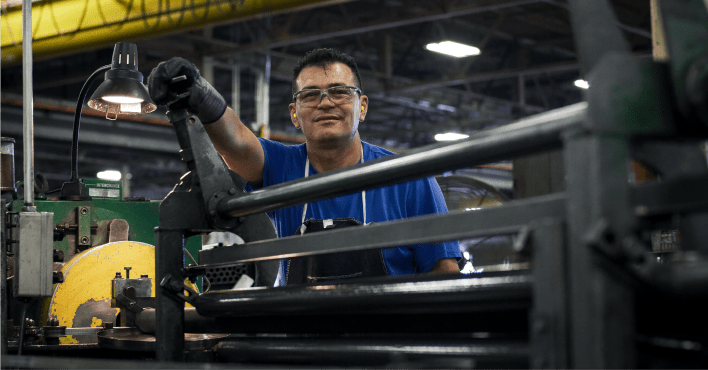 A changing energy market is driving new opportunities for those companies who have the experience or the unique solutions available for their customers. The good news for Chart is they have both.
"What we are seeing right now is a confluence of very high global demand for the products and solutions that we offer, which is related not just to the concept of sustainability, but also very specifically to energy security, access, resilience and independence," Jill said CEO North America.
"That combination is coming together with the activities that we have put in play for the sourcing side and the operational side and the operational improvements. Also, localization is giving us access to projects that are happening around the world as well as other interlinking projects."
An example of those are power and water projects that are coming next, from both public and private sectors. "We are very well positioned to take advantage of those projects as they move forward," Jill said.
University of Notre Dame MBA, Jill joined Chart Industries over five years ago as CFO and was appointed CEO mid-2018. When she took the chair, she knew how crucial it was to take advantage of the unique portfolio that had been built up over the years.
"We had all the cryogenic engineering technology and all the equipment expertise" she said. The final goal, however, was reaching new markets further than the traditional petrochemical and natural gas markets.
Giving a full cryogenic solution to the same customers
Jill remembers when Chart was able to add the final pieces to the puzzle, so they could become the only player in the industry with a one-stop shop (technology and equipment) for its customers.
"We pulled together all of our sales team from around the world and put them working together as one team reporting to our Chief Commercial Officer," Jill recalls. "This gave us the opportunity to sell not just a component, not just a heat exchanger or a tank, but rather a full solution to the same customer."
The next step was exploiting the market opportunity for the existing process technologies and equipment.
According to Jill, Chart has taken advantage of the tailwind around sustainability focused on ESG. The company has the benefit of having a portfolio that serves all of these areas that are growing at different stages.
Chart's carbon reduction efforts and how the company helps its customers accomplish their ESG targets and safety records, remain a priority for the company.
The CEO feels optimistic when assuring how well Chart is positioned commercially to face the years to come. "I would have a completely different answer a year ago because there were still some missing pieces that we wanted to bring in inorganically and also develop organically."
The purchasing of Cryo Technologies would be one example of that. "Also, we purchased L.A. Turbine last year, which adds a specialty turbo expander, hard to get in terms of the supply chain and availability, but also a very unique part of a clean liquefaction process. Our organic development of the liquid onboard hydrogen tank for Class 8 heavy duty trucks and above is another example."
Besides L.A Turbine and Cryo Technologies, Chart also purchased Earthly Labs and AdEdge in 2021, consolidating its operations in key areas. This move also cemented a positive streak of results.
The first quarter of the year was the highest order quarter in Chart Industries history with $636.8 million of new orders booked, including $228.4 million related to Big LNG export terminals. This was the second consecutive record order quarter.
Strong commercial position in cryogenic
Chart has a manufacturing footprint in China and India, multiple locations across Europe and North America and also operations in Australia and Latin America. "Not only can we serve global customers with the portfolio that we have developed, but also do it in the best location for their projects."
The company's plans for the medium to long term include additional new product development and further optimization of their liquefaction processes.
"For example, if you can get 5 to 10% more LNG out of the same construction and operational site, then you are making a lot more money for your customer and you are providing more gas," Jill said. "Same around the optimization of operational efficiencies. For example… How small can you make a heat exchanger and can it fit it on a floating platform versus an onshore location and perform optimally?."
Regarding operational excellence, the company has a culture called One Chart Flex Manufacturing, which gives flexibility to manufacture pieces and parts of different solutions in a variety of locations. Training programs focused on automation using augmented reality are also making a difference.
"One of the more recent operational improvement activities that we have is utilizing our existing 3D printing capability in our Tulsa, Oklahoma facility, to standardize 3D printing for jigs and fixtures, which implies an immediate cost reduction."
Jill says that strictly speaking Chart doesn't have direct competitors, at least not one that can provide the same range of services. "There are no competitors at the total Chart level. That is a very unique type of company that we have, meaning that if you want to start looking at who competes with us, you have to go into either a product category or specific geography."
For example, there are only four other global competitors on brazed aluminum heat exchangers. "I would say that if there were one thing that differentiates us, it's the full solution offering with the engineering that's capable from the first step all the way through to the installation point of any project that hits a variety of different end markets."
For her, the next goal is to put Chart in a position where the company can operate years ahead of any new development.
"We try to stay multiple years ahead of any new developments or innovations, as well as a set of both global and regional certifications to operate the variety of different technologies which can be considered high risk in terms of handling the molecules," Jill said.
Operations Benefits
Just like other companies relying heavily on strategic supply partners, Chart has a lengthy list. Approaching this group of companies is coordinated by the vice president of global sourcing . Jill explains that the strategic approach to sourcing includes relationships and collaborations with global supply as well as high impact sourcing groups, that are essentially category buyers by input types and commodity types.
According to her, Chart´s 25 key partners are adding up because the company that she leads believes in strategic supply partnerships. "We also believe in ensuring that we have a second, or multiple sources of supply on all critical components."