Seniors in the U.S. are not getting along with technology, and that's resulting in rising sexually transmitted diseases among the population.
Seniors in the U.S. are not getting along with technology, and that's becoming an important problem for their health and productivity, as the senior population and technology trends grow at possibly the same rate, but apart, resulting in a notable gap in technology adoption among senior U.S. adults, bringing harsh consequences like seeing STDs (sexual transmitted diseases) propel among senior citizenship.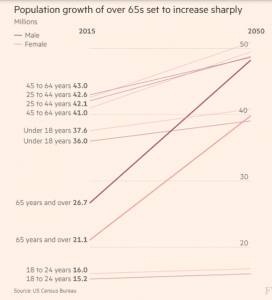 According to a 2018 report from the Center for Disease Control and Prevention (CDC), there were nearly 2.3 million cases of chlamydia, gonorrhea and syphilis reported cases in the United States during 2017, the highest number ever recorded for these diseases, and patients over the age of 60 accounted for the biggest increase of in-office treatments for sexually transmitted infections, meaning that the steep rise of STDs among seniors cannot go unseen.
Just between 2007 and 2011, the Huffington Post reported that chlamydia infections among Americans 65 and over increased by 31%, and syphilis by 52 %, from 2014 to 2017, diagnosis rates for herpes simplex, gonorrhea, syphilis, chlamydia, hepatitis B, and trichomoniasis rose 23% in patients over the age of 60. HIV data was not available. Nevertheless, the numbers have continued to peak.
In 2017, a total of 1,708,569 cases of Chlamydia infection were reported to the CDC, making it the most common notifiable condition in the United States. This case count corresponds to a rate of 528.8 cases per 100,000 population, an increase of 6.9% compared with the rate in 2016. Gonorrhea was reported as the second most common notifiable condition, as a total of 555,608 cases of gonorrhea were reported in the country during 2017.
Despite some seniors were already married when sex education gained prominence and therefore missed the "safe sex" talks, they are opening up to new ways and methods like on-line dating, therefor the same basic "safe sex" education as young people (learning, recognizing the signs, the importance-and proper use of-condoms, etc.) need to be available to them.
Beyond the impact on an individual's health, STDs are also an economic drain on the U.S. healthcare system, costing billions annually. To complicate the matter, STD public health programs are increasingly facing challenges and barriers in achieving their mission.
**(Age group | Total Cases | Male | Female | Unknown Sex) 
Technology to the rescue
Having seen these factors, companies and startups such as PornHub, Uber and Hometeam are ideing solutions to solve this information gap, for example, the internet's top porn site just launched a program where folks over 65 can learn about STD's, sexual behavior and protection methods to avoid a larger span of adults contracting a disease, remembering that as you get older, these type of diseases can be deadlier for them.
As for Uber, the cab-ride company teamed up with Common Courtesy Inc. in May of 2016 to create a compact and useful model that could benefit the aging citizens and ease the way they learn how to use the app and its different benefits, helping older people move easier across their city and optimizing the way they use public transportation, surpassing a series of difficulties and obstacles that come with age like blindness and difficulty to walk across busy sidewalks and rough streets.
When it comes to care at home, a New York start-up like Hometeam studied the diverse characteristics of health-care at home and found out that it was getting harder and harder for adults to contact these type of services regarding nursing at home in the "Big Apple", understanding that if their kids, a generation with much more digital understanding, did not help out, seeking for the adequate attention would be much more challenging in an industry worth over 40 billion dollars, as 1 in 3 U.S. adults is a caregiver to an elderly person.