Beer continues to be the most popular alcoholic beverage among Canadians.
Canadians drink more than 22,700,000 hectolitres of beer, that would seem enough to make Canada the perfect place for brewing, however, its nature is also ideal for creating a world-renowned drink.
Since 1668, when the first commercial brewery was built in Québec, beer has perfectly merged into Canadian culture, and until today, according to Statista, it is still the nations favorite alcoholic beverage.
Despite a general decline in sales during the last few years, the Canadian brewery industry generated over 5.50 billion USD in revenue during 2016.
However, it still contrasts to its neighbor market, the U.S., where brewery sales outpaces those of wine and spirits—the other two categories in the adult beverage space.
High hopes for Canadian brewery
As 2015 became the most profitable year for Canadian brewery, it´s still one thats aims high as of today.
Statista shows the industry expects an increase in growth for the following years to come as 2018, 2019 and 2020 hope to peak sharply regarding generated revenue.
Despite Canadians rank 25th in the annual consumption of brewery internationally, there is still a lot to work with for the future years.
Brewing preferences go global
In 2018, however, despite expecting brighter years, beer drinkers in Canada have shown the tendency to prefer imported brands.
Since 2016, Canada has sold over 3.48 million hectoliters of imported brands.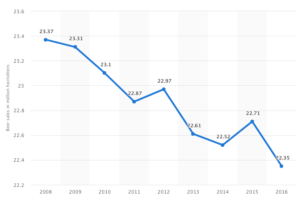 As of domestic preference, according to IBISWorld, 30% of domestic beer consumption was generated by men aged between 19 and 34 years old.
The industry, never the less, is not cutting short, as years have tested their resiliency, and it´s not backing down on the challenge.
According to the Just Beer App, at the end of 2010, there were only 310 licensed breweries in Canada, by the end of 2015, it grew to 644.
Continuous innovation for Canadian companies
Whether it be with the Internet of Things (IoT), shopping tendencies, sports or airlines, Canada is shifting towards innovation.
And when it comes to beer and pot, we knew we were not going to be let down.
Forbes reported on the possibility to file the provisional patent for the world´s first beer brewed from the cannabis plant.
Canada became the first country to legalize medical marijuana over 15 years ago, as of today, the federal government is working on legalizing cannabis edibles and beverages.
Now, brewery is stepping into the spotlight.