CEOs prioritize instincts over data but overlook the insights provided by analytics.
With customer demands changing continually, and new technologies emerging all the time, business organizations must work hard to keep up with trends.
Organizational agility and the ability to marry human intuition with advanced analytics— both predictive and prescriptive—will be critical.
Agility, the new currency
In a digital economy where new technologies are constantly reshaping industries and business models, the ability to innovate quickly is a strategic imperative.
In our survey, 59% of CEOs say that acting with agility is the new currency of business, and that if they move too slowly they will go bankrupt. To be more agile and put digital innovation on the fast track, organizations are aggressively building their network (or 'ecosystem') of third-party innovation partners. For example, 53% of organizations intend to set up accelerator or incubator programs for startups over the next three years, according to the survey.
But simply having a startup-friendly ecosystem is no guarantee of success. CEOs need to focus on driving value from their networks and ensure that cultural barriers and concerns about sharing data don't limit the success of innovative ideas.
Intuition + experience + data
Data and analytics have changed how business decisions are made and they continue to get more sophisticated. For example, artificial intelligence (AI), drawing on deep learning techniques, will transform predictive analytics. CEOs, however, have not lost sight of the importance of their intuition, experience and judgment.
In our survey, 67% of CEOs say they have overlooked the insights provided by data and analytics models or computer-driven models in the last three years because they contradicted their own experience or intuition. At a country level, this feeling ranges from 78% in the US to 51% in France.
CEOs also display some skepticism about the data that is put in front of them.
Over half (51%) say they are less con dent about the accuracy of predictive analytics than historic data. They want to understand where the data that informs predictive models has come from and whether it can be trusted. This reflects the fact that CEOs bring their own intelligence to bear on data-driven intelligence.
CEOs have an understanding of the business context and the human implications of strategic decisions. Perhaps the best results will come when CEOs combine their experience and intuition with data-driven, predictive intelligence to spot new growth opportunities.
According to our survey, nearly 7-out-of-10 CEOs have favored their own intuition over da- ta-driven insights in the last three years.
Digital transformation
Chief digital officers are an increasingly popular addition to the C-suite, but many CEOs are stepping up to become chief digital transformation officers themselves.
They are embracing the likes of AI and the Internet of Things (IoT) to drive growth and re- shape their business. For example, they recognize the power of data to personalize customer experience. At the same time, however, they are taking on—as a personal responsibility—the responsibility to protect that data and earn the public's trust. And as automation and AI recon figure the workforce, CEOs are planning how to prepare their people for the age of the smart machine.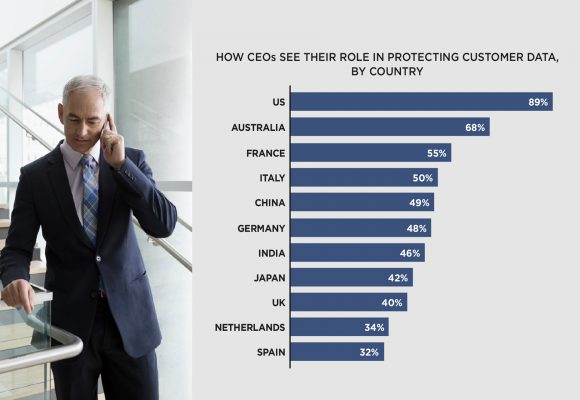 Owning transformation
CEOs are redoubling their efforts to drive growth in the digital age with 71% saying they are prepared to lead their organization through a radical transformation of its operating model.
As well as acting as the figurehead for change, CEOs are under the spotlight in terms of delivering results— and expectations can be challenging. Over half of CEOs (51%) say that their board of directors has an unreasonable expectation of returns on digital transformation investments.
CEOs will have to manage expectations by setting new business targets, creating scenarios for the future of the business, and shifting the perspectives of both their immediate teams and their boards.
The CEO as data protector
CEOs recognize that customer data is an extremely valuable asset, but they also know that it comes with significant responsibilities.
Six in 10 CEOs (59%) say that protecting customers' data is one of their most important responsibilities as they look to build customer trust. If customer trust is threatened by misuse of data or a breach, the consequences for the company can be devastating— and very public.
In 2017, CEOs made reputation-al/brand risk a Top-Three threat on their risk register, so they need to ensure that their organization's data-handling procedures are robust.
Robots manufacture jobs
More than 6-out-of-10 CEOs expect AI to create more jobs than it destroys. They are currently looking to reconfigure their workforce for a future where smart machines and talented people work together.
In the past, there was considerable unrest about the potential negative impact of automation and AI, with employees particularly anxious about the impact on jobs. Yet CEOs have a different perspective.
In our survey, 62% say that AI will create more jobs that it destroys. This comfortably exceeds the 38% who believe it will eliminate more jobs than it creates.
Organizations are now preparing their workforces for a smarter future by upskilling those people whose roles are threatened and using technology to allow people to focus on higher-value tasks.