In little more than a decade, China has turned into the largest e-commerce market in the world, moving its economy swiftly beyond its lower-margin roots.
By Jeongmin Seong, Jonathan Woetzel, and Kevin Wei Wang
The Chinese are now the world's most avid online purchasers of goods and services, which they are likely to pay for through a mobile device.
The deepening digital ethos reflects a broader consumerization of the Chinese economy. These trends are creating fertile grounds for digital start-ups while also transforming traditional industries such as specialty chemicals as they supply materials for advanced industries and higher-margin consumer goods.
Yet global companies in China should ensure that they're not competing for yesterday's markets.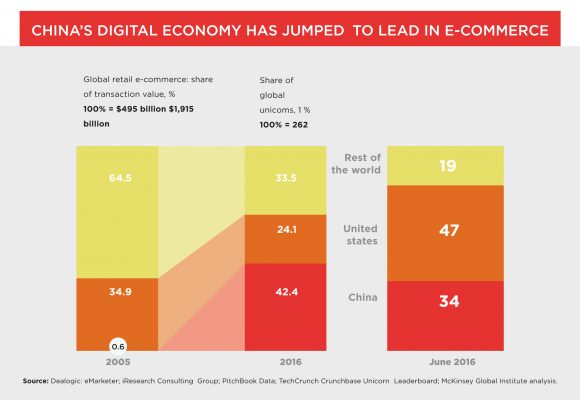 Digital is fast, but it´s faster in China
Everything speeds up in the digital economy, and nowhere is that more evident than in China. In little more than a decade, China has come from almost nowhere to become the largest e-commerce market in the world, accounting for more than 40% of global e-commerce transactions.
China's mobile payments are 11 times the value of those in the United States thanks to consumers' early embrace of the technology.
This flourishing digital culture is paying innovation dividends as China is home to one in three of the world's start-up "unicorns," those with more than a $1 billion market cap. And the country now places in the top rankings of global venture-capital investment in virtual reality, autonomous vehicles, 3-D printing, robotics, drones, and artificial intelligence.
That innovation base is leading to a host of new business models based on emerging technologies that might soon revitalize other, previously lagging sectors of China's economy.
New approaches 
According to a recent report from the McKinsey Global Institute, these new approaches include directly linking business buyers and suppliers in disintermediation plays, disaggregating incumbent value chains as digital attackers move in, and creating a raft of new digitally "dematerialized" products and services.
Creative destruction on a grand scale, which would boost productivity and the international competitiveness of China's economy, might be next.
Between 10 and 45% of revenue in China's industries could shift from old business models to new ones enabled by digital by 2030. The transformation is picking up steam: in 2013, industries in the United States were 4.9 times more digitized than ones in China; in 2016, that figure had fallen to 3.7 times.