<img src="https://ceo-na.com/wp-content/uploads/2019/04/grad.jpg"/>
Student loan debt is accelerating so fast that it has become a burden on the U.S. economy and decreasing homeownership among younger generations.
After 69% of college students took out student loans during 2018, Americans now owe over $1.56 trillion in student loan debt, spread out among about 45 million borrowers. That's over $520 billion more than the total U.S. credit card debt.
Recently, the Institute for College Access and Success studied the states where average student loan debt is most, revealing that New Hampshire has the highest average student loan debt, immediately followed by Pennsylvania and Connecticut.
Utah was the state with the lowest average student debt, with state graduates owing $19,975. It's the only U.S. state that's average student debt was just under $20,000.
Student debt kills the dream of owning a home
[ihc-hide-content ihc_mb_type="show" ihc_mb_who="3,4,5,6″ ihc_mb_template="3″ ]
There's a proven link between decreasing homeownership among millennials and high student loan debt.
Substantial student loan debt has forced many American millennials to shift their financial priorities, especially that of buying a home.
A January 2019 study by the Federal Reserve Bank of New York found that homeownership rates for people ages 24 to 32 decreased by almost 9 percentage points, and that's because young Americans are seeing themselves pay an average monthly student loan payment of over $350.
The staggering amount of student loan debt could purchase the equivalent of 5-6 million typical American homes, according to reporting from Sarah Friedmann in The Daily Beast.
A September 2017 survey from the National Association of REALTORS® (NAR) found that over 80% of millennials who haven't purchased a home cited their student loans as contributing to their inability to become a homeowner, while an Apartment List study of 6,400 millennial renters found that "those with student loan debt will be significantly delayed in their ability to purchase a home."
Lacking basic information
What's even worst of this situation is the lack of information many students are facing.
According to a new study from Lendkey Technologies, a digital lending partner to hundreds of credit unions and banks, nearly half of borrowers surveyed had no idea what their debt obligations will be once they graduate.
After surveying 2,390 Americans online over the age of 18 who took out student loans from public and/or private lenders during March of 2019, the poll found that 49% of borrowers do not fully understanding the financial burden that awaits them after graduation, as well as what their monthly minimum payment would be once they exit school. Only a small 10% of 18-34 year-olds expressed to know what their exact payment amount would be after graduation.
Student borrowers need better financial advice. The Lendkey survey found that just 22% of them say their academic institutions offered them a range of lender options through the school or outside lenders, while over half of students blamed their college or university for failing to provide them with "sufficient" information about the debt they were taking on. Furthermore, more than 40% of students say they were only given a single option.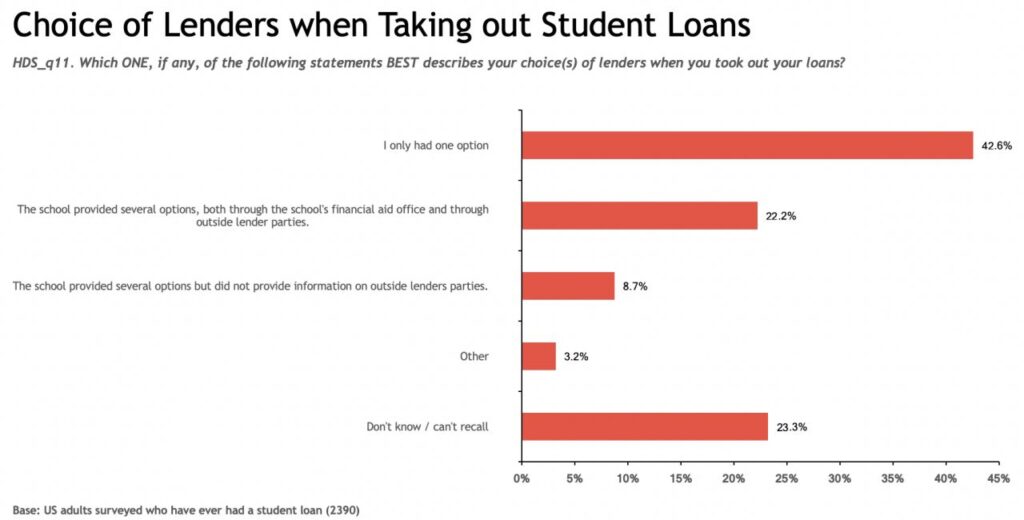 USA Today's Susan Tompor reported on March 14 that millennials are "so buried in debt that they can't buy into the American dream of owning a home."
Most financial experts agree that the American student loan crisis is a significant problem — one that's best fixed with a multi-pronged approach to ensure that millennials have a financially-secure future that can include homeownership, if desired, however, that truth remains being that The American Dream is hard to achieve without thinking about debt.
Click here to see the statistics of credit card and household debt in the United States vía Student Loan Hero.
[/ihc-hide-content]