SAF Holland Americas' deep transformation is ongoing. Regional operations, which focus on manufacturing heavy-duty commercial vehicle components, are changing as the company begins to build strong relationships with customers and becomes nimbler in its approach.
In the past two and a half years, SAF Holland Americas has undergone a massive transformation. The trailer component manufacturer has been actively rebuilding relationships with customers and developing its agility to allow it to adapt rapidly to a challenging and changing industry. A global leader with a large footprint in Europe, SAF Holland has great promise for growth in the Americas region. This is the main task for SAF Holland Americas President Kent Jones, a 25-year veteran in the automotive industry and the executive behind the company's turnaround.
"We are going through an operational turnaround with dedicated people in the company who only needed open communication and radical transparency on the business situation," Jones tells us. He adds, "we wanted to get all people accountable, and this team is making a big transition right now."
The executive explains that the new team has already grown its sales by 40%, and he expects another 20% to 30% growth increase in the Americas region, driven mostly by the introduction of new products.
Described by Jones as "a steel maker company", SAF Holland is a leading global manufacturer of fifth wheels, trailer suspension and axle systems, truck suspensions, landing gear, and coupling products.
Like other companies that rely on cutting-edge technology, the Germany-based corporation is betting on added value systems that are already transforming ground logistics in Europe.
The new Americas team
The Americas operations are headquartered in Muskegon, Michigan, where the company is forging its reputation as a moderniser of the trucks and trailers industry. "I have been in the commercial vehicle industry most of my career", Kent Jones tells us in his interview with CEO North America.
Thanks to his longstanding experience within the industry, Jones was familiar with SAF Holland and its brands, and when invited to join the company he was interested. "Two and half years ago, when I got the call to come over, I was intrigued. It was a company that I knew through the interview process and even through some peer conversations in the marketplace. It was also a company that had been struggling in the last year," he recalls.
Jones explains that SAF Holland's investments and expansion projects in the Americas region didn't have a solid plan and the timing was also unfortunate. "I suspected that they lost their way in leadership and in being able to bring people together. I went through the interview with the board and the executive management, and it seemed to be a good fit."
According to his assessment of the company at the time, there was a major transformation to be had but a change was needed in the leadership. "There were great people and great products. Also, more than patient customers. There was a long-term position in the marketplace, but there was a void in leadership," Jones notes.
The new leadership of SAF Holland Americas began its deep transformation of the business by establishing a high-performance team. "We opened the books to everybody and let them recognise what was happening, we were very open and transparent. Told them "I am not the guy running a company here, you are the guys that know what to do. I just need to get the right resources in your hands, and we can change this." Today, after that new start for the company, results are above expectations".
Refocusing the strategy with suppliers
One of the main areas Jones and his team are working on is regaining the trust of their business partners, making SAF Holland Americas a good company to work with. "So far, results are fantastic two and a half years later, and through the covid pandemic where market volumes declined by over 50%. During those low periods we were forced to make some really tough decisions on the supply chain, fixing some troubled businesses in a much more accelerated way," he tells us.
SAF has already gone a long way in empowering its employees to manage their areas of expertise with support from the leadership. "We were getting the team to the stage, to make the decisions knowing that the leadership team has their backs," the regional president explains. He adds, "They knew what to do, we backed them up on making tough decisions, accelerated decisions."
In only two and half years, the company went from losing money and running operations that did not contribute any value to the organisation to a complete reversal, with a new approach to customer service and double-digit EBITDA contribution.
The company's sales grew around 40% year on year, with customers who are eager to do business with SAF Holland again. In the first half of 2022, the group's sales totalled €773.3 million thanks to higher demand, marking an increase of 27.2% on the previous year's figure, which stood at €608.1 million.
The added value systems business
According to Jones, SAF Holland is predominantly a steel maker, and this is what it will continue to be. "What we do is convert steel components into added value systems."
Its new product, the TRAKr, provides a fantastic example of this value-added sector, offering the opportunity for greater efficiency and sustainability. Jones describes it as "an innovative technology that relies on charging batteries, instead of internal combustion systems." He adds, "this is mostly used in Europe today, but those are coming to the rest of the world in the next decade."
The new electric trailer axle can be used in all trailers with electrical-consuming units such as refrigerated semi-trailers and electro-hydraulic units to eliminate noise and CO2 emissions. In addition, the new product was designed to meet the strictest legal requirements for inner-city low-emission and environmental restriction zones.
According to Jones, in cities like Paris, London and Berlin, instead of polluting diesel engines, trailers are turning to electric. "We are basically making the power plant. We have been an axel maker on trailers for many years. That's the predominant business in Europe," he explains. "We are making a significant investment into the electrification of the inverter, the battery pack, and all the system integration."
This new solution will be introduced at upcoming trade shows. "These units are running in Europe, but they are coming to the marketplace in the U.S. as we speak," Jones tells us. SAF Holland's purchase of the Sweden company Haldex, an expert in braking and air suspension systems for heavy trucks, trailers, and buses, is another milestone for the company, and one that will add more value to the company's operations. Jones believes that connected trucks and trailers will add greater value to a sector that will may well be shifting to driverless in the future.
"Hopefully, this acquisition of Haldex will put us in a position to be able to integrate more systems levels. Combine the entire axle dressed with the suspension systems and the braking components, with all the sensors systems that go into place. We think that's appealing to many of the trailer makers, and to the fleet users that are in the marketplace today."
SAF Holland is also betting big on its new Automated Coupler Check, which provides an automated connection between truck and trailer. Now, drivers that need to get out of the cabin to make those connections will have an automated solution.
The implementation of new technologies coupled with greater digitalisation is a key area according to Jones. The application of data used in trailers across Europe is a growing trend, and yet, at present, this is so poorly implemented in the U.S.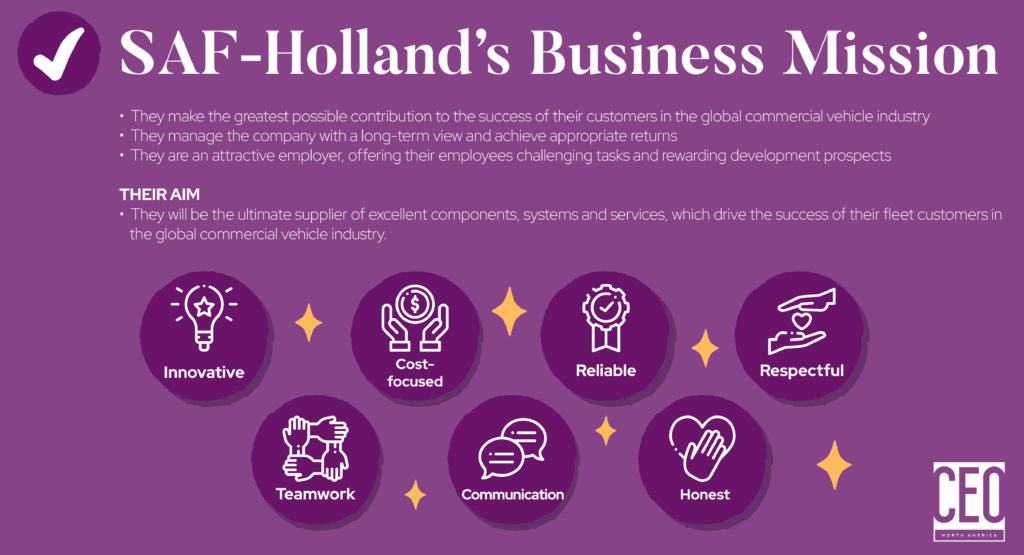 America growth plans
To match its sales goals and increase its market share, SAF Holland Americas is commercialising the mega-trend technologies that will drive the market in the years to come. "We are talking about the digitalisation of aggregating data. Like our smart trailer system components that measure brake wear and pairing wear or giving smart maintenance to a number of components in the vehicle using information."
Jones explains that ever since taking the regional helm he went "into a radical transparent mode" and visited a lot of the customers to let them know the company's problems and to hear him out. "We told them what we were doing well, which was a small list. Also, we told them about what we were not doing well, and that, unfortunately, was a very long list", he told us.
After that, the management team implemented a clear communication strategy with customers, keeping them updated on all the changes, something that didn't happen overnight but over the course of a couple of years. Jones explained, "the journey is not over. We still can make things better for our customers, to really secure our base."
Jones highlighted the transition from acting as a privately held business to becoming a more transparent public company as one of the major changes in the company's approach to doing things under his leadership. "I really had to work to abolish this. Now in every meeting, the same transparent approach is followed for both the people in the organisation and for our customers. We let them know what we can do, and most importantly what we can't do," he told CEO.
The regional president expects more investments in advanced research and development. "To me, there's still a transformational journey to world-class operational excellence that we have to make. This will continue for the next three to five years." Jones is particularly proud of the results achieved in the company's West Michigan test lab and R&D facility, along with the company's whole engineering department, which is crucial to this effort. "We are doubling down on our efforts into bringing products and product innovations to improve efficiencies for us and for our customers. We are working at lowering costs in this inflationary environment and selling products that help customers with safety and electrification and with automated driving technologies."
Jones says the company's agility is the main difference between SAF and its competitors. "We are more nimble. We are competing against companies that are three or four times our size, and our flexibility is transforming into the ability to accelerate changes," Jones notes. "We have a finely tuned executive leadership team. We can scale our business up and down and take action in an accelerated way. We are also very nimble on the inflationary aspect to support our customers."
The Americas evolution in the corporation
SAF Holland is divided into the Europe, Asian Pacific, and Americas regions. Jones heads the Americas region, which comprises the U.S., Canada, and Mexico. In this role, he has focused on building strong relationships with SAF's suppliers. "We buy from the suppliers. Probably 50 % of our content is purchased steel components that we turn into add value systems," Jones tells us. "The readaptation on the supply chain area leadership, while facing supply chain problems from China, was the starting point to put a strategy designed to strengthen relationships with key suppliers that existed before and to start looking for with new ones," he added.
Jones says there was no strategic relationship in place, so he dedicated the next two years to developing the company's relationships with its suppliers, "they are a key part of this commercial vehicle industry, which is a people business."
The company is currently evaluating plans for offshore operations, rather than working with a single supply-chain market such as China, India, or Turkey, having seen that this is no longer effective in a post-pandemic world. "In most cases we need to have dual sourcing capabilities. We have been nearshoring more of the secondary sources," Jones explains. The SAF Holland Americas president explains that while there are great suppliers in different countries, having one single source is a major risk, and the solution is simple given that there are also very competitive suppliers both in the U.S. and Mexico.
Jones underscores the company's new approach and suggests that the fast decision-making is helping the firm to save millions of dollars in supply chain expedites and cost structures, during a time of high inflation. "We have put ourselves in the right position. We have a new manufacturing plant that we are putting in Mexico. Over 50% of our customers are already manufacturing in Mexico. Nothing new to manufacture there for this industry and we had no production in Mexico before."
The transformation of SAF Holland Americas, and its new approach with business partners, is an ongoing process that has already achieved results far greater than Jones's initial expectations, and Jones thanks the whole team effort for these achievements. "I give a lot of credit to our supply chain team in this effort. This is one area that has put in a tremendous amount of effort. Weekly communication on supply chain constraints, resourcing efforts, validation requirements," Jones explains.
Beyond the relationship with customers and a renewed business strategy, the company is also becoming more attractive to suppliers. "We have an exciting opportunity for people who want to still be in manufacturing. We are on top of our business, and we are a good company to do this," Jones finishes.