McCormick is mastering the art and science of flavor. The company has reaffirmed its financial outlook and is relying on management initiatives that will continue to drive growth.

At McCormick, flavor is everything. The company says it "stands together for the future of flavor" while it keeps investing in the art and science behind it. They are aware that taste is a unique and powerful emotional trigger, so their work includes research on nutrition as well as the links between emotions and the experience of savoring something.
The company was started by founder Willoughby McCormick in the basement of a Baltimore home in 1889. Today, it is a global business that reports $6.32 billion in revenue and has earned its place among American and global households through its variety of brands and products.
According to the food giant, they are "ideally positioned to meet the increasing demand for flavor around the world". To achieve this in the 170 countries where they operate, McCormick has made strategic acquisitions, but has also continuously introduced new brands and embraced new food trends. The company has 36 years of consecutive increased dividends and is ready to add more under the leadership of Chairman and CEO Lawrence E. Kurzius who has almost 18 years working for the company and six years as Chairman and CEO.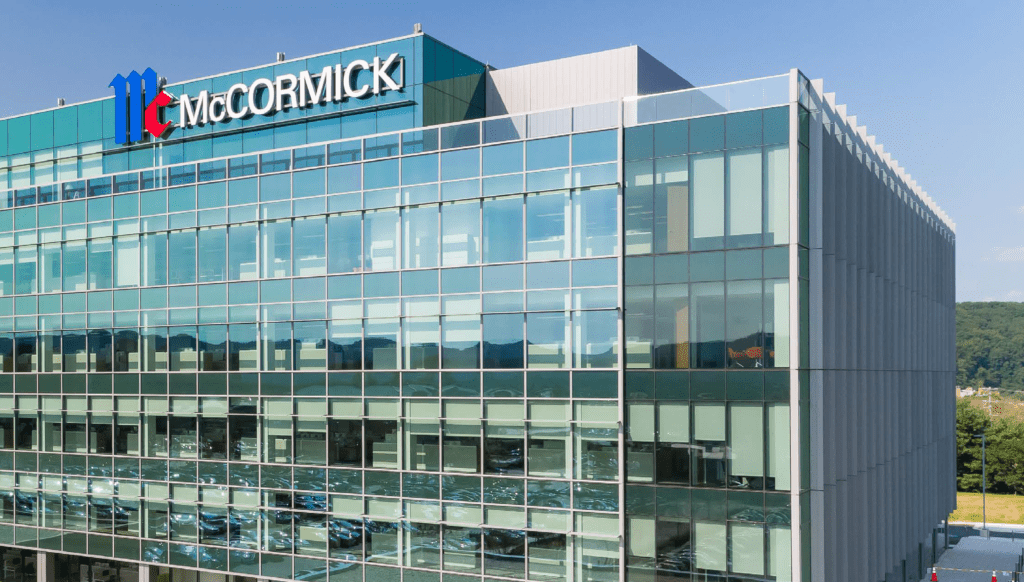 Beating volatility in markets
Last October, McCormick & Company reported a 3% sales increase in the third quarter compared to the year-ago period and reaffirmed its financial outlook. Operating income was $235 million in comparison with $265 million the year before, and adjusted operating income was $239 million compared to $272 million in the third quarter of 2021.
"We continue to actively respond to changes in consumer behavior that are a result of broad pressure on the cost of living from inflation. We are confident our brand marketing investments, innovation and category management initiatives will continue to drive growth," said Kurzius about the quarterly results.
McCormick has remained focused on managing inventory levels and eliminating inefficiencies, although the normalization of the supply chain has taken longer than expected.
"Over the coming months, we will be aggressively eliminating supply chain inefficiencies," Kurzius said. "Importantly, as we had expected in the third quarter, we began to recover the cost inflation that had been outpacing our pricing actions and other levers. We expect this will continue into next year as we plan to fully offset inflation over time."
The Princeton University graduate stressed that the company has a proven track record of execution along with industry-leading long-term performance, including in volatile environments: "The long-term fundamentals that have driven our historical performance remain strong and our experienced leaders are executing on our proven strategies while adapting to challenges accordingly," Lawrence noted.
The company remains optimistic about its sales growth momentum moving into 2023, projecting that they will continue to recover the cost inflation that had outpaced pricing. "We are confident in driving future sustainable growth and building long-term value for shareholders, while navigating the dynamic environment," says Kurzius,
A major player in sustainability
The Maryland-based firm is committed to generating clean revenue, delivering renewable energy projects, and transitioning to 100% circular packaging. Known for its efforts to reduce its carbon footprint, McCormick has collected different awards and received recognition for its sustainable practices. In January 2022, McCormick was also named the world's 14th most sustainable corporation and No. 1 in the Food Products sector by the Corporate Knights Global 100 Sustainability Index. SAG Analytics also included McCormick in the Top 10 Most Sustainable Companies in 2022.
"Our Purpose-led Performance agenda has set ambitious targets to achieve our social and environmental goals and this recognition demonstrates the credibility and impact of our achievements to date and underscores our desire to do what's right for people, communities, and the planet we share," said Kurzius.
One groundbreaking project in the company's sustainable agenda is the lab-grown, or cultured meat, development, an alternative that promises to be "indistinguishable from real meat to the cellular level," but produced without, or with minimal, animal cruelty while also reducing emissions. These are the kinds of sustainability goals that McCormick and Kurzius take out pursuing.
Besides securing the best financial results and coping with a challenging business environment, the company must also keep reducing its carbon footprint as it innovates products that will help the planet, while continuing to place flavor above everything else.