Cinépolis COO Miguel Mier stresses vision and innovation as the keys to turning a small, family-run company into a global player.
When Miguel Mier, Chief Operations Officer of the Mexico-based international cinema chain Cinépolis, started working at the Morelia, Mexico-based cinema chain Cinépolis 25 years ago, the market in his native country was considerably different to the one today, with a much wider range of players but little in the way of innovation or growth.
More than two decades on, Cinépolis has not only become the undisputed market leader in Mexico and Latin America, but is also taking on markets such as the US and the Middle East, and Mier believes innovation and a deep-held respect for both the experience of the moviegoer and the cinema industry itself have been the keys to its success.
"The respect we have for the creation of cinema, and in particular, our own national film industry, is unique in the business," Mier told CEO Magazine as we discussed what looks to be a star-studded future for the chain. "But we also believe deeply in innovation. The demands of the customer and the moviegoer are changing quickly, and we have to stay ahead of that curve."
[ihc-hide-content ihc_mb_type="show" ihc_mb_who="3,4,5,6″ ihc_mb_template="3″ ]
Despite its humble origins as a family-run cinema in Morelia, Michoacán state, Mexico, Cinépolis is increasingly a global player and a noted innovator in its eld for its range of VIP, or luxury, viewing offerings; exclusive rights to a range of international lm festivals, and as of 2018, its own production company that is introducing films into the Mexican and wider Hispanic markets.
Fifty years after the company was founded by the Ramírez family in their native Morelia, Cinépolis is currently the fourth largest cinema chain in the world, operating in fourteen countries.
It is the second biggest in terms of ticket sales, and the largest non-US chain globally as well as the largest operator of VIP viewing experiences in the world. With 712 theaters worldwide, 5,771 screens, and 330 million tickets sold in 2018, the company enjoyed global revenue of $189 million in 2018. Yet in an industry currently under- going considerable disruption, Mier believes Cinépolis can not only continue to compete, but also innovate on a par with any of its competitors.
"We've learned that when you do things correctly, with adequate investments, the markets respond," Mier insisted. "So, we see a lot of opportunities in the markets where we're already operating, and also in others that could complement them."
A global blockbuster
For Mier, as film lovers face an increasing range of options via streaming services, home entertainment systems, and digital media, enhancing the experience of the good old-fashioned movie theater is a key business strategy.
Cinépolis currently boasts more VIP, or luxury, theaters than any cinema chain in the world, offering moviegoers extra leg space, reclining seats, and waiter service of an increasingly diverse range of food and beverages, as well as hi-tech viewing experiences such as IMAX and 4D-X.
"We offer everything from a VIP experience with French and Japanese food options served to you in your seat in California to a more modest, traditional cinema-going experience in the small cities in which we operate in India," he explained. "Every country has its own unique film-going culture, which is another aspect of our business model, as well."
Indeed, in his capacity as COO; has been considered a crucial figure in adapting the chain's strengths for international markets based on these different cultures. Beyond Latin America, where Cinépolis and the US, the company has a rapidly growing presence in the Arab world, including the UAE, Oman, Qatar, and Saudi Arabia, and recently entered the Indonesian market in partnership with the Lippo Group.
"We have a presence in markets that can still support a higher number of theaters, huge markets like Brazil, Mexico, and India, where the middle class segment of those populations are growing rapidly, so we see great possibilities going forward," he explained.
Making movies
With significant disruption in the entertainment industry, particularly as actors such as Netflix, YouTube, and Amazon Prime enter the fray, Cinépolis is also looking ahead of the game by actually producing and distributing its own films, initially with an emphasis on the Mexican and US Hispanic markets.
The company established its own distribution farm eight years ago and in 2018, the company announced the production of Perfect Strangers, a remake of a hugely successful 2016 Italian comedy, the former version of which was released late last year. Mier says Cinépolis is already pursuing further projects, and also establishing a documentary lm production company called Non-Fiction to complement its dramatic offerings.
"Through our distribution wing we are now putting out more than sixteen films per year," Mier explained. "Last year, we produced our first movie and there will be further titles in 2019. We're ultimately looking to establish a rhythm of eight titles per year for the Mexican market and the Spanish-speaking portion of the US audience.
"We have a great respect for lm and want to be a part of seeing the creative side of the industry flourish, both here in Mexico, where there is a great tradition of moviemaking, but also beyond," he added.
Collaborating with the best
Given the wide range of unique services Cinépolis offers moviegoers, the company has been sure to establish long-standing relationships with suppliers of everything from state-of-the-art seating to soft drinks manufacturers, all of whom contribute to the magic of the filmgoing experience.
Yet it is in the technological and innovation fields that he sees particularly important and strategic partnerships developing.
As the company keeps a close eye on new developments in the entertainment industry, finding partners–particularly suppliers of software and technological equipment–adept at keeping up with disruptive changes to the marketplace is crucial. Mier cited the case of Barco NV, a Belgian-based technology company and manufacturer of lm and digital projection equipment, with which it collaborates closely in this area.
"We look to them to develop products that align with our vision of where the industry is going and the changing demands of our customer base," he explained. "Right now, for example, we are trying out a new range of projectors that were made by Barco in a number of our cinemas, technology that we're employing ahead of our competitors."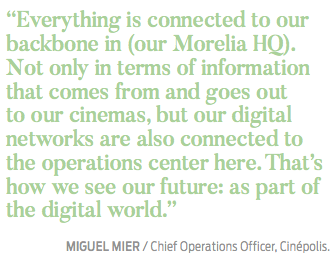 In the spotlight
For Cinépolis, once a small, little-known regional cinema chain in western Mexico, the big time has arrived, and the spotlight is on the company.
In 2019 alone, Cinépolis is planning to open 500 new cinema screens around the world, ensuring that the magic of filmgoing not only lives on, but also moves with the times.
"Our global infrastructure is probably one of the main elements that have differentiated us from other players in the industry," Mier concluded. "Everything is connected to our backbone in (our Morelia HQ). Not only in terms of information that comes from and goes out to our cinemas, but our digital networks are also connected to the operations center here. That's how we see our future: as part of the digital world."
[/ihc-hide-content]