President and General Manager of Sales, Eric Raby, is looking for opportunities to take CLAAS of America into a new era.
In 2013, Ohio farmer Merle Henry purchased the 450,000th combine harvester to roll off a CLAAS assembly line.
The purchase was significant for a couple of reasons. To begin with, it corresponded with the centenary celebration of CLAAS's foundation in Germany. Yet even more significantly, the combine in question was built by American workers in Omaha, Nebraska.
In 2019, the global company's North American sales organization, CLAAS of America, will celebrate forty years of existence.
"First of all, CLAAS is the largest ag equipment company that is still privately held, so there's a little more flexibility," Eric Raby, President and General Manager of Sales for CLAAS of America, told CEO Magazine on the opportunities he saw when he stepped into the role.
"What's more, CLAAS's presence in North America really has a lot of room to grow, not only in terms of the product portfolio, but also from a branding standpoint."
CLAAS is an agricultural machinery manufacturer founded in 1913 and based in Harsewinkel, Germany, in the state of North Rhine Westphalia. Its US subsidiary, CLAAS of America, is headquartered in Omaha, Nebraska, and offers a product range that includes combine harvesters, forage harvesters, balers, mowers, rakes, tedders, and tractors, among other harvesting machines.
In 2017, the global CLAAS company boasted revenue of €3.76 billion.
For many years, its US subsidiary was listed as a short-line manufacturer in the North American market, however, its continually expanding list of equipment has not gone unrecognized.
Just this year, the Equipment Dealers Association awarded the company its Dealers Choice Award among full-line manufacturers. Yet Raby, and the company as a whole, refuse to sit on their laurels.
"We are very proud of that award, but at the same time, we looked at the scores and asked ourselves which ones we could improve," he says.
Going long line
Agricultural equipment manufacturers in the US are generally divided into two categories: short-line, focusing on a narrow segment of the industry, and full-line, boasting a full array of tractors, harvesting, spraying, seeding, and tillage equipment.
For many years, CLAAS was regarded as a short-line manufacturer, meaning its offerings were fairly specialized, yet Raby takes great pride in the fact that the company is carving out a unique niche for itself as a long-line producer.
"What we really want to do is carve out an area in between, which we call the 'long line,'" he explained. "Farms continue to get larger. Farmers are looking to be more productive, more efficient in their operations. We've really proven that our machines are efficient, whether it's fuel economy or the amount of grain that we save. Those metrics are vitally important to our customers in terms of managing their costs, and ultimately, their farm finances."
As far as medium-to-long-term growth, Raby sees CLAAS concentrating itself on two focal points. One is the aforementioned expansion of its product portfolio, including looking at the products it sells elsewhere in the world and how they can be introduced to the North American market.
Secondly, he sees the company growing its distribution channel, forming relationships with its dealers that go beyond the transactional aspect.
"It's all for nothing if we don't have an effective distribution channel," Raby explained. "The true test of our value proposition with customers and dealers is what happens after the sale, what we do if they have a mechanical issue or they want to more finely tune their machine for their conditions."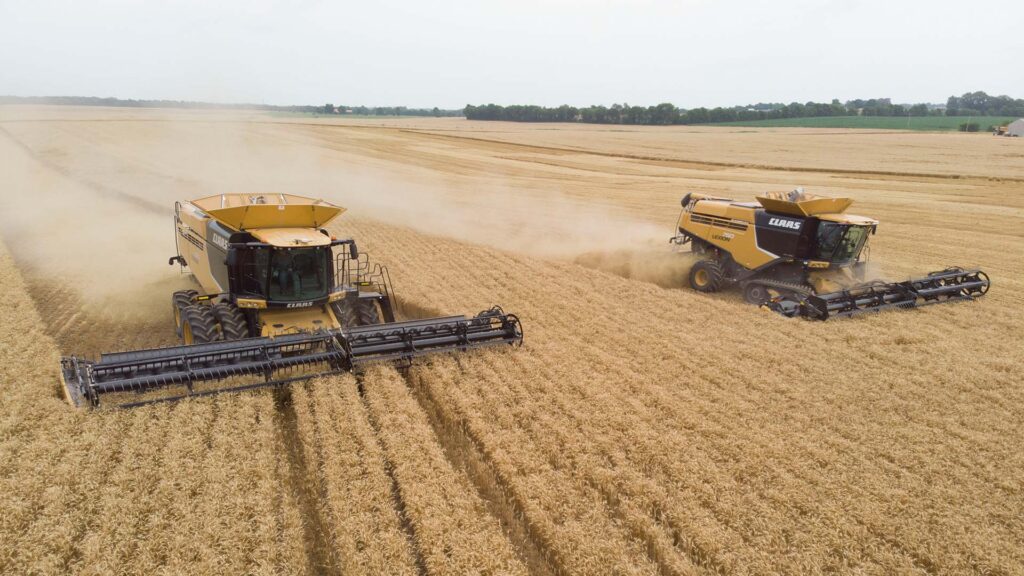 Looking to the future
As far as the future of farming, and the manufacturing of farming equipment, in particular, Raby views digitalization as key.
"Last year, we implemented a new process to more closely engage with the dealer," he outlined. "We still have a lot of different systems that feed into this: parts performance is one system, sales performance is another. But we've created a dashboard that pulls all of those things together. So, our teams, regardless of function, get to see the entire dashboard while honing in on their area of expertise.
"Whether it's at a CLAAS management level or a dealer management level, we can have discussions using the same dashboard and really understand what the drivers of the business are and cut out the paperwork."
Raby doesn't believe that technology should get in the way of the more traditional side of business, which for him means forging strong and enduring relationships with customers, dealers, and suppliers. It's these relationships that enable firms in the industry to survive amid the cyclical nature of agriculture where commodity prices and climate, amid other factors, can mean the difference between good times and bad.
"Just as our dealers and growers need flexibility from us, we need flexibility with our suppliers," Raby stressed. "We're not experts in every single field, so if a supplier sees a more advantageous way for us to do something, they're likely to see a beneficial result of that, whether it's increased sales or more efficiency in their operations.
"How we go about cultivating or maintaining those kinds of relationships is obviously changing," he said. "But at the end of the day, we still have to show the customers and the dealers that we are real people, that they are real people, and that we value the relationship that we have with them."
Raby also firmly believes in supporting local manufacturing, albeit at global standards. "When we first started manufacturing in Omaha, it was more of a roll-on, roll-off process using German parts to localize pre-built machines to meet North American sizing and standards," he explained.
"Over time, we've expanded our manufacturing role and dramatically increased our local sourcing of parts. Now, close to 50% of the content of our combines is sourced here in North America. Most of that comes from a radius not too far from Omaha.
"There's plenty of business out there for all of us," Raby said of the competition in the agricultural machinery industry. "But we want to be better, we want to be different, and really be something a bit unique in terms of providing a solution to the farmers and the dealers."