Can Tesla succeed without its mercurial golden boy and CEO, Elon Musk? The market isn't convinced.
The problem began on a pot-hazy California afternoon.
During an appearance on the popular Joe Rogan podcast in September, Elon Musk, the innovator-entrepreneur, accepted a joint and a glass of whiskey from his host… then all hell broke loose.
Tesla CEO Musk had been in the spotlight since tweeting August 7 that he planned to take the company private, prompting much speculation over his erraticism and state of mind. Two weeks after the controversial podcast appearance, his plans concerning Tesla's ownership were dropped, following outrage from some investors and a pair of top-level resignations.
Shares in the electric carmaker fell by more than 9%.
The headline-grabbing podcast appearance was only the latest twist in a career that has become one of the most interesting—and unpredictable—in the business world today.
What has Elon Musk Invented?
As a young entrepreneur, the South Africa-born Musk was anxious to deliver new services and ideas to the world.
Some of them may have been too radical at the time; others took off like wildfire. In 1999, he wanted to build a 21st-century financial service called X.com, with online bank accounts, person-to-person payments, insurance, and investment options.
X.com merged with PayPal and became one of the most successful companies to spring from the dot.com boom of the era.
What else did Elon Musk Invent? SpaceX, the aerospace manufacturer and space transportation services company launched in 2002, is another Elon Musk invention that has become well-known for its failures as well as its successes.
In many ways, the young Musk bore the traits of a crazy genius, way ahead of his time, yet in the past few years, the world has begun to quickly catch up. Bank branches are closing and mobile phones have proliferated, generating unprecedented data and mobility for financial services.
People are increasingly environmentally conscious and like to drive clean cars. Tesla, Elon Musk's most successful invention, produces both electric vehicles and solar panels.
Yet dreams can just as quickly turn into nightmares—and Musk is currently living one. In a settlement with the US Securities and Exchange Commission announced at the end of September, Musk and Tesla will each pay a $20 million penalty for fraud after Musk declared via his notorious August tweet that he had secured funding to take Tesla private.
The businessman was given 45 days to step down as chairman and will be ineligible from holding that title for at least three years. The company will also appoint two new independent directors to its board.
The company's stock plunged 14% after the news of the SEC's lawsuit broke, one of its lowest points since 2017. Furthermore, over the last decade, Musk and his cult of personality have been inextricable from Tesla.
The quixotic executive transformed a tiny car startup into a $45.2 billion behemoth which has eclipsed the market cap of brands such as Ford. However,  Musk has also drawn criticism for setting fanciful and unrealistic goals and even deceiving investors.
The Right Hand to Elon Musk's Inventions?
How do we understand the Musk phenomenon? What is it like working for him? Gwynne Shotwell knows.
An aerospace engineer and SpaceX's first salesperson, as well as Musk's most-trusted employee, Shotwell worked her way up at Chrysler, the Aerospace Corporation, and space startups in southern California before being appointed president and COO of SpaceX in 2008.
She oversees SpaceX's daily operations, from mission control to manufacturing to deals with NASA. Yet, unlike her boss, she is also seen as sufficiently level-headed to keep the company running smoothly and protect Musk's reputation when his famously demanding behavior threatens business.
As recounted in Ashlee Vance's book Elon Musk: Tesla, SpaceX, and the Quest for a Fantastic Future: "SpaceX's top managers work together to, in essence, create fake schedules that they know will please Musk but that are basically impossible to achieve.
This would not be such a horrible situation if the targets were kept internally. Musk, however, tends to quote these fake schedules to customers, unintentionally giving them false hope. Typically, it falls to Gwynne Shotwell… to clean up the resulting mess. She will either need to ring up a customer to give them a more realistic timeline or concoct a litany of excuses to explain away the inevitable delays."
"I love working for Elon, I've been doing it for 16 years this year," Shotwell said at a TED talk in April. "He's funny, and fundamentally, without him saying anything, he drives you to do your best work.
There's no question that Elon is very aggressive in his timelines, but frankly, that drives us to do things better and faster."
Elon Musk's New Bet?
The South African-born entrepreneur's mind does not stay still —he's even inspired the hilarious @boredelonmusk Twitter account that discusses supposed Elon Musk inventions in his downtime— but his latest forays into the high-tech business seem something straight out of a science fiction novel.
First, Musk wants to launch fashion entrepreneur Yusaku Maezawa on a rocket around the moon.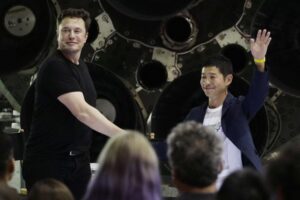 The 42-year-old Japanese art collector and founder of Zozo, Japan's largest online fashion retailer, could become the first private passenger of the Big Falcon Rocket (BFR), which has not yet been built. Since then, he has now extended his invitation on the lunar flyby to eight other artists. However, Musk has not been able to promise that SpaceX would make its 2023 deadline.
In late 2017, Elon Musk had already revealed his plans to build a SpaceX base on the moon, colonise Mars, and enable commercial travel to anywhere on Earth in under an hour. Before that, he had already targeted that the first SpaceX launch would be in 2022 and that the first crewed flight to Mars would land by 2024, all the while Tesla has struggled with production targets and delayed customer deliveries.
Secondly, several reports have shown that Musk is recently pouring money into Neuralink, a company that is manufacturing high-speed interfaces that will allow humans' brains to interact directly with computers.
The very spartan website of the San Francisco-based company reads: "Neuralink is developing ultra-high bandwidth brain-machine interfaces to connect humans and computers," followed by a list of recruiting posts, mostly in science and engineering.
Bloomberg reported in August of last year that Neuralink "has already gotten US$27 million in funding, according to a ling with the U.S. Securities and Exchange Commission."
When Musk smoked pot and drank whiskey on the Joe Rogan podcast, he said he's going to soon announce a new "Neuralink" product that can make anyone superhuman. "I think we'll have something interesting to announce in a few months … that's better than anyone thinks is possible," the Tesla CEO said on "Joe Rogan Experience."
Musk said he thinks these types of technological evolutions will give humans a better chance against artificial intelligence. In the past, he warned about the dangers of uncontrolled Artificial Intelligence (AI) development, but it finally looks like he is diving into the works, although nothing is certain.  "The merge scenario with AI is the one that seems like probably the best. If you can't beat it, join it", he sentenced.
"I think people should be nicer to each other," Musk said in one of his less controversial moments during the notorious podcast appearance with Joe Rogan. "And give… give more credit to others and don't assume they're mean until you know they're actually mean. It's easy to demonize people, but you're usually wrong about it. People are nicer than you think."
Musk's latest scene
In an interview with 60 Minutes that aired on Sunday, December 9th, Musk was clear on how he feels about the U.S. Securities and Exchange Commission (SEC): "I do not respect the SEC," he said.
Earlier this year, the 47-year-old billionaire was charged with securities fraud by the SEC for a tweet he wrote in August, which detailed plans to take Tesla private.
Musk also stressed during the interview that he will stop tweeting and he doesn't have anyone supervising what he posts to social media.
"The only tweets that would have to be reviewed would be if a tweet had a probability of causing a movement in the stock," he said. "Otherwise, it's — hello, First Amendment", he said to Lesley Stahl.