Andrea Pirondini
Chief Executive Officer / Prysmian Group North America
Prysmian Group specializes in the production of electrical cable for use in the energy and telecom sectors and for optical fibers. CEO Andrea Pirondini has been with the company for over 30 years. In this exclusive interview, he shares insights on how the company became a dominant player and continues to lead.
Telecom continues to expand rapidly in breadth and scope. Today the industry is entering a more exciting era than ever as new technology emerges and an eager public continues to embrace unique aspects of the digital world.
Prysmian Group is more than a telecom. It's also the number one cable maker in the world. The company has been in the business since 1879 due partly to its uncanny ability to stay ahead of the curve.
In 2018, Prysmian Group bought General Cable Corporation, one of the world's largest wire and cable manufacturing companies. That strategic acquisition positioned the company to meet new opportunities and challenges. In 2021, Andrea Pirondini stepped into the role of Chief Executive Officer of Prysmian Group North America (PGNA). Pirondini was already a long-standing Prysmian Group executive who knew the region well and had a solid vision for continuing PGNA's momentum. "When the opportunity to acquire General Cable was on the table, I was very supportive of moving ahead," he says of the 2 billion dollar acquisition.
After the initial acquisition process, Pirondini managed part of the integration process. This integration was an elaborate process because, in addition to being a U.S.-based company, General Cable also had a significant presence in Latin America and several European countries. That integration made Prysmian Group North America the company's largest and most significant telecom region.
Pirondini says he was pleased about stepping into the role of CEO for PGNA at that pivotal time because he knew he would particularly enjoy the opportunity to have a direct impact on the team's relationship with customers, as well as having a direct influence on certain investment decisions in the factories. Two years later, he says he's even happier.
"I was lucky because, in North America, we have been able to put together a very professional team," he says. "Aside from the good results that we're achieving, we have a good way of working, so it's enjoyable." PGNA's strategy in North America has a has a lot of impact from a global perspective.
"We value having the right investment policies that include having good people. People who know what they're doing, know the job, have the right mix of experience, and can support our
customers on the level they deserve."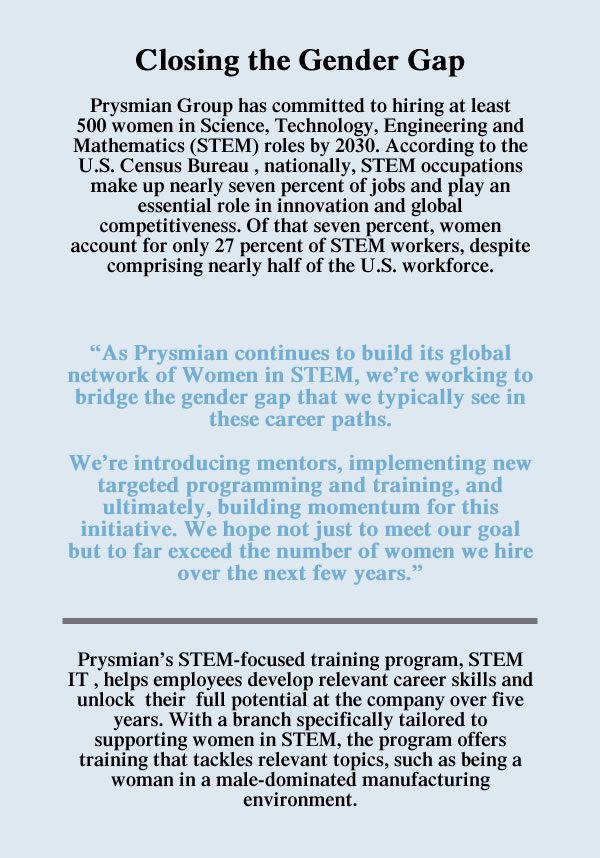 Four Macro
Business Areas
According to Pirondini, approximately one-third of Prysmian's sales now come from the U.S. and Canada. PGNA divides North America into four macro business areas, each representing about one-quarter of the total value generation of its business in the region.
"When you talk strategy," he explains. "A fundamental point for us was the General Cable acquisition, which led us to structure our business in North America on these four key pillars. In this respect, we are a bit unique versus the rest of our competition. No other company is competing on four, pillars like we do."
Pillar One
Pirondini explains that the first pillar is Power Distribution, which consists of energy power cables and utilities for medium and low-voltage products. "This is where we are number one in the market significantly. In fact, the distance between the second company and us is quite significant," he says, adding that PGNA doesn't take this position for granted. Under Pirondini's leadership, the company continues to plan and prioritize investing with its customers to support their growth.
"This business area has a good perspective," he says. "That's not only due to the impact of electrification renewables. It's also relatedto the utilities' actions in terms of grid hardening."
Grid hardening is also known as storm hardening. Utilities implement this process to assess potential risks the power grid is facing so they can take strategic actions to proactively mitigate those risks, fortify critical infrastructure, and as a result, protect their customers
from outages.
The goal is that when a storm or natural disaster does occur, less outages and damages come along with it.This is important because the number of disasters have increased, and continue
to increase with climate change, and scientific data tells us that trend won't slow down any time soon.
"People often think in terms of high voltage grid hardening, but it's also essential in medium and low voltage," Pirondini explains. "We're supportive of our partners, and we're investing
together with them to ensure we have the right quantities and the right type of products available for them."
Pillar Two
"The second pillar of this business is the Distribution Channel of which consists mainly of power cable distributors," Pirondini says. "Those customers include Anixter, Wesco, Sonepar, Rexel USA, Graybar, and a number of others."
He explains that over the past year, the Distribution Channel has experienced robust growth in terms of sales value generation. "Here, we have a bit of a peculiarity in that we are more exposed to the non-residential market industrial cables. We're investing in this area because there are good opportunities."
Pirondini goes on to say that the industrial cable market continues to move away from copper in favor of aluminum. Several years ago, General Cable became the leader in the North American market in aluminum cables, which positioned PGNA very well after the acquisition.
Pillar Three
The third business pillar, Pirondini says, consists of Industrial Specialties in which the company sells a large variety of products to manufacturers who supply the renewable energy industry, elevator companies, the mining industry, crane manufacturers, and other industries as well.
Prysmian sells some industrial cable products to distributors and others directly to manufacturers. The acquisition of General Cable reinforced the company's strong position in this market because both General and Prysmian were leaders in this area. With the acquisition, PGNA's portfolio expanded to include cables for solar panels and wind turbine equipment.
Pillar Four
PGNA's fourth business pillar is Telecom Cable. Its importance is very significant. "Optical telecom has experienced phenomenal growth in the North American market in the last ten years," Pirondini says. "That's why we're investing in innovating new products and trying to understand what our customers in this area want. Their needs are always evolving." He goes on to explain that to grow and support its customers, PGNA is working to help expand the capacity of factories. This expansion is ongoing because the company's customer base has changed in the last ten to fifteen years.
"It used to be companies like AT&T and Verizon buying most of the products. Today, many new players like Google, Amazon, and Facebook have entered the market for their specialty, the data centers. In addition, there is important growth driven by rural broadband and by all the investments that are made in this in this specific area. Customers are always asking us for new and different products, and we're very much focused on them."
Pirondini admits that managing the four pillars is more complex than being specialized, but the advantage to shouldering that complexity has more stability. "You tend to have a business growing particularly fast while another one may be slowing down, so you stabilize the overall result. Strategically, that's a fundamental strength."
Operational Excellence
When asked about operational excellence, two words immediately come to Pirondini's mind-efficiency and effectiveness.
"The history of the Prysmian Group is very much about cost control and ensuring we're on the right course," he says. "We have a whole set of methodologies in our toolbox. We measure our efficiencies, and we are very much focused on lean manufacturing and improvement."
After pausing to reflect for a moment, he says, "One strength of the last years was the fact that we pushed a little bit more on working together across the classic operational functions to make the most of the efficiency opportunities. R&D, manufacturing, and procurement are all very important. We have an organized way to play together to ensure we constantly monitor and pursue all our opportunities. It's quite a consolidated mechanism. It's not new. It's something that has been going on for the last ten years and, as such, is quite tuned and works very well. It's a good machine that is producing good results."
One of the strengths Pirondini highlights is the global collaboration among more than 100 factories and the Prysmian R&D professionals. "This collaboration was an incredible driver of our success in 2022, especially when we talk about the telecom business, which experienced such a sudden growth that was way beyond our expectations in terms of demand." He explains that due to a combination of high demand and supply chain challenges, that year was a particularly challenging year for manufacturing operations in North America. "When our customers couldn't find products, we had to find solutions to support them. As a result, we basically opened up to the entire world-wide footprint of the Prysmian Group."
He adds that during that same time, the entire North American manufacturing industry experienced a level of attrition that he had never seen before. "We were struggling to find new people to maintain the headcount. In fact, we managed to grow the headcount in the factories slightly, but the turnover was crazy."
Because Prysmian had trouble getting enough volume out of the North American factories at that time, Pirondini says the help he got from the rest of the system was essential, explaining that involving the other manufacturers gave his team the time they needed to bridge any gaps they had with new investments coming onboard.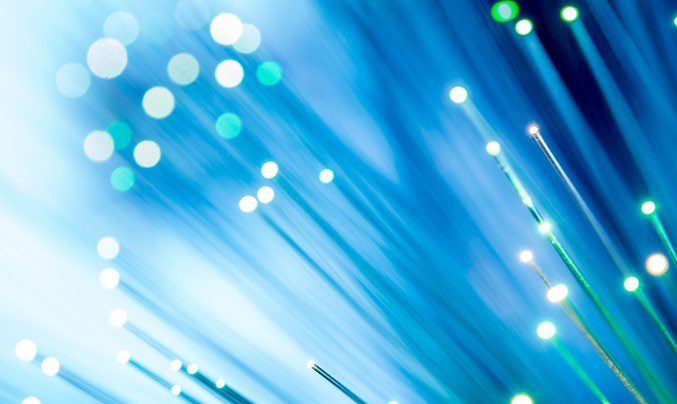 "Having a positive impact on our community is integral to what we do. Teaching these young students about business topics and the cable industry is an important introduction and one that we are excited to facilitate. We hope we can inspire them towards important STEM careers they might pursue in the future."
Evolving technology
"Telecom technology's changing. Products are changing," Pirondini says. "General Cable used to be one of the key players in the area of copper telecom cables. Today copper clearly is a declining market."
One strategic advantage Prysmian has when adapting to change is the integration of the factories. That integration bought the company the time it needed to turn one of its copper cable factories in Jackson, Tennessee, into an optical cable factory.
"We had an excellent workforce there," he says. "We knew it was a reliable factory, so closing wasn't the right thing to do for various reasons. We kind of recycled the factory. Today it looks brand new. You wouldn't know that it's been reconverted. At the beginning of January, we started to produce a Telecom optical cable in that facility."
Pirondini explains that they trained those Jackson, Tennessee employees by sending them to Prysmian factories in South Carolina, North Carolina, and the rest of the U.S. "People were so happy because they saw a new perspective for themselves, for their futures, and for their factory," he says. "After six months of training, they came back full steam, ready to produce."
He adds, "You know when you have a factory that already can rely on people, and you know they are trusted, they are good, and don't have to build it from scratch, it's a much easier task. Speed and cost are completely different from a green field where you start from zero."
Inspiring a Future Workforce
Just as Prysmian invests in its current employees, the company hopes to inspire today's young students to keep Science, Technology, Engineering and Mathematics (STEM) related careers in mind as they begin to think about their futures.
Toward that end, the company is now sponsoring three classrooms through
Adopt A Class connects businesses and civic groups with students in 36 schools across Greater Cincinnati. On average, 97 percent of students at those schools participate in free or reduced lunch programs.
Prysmian volunteers now visit 2 classrooms at Ockerman Elementary in Florence, Kentucky, and 1 classroom Riverview East Academy in Cincinnati on a monthly basis. They share their insights into the manufacturing industry and facilitate monthly activities to reinforce learning concepts.
They also focus on exposing students to a breadth of experiences and training to help make them career ready. These visits also encourage students to engage in question-and-answer sessions that enable them to dive deeper into STEM-related and general career discussions.
The program aligns with Prysmian's social ambition objective of empowering local communities and reducing inequalities. By leveraging global expertise, Prysmian's employees share their experience to encourage students to embrace a technical or scientific career like those offered at the company.
According to the company, Prsymian's volunteers are thoroughly enjoying the chance to introduce the wire and cable world to the students who have shown interest and an incredible curiosity that breathes new energy and excitement into the details of everyday telecom operations.
Navigating the Supply Chain
Pirondini says that supply chain issues were the most formidable challenge Prysmian faced last year, adding that the issue is valid downstream and fundamental upstream as far as the company is concerned.
"We had a lot of work to do together with our suppliers, with their factories in the U.S. and their factories outside that were part of our worldwide network of suppliers. We had to leverage any ideas we could come up with to maintain continuity in terms of supplies of imports of raw materials and metals. It was so difficult to guarantee continuity of supply. This situation was something we had never seen. Fortunately, we could activate supplies from Chile for copper, which allowed us to alleviate the crisis that copper went through in North America. As for various types of plastics, could activate supplies from Europe and the rest of the system. Every week, we had a new challenge, and the work of the manufacturing team, the factories, and the procurement team were fundamental with our suppliers, and of course, with the rest of the system at a global level to go through the same thing." He says that for Prysmian managing the upstream supply part was last year's critical success factor.
Pirondini credits Chief Purchasing Officer Brian Schulties for much of the company's success during the supply chain crisis. "Brian was thorough when it came to communicating with our customers downstream, explaining to them with complete transparency, a lot of anticipation what was happening upstream and how it would affect them. He spelled out our constraints, consequences, the areas where we had to proceed with allocation policies, and even the areas where we could do without. He spent so much time talking to our customers that I got amazing letters from them. They took the time to write and tell us how much they appreciated Brian's communication."
Pirondini stresses the importance of managing challenges in a balanced way, in this case, ensuring everybody knew and understood that resources were scarce. He also mentions the importance of avoiding waste along the supply chain through false expectations.
"You need to tune in to everything and the pace of the business on the basis of the scarcity. It's a different game. But, at the end of the day, it's not bad if you manage it well There are a lot of opportunities."
Due to those shortages, Pirondini says some new, strategic suppliers are showing up on PGNA's radar.
Sustainability
"Traditionally, we all hear about Scope One, Two, and Three," Pirondini says.
"But we also have the privilege to impact sustainability because we sell products that support the digitalization and the electrification of the world. The decarbonization of the world is, therefore, something I call Scope Four, which is basically our ability to support our customers in accelerating their investment plans to transition the world into something more sustainable. This ability is also an important driver with our suppliers. They are very committed."
Passionate about sustainability, Pirondini continues, "It's very, very important when we talk about greenhouse gas equivalent, C02 emissions, we talk about our extended supply chain. We have a significant impact on our suppliers. They are about eight or nine times more relevant than we are in terms of C02 emissions. Therefore, subjects like green aluminum and green copper are very important for them and for us."
He adds that the way the customers use the product to minimize energy losses is of fundamental importance when it comes to sustainability.
It's worth noting that Prysmian Group North America has just been recognized as an Innovation and Disruption Leader in a documentary series by TBD Media Group.
The documentary series focuses on companies that break the status quo and improve decisions for a brighter future and showcases leaders and businesses, who have adapted and modernized their strategies. Prysmian's film centers on various disruptive innovations, including sustainable cables and accessories, which hone the company's focus on sustainability to prepare the U.S. energy grid for the future.
Beyond addressing the immediate needs of the grid, Prysmian looks to anticipate future demands and facilitate the shift toward renewables, including wind and solar energy. The U.S. is currently on track to have 42% of energy come from renewables by 2050, but that number could be closer to 80% if current proposals are enacted into policy.
"I like to see Prysmian as more than a dominant player I like to see us as always striving to lead." Pirondini adds, "As a consequence of striving, we ended up being number one. Being number one is okay as long as we can lead in a meaningful way for our customers. This is always our focus and our obsession. That's why we spend so much time talking to our customers and suppliers. They are key to our success, so we tend to play in a very integrated way."
"Sustainability is at the forefront of what we do at Prysmian. In partnership with our customers, we are making significant progress towards a more sustainable future, not just in the products we offer but also in the communities we serve, both in North America and around the globe."