John Wynne
President and Chief Executive Officer/Fortis Solutions
Six years ago, John O. Wynne, President and CEO bought a manufacturing plant called Labels Unlimited. That company became Fortis. This exclusive interview offers insight into various aspects of success, including the power of providing a first rate customer experience.
Fortis Solutions Group offers a vast range of product offerings including pressure sensitive and shrink sleeve labels, multiply coupon and flexible packaging printing, extended booklet printing, pouches, folding cartons, label applicators and variable data printing for the food, nutraceutical, health and beauty, household chemical, automotive, retail, and e-commerce industries.
Current President and CEO John O. Wynne, Jr. bought the original company in October 2010 when it was a single manufacturing plant called Labels Unlimited. "I wanted to move back to Virginia Beach, where I grew up. This acquisition was my opportunity to do that," Wynne explains. Main Post Partners purchased a majority interest in the business in 2017 with Harvest Partners assuming majority control in 2021.
He says that what attracted him to the company, in addition to its incredible culture, was its extraordinary focus on the customer experience. "Speed-to-market
was everything to them, whether that was a product delivery, delivering a quote, or delivering a proof," he says.
Before going into the label business, Wynne had held various positions within the Investment Banking units of Deutsche Bank and Morgan Stanley in New York.
When Wynne acquired the company, they were doing $15 million in business, and the roster of accounts was a solid foundation to build on. Since his arrival has continued to grow, making its first acquisition of A&M Label in Wixom, Michigan, and Memphis, Tennessee, in 2014. The company continues to grow both organically and through additional acquisitions, and Wynne expects Fortis to continue to grow.
The company now employs over 1,300 people, operates multiple manufacturing facilities, has distribution capabilities across the country, and serves customers worldwide.
"First and foremost, if you don't have great talent and great people it can be a real challenge. We're very fortunate to have outstanding leadership across our functional areas."
"It's not the dots on the map," Wynne says. "It's how the dots are connected that really moves the needle for us. We never stop learning and we never stop investing in technology. We prioritize bringing on great talent, and we know that nobody has a monopoly on good ideas."
Despite its growth, Wynne doesn't consider the business 'corporate' in the traditional sense. "That word doesn't encompass Fortis Solution Group's entrepreneurial, growth-oriented spirit," he explains.
One of the traditions that makes Fortis unique is its "Fun Committees" operated at each plant The Committee's mission is to inject fun events and small touches into the work environment with activities like ice cream socials, chili cook-offs, pot luck days, sweet-treats for Valentines, and more. Fortis also holds one big, off-site party each year, that gives employees the chance to get to know one another better, away from work.
In keeping with that spirit of camaraderie, Wynn stays very hands-on. "My running joke is that I live at 30,000 feet on Delta Airlines going somewhere," he says.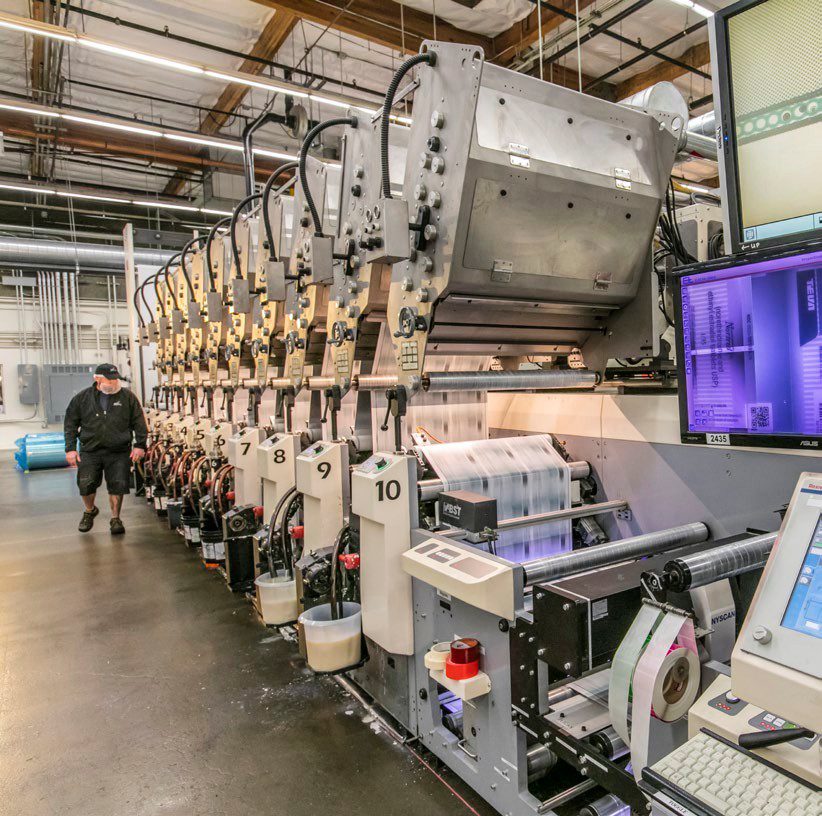 "You don't want to have any preconceived notions; you just want to be a good partner and understand how you would want to be treated if you were on the other side."
Under Wynne's leadership, the company now has 19 acquisitions behind it and spans twenty-two locations across the United States. Fortis recently acquired West Coast Labels, located in Placentia, California. That was the company's sixth acquisition in 2022 alone.
Wynne says that proximity to their customers is a driving factor in acquisitions. "We want to continue to go narrow and deep and accelerate the opportunity set we need within each of those products geographically because transit time and transit costs can be prohibitive to getting additional business." The company's strategic locations and tactical placement of capabilities make them a "one-stop shop" for many of their customers.
Fortis is unique because the company prides itself on providing an entire system of support to give its customers a powerful advantage in the marketplace, and in that way is thoroughly dedicated to helping grow its customers' market share. The company engages with multiple facets of their customers' organizations in practical terms including manufacturing, procure-ment, brand managers, and marketing so they can bring innovative ideas to them that will help increase their sales. Meanwhile, Fortis continues to push a lot of volume through the presses. Their machines can run as few as 1,500 labels at a time, or as many as 15,000 labels at a time.
Flexibility is another strategic value-add the company provides by way of maximizing the capabilities of digital print which offers such benefits as variable data printing, for things like sequentially numbered labels, shorter run lengths, reduced inventory, and an absence of registration issues. Of course, in addition to providing value to existing customers, staying on the cutting edge of technology continues to attract new customers as well. Beyond those ever-advancing technical advantages, Wynne explains that his business strategy is always focused on end-market diversification.
When he took over Fortis Solutions, the company focused heavily on food as its core staple. Since then, it has expanded to higher margin, higher profile industries, including nutraceutical, health, and beauty. It has expanded into five key product offerings: labels, flexible packaging, shrink sleeves, folding cartons, and label applicators. Despite this diversification, Wynne believes in honing the company's centers of excellence rather than diluting its focus by trying to be all things to all people.
"Each of those product lines requires certain experts," he explains. "If we're going to step into something, we want to do it really well. We will guide you through the process but if it's not the right fit, but we'll ultimately pass."
Wynne adds that one of the company's strengths is that they don't need to launch every product they offer across twenty-two sites. "We can offer various lines in perhaps three to five locations, and so it's really about strategically placing our product lines across our manufacturing footprint to determine where items are best run." He added that those operational choices come down to identifying key performance indicators (KPIs) and the people and equipment capabilities in each location.
In addition to the strategic acquisition, resource utilization, and managing transit times, Wynne has also taken a robust approach to operational efficiencies. He says that increasing automation is a crucial component of building that efficiency.
One of the factors that made automation a priority is that, like most companies, Fortis Solutions Group began facing recruiting challenges. Its rapid growth made those challenges more pronounced. In response, Wynne led the company to seek solutions internally. That internal focus has helped them unpack areas of opportunity to increase manufacturing efficiencies. In addition to automating specific steps, Fortis Solutions Group also invests heavily in developing its existing workforce. "We can cross-train folks which obviously leads to further job stability," Wynne says.
He adds. "The macro environment being
the way it is has focused us internally, so it can complement what we're doing on the growth side."
Wynne makes it clear that he believes in a transparent team approach that includes integrated business planning across departments. For example, on the local levels, Sales and Operational teams are meeting regularly with the shared goal of creating a great customer experience.
"I really believe in our culture," Wynne says. It's a singular culture that's externally focused on the customer experience. We live and breathe that. Anyone can go out and buy a press, but at the end of the day, it takes someone to operate it in a really efficient way that drives value for the customer."
Wynne notes that the supply chain is a huge component of driving value. When it comes to the supply chain, there are a lot of strategic concerns other than cost.
Covid, of course, highlighted how vital those external relationships are.
"Our industry, in particular, has been particularly challenged with material availability over the last eighteen months," he says. "We've had strikes. We've had paper mills shutting down." In the face of those challenges, Fortis Solutions Group has been working harder than ever to cultivate external relationships so that they can stay apprised about material availability and costs. "We understand that we're in a changing market dynamic and that our vendors have to be profitable." He says that cultivating external relationships has helped everyone involved play to win. He points out that many factors a company can leverage to drive cost out of the system have nothing to do with the price of materials. He explains that another related supply chain component is freight network optimization. The supply chain includes raw materials, film, laminate, ink, machinery, and digital technologies in the labeling and packing industry. In addition to leveraging economies of scale, the company has local buyers who interact with the vendors on a close, consistent basis and, therefore, can quickly move when problems arise.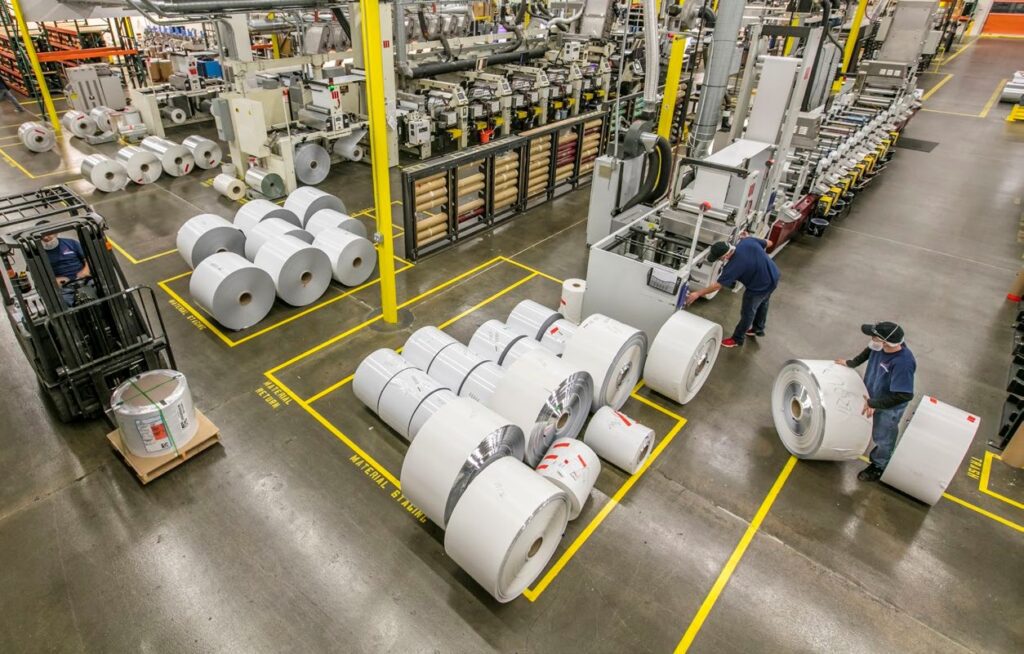 "We do our best to have our footprint figured out, so we know where we're going to run certain product lines to make sure we're closer to our customers and vendors," Wynne says, adding that while also reducing the freight expenses of our vendors." He says that the pandemic has helped his team learn to be more insightful and more grateful than ever for the suppliers and Steve Stockman, our Director of Supply Chain, who works very closely with our vendor base and our R&D team.
"At the end of the day," Wynne continues. "Fortis Solutions Group has been successful because we have a singular approach that is customer-centric in nature, and so before going down the path of doing what we think we need to be doing, we step back. We reflect. We really get to know the customer's business objectives. We get to know the customer by asking the right questions so that we really understand where they're going so we can help align our own strategies."
He adds that with today's current focus on pantry loading, customers tend to stock up, but by doing so, they run a risk of obsolescence. "If we thoroughly understand our customers' go-to-market strategies up front, we can deliver the best value to them."
"We have roughly a dozen or so vendors that are really core and strategic. We're also open to new ideas and innovations. We have regular reviews with our core twelve vendors while keeping our ears open to new vendors entering the marketplace."