John Fieldly
CEO / Celsius Holdings, Inc.
The gym rats' favorite, energy drink Celsius, is coming off a remarkable US run with revenue up 800% from $20 million in 1Q20 to $160 million in 4Q22. Celsius is now the number two selling energy drink on Amazon. That such numbers can bring a big smile to an accountant's face is evident as John Fieldly, CEO of Celsius, and former CFO as he talks to CEO NA.
"It has been a great year for the company and the last several years have been phenomenal," said Fieldly. "We are in an extremely competitive category going against several of the largest consumer products brands in the world. The good news is that we are in a fast growing category, one of the fastest growing categories in food and beverage and that is anticipated to continue over the next several years."
Celsius has a main line of 18 fruit flavored drinks, boasting seven essential vitamins. It has another line of four flavors sweetened with natural sugar substitute stevia, the premium Heat line with seven flavors and the muscle fatigue recovery line BCAA+. Additionally several flavors are sold in powdered form.
With a slender can of Celsius Kiwi Guava energy drink in hand, Fieldly underlines that the last couple of years with COVID have not been easy. Success required hard team work and overcoming once-in-a-career obstacles.
"Great partners build great brands and companies."
"Keep in mind that we have just gone through the worst supply chain crisis worldwide in the last five decades," Fieldy told NA CEO. "It is really important to have great partners and suppliers. We were coming out of some of the most challenged supply chains, especially with aluminum. We really had to make sure we have those best-in-class relationships. Every business is a people business. When you look at supply chains it is changing rapidly. We are constantly looking at the futures market and the latest news of the day."
The company also faced spiraling freight costs and needed to reconfigure its logistic systems to optimize freight. The same snarled supply chains led the company to seek out alternative manufacturers and supply chains.

"You can have the greatest product in the world, but the name of the game in consumer products is that if you are off shelf, you are not selling," observes Fieldly. "It is so difficult in retail to get distribution, extremely difficult, and once you have distribution — to give it up because of being out of stock or a shortage, will set you back six months or a year or even can put you out of business altogether at that retailer. We live or die each day by our supply chains."
The company is constantly looking at its operations, constantly evaluating the location of its warehouses and distributors though major investments in data analysis. The company works on leveraging technologies everywhere it can.
But aside from close personal attention in getting product to consumers, product distribution also got a major boost when it signed a long-term strategic agreement with Pepsico, effective August 2022. The deal hinged on a $550 million dollar investment by Pepsico in exchange for preferred stock, turning the global giant into a 8.5% shareholder in Celsius.
"Celsius brings that essential energy for life inside and outside of the gym and that is in our DNA."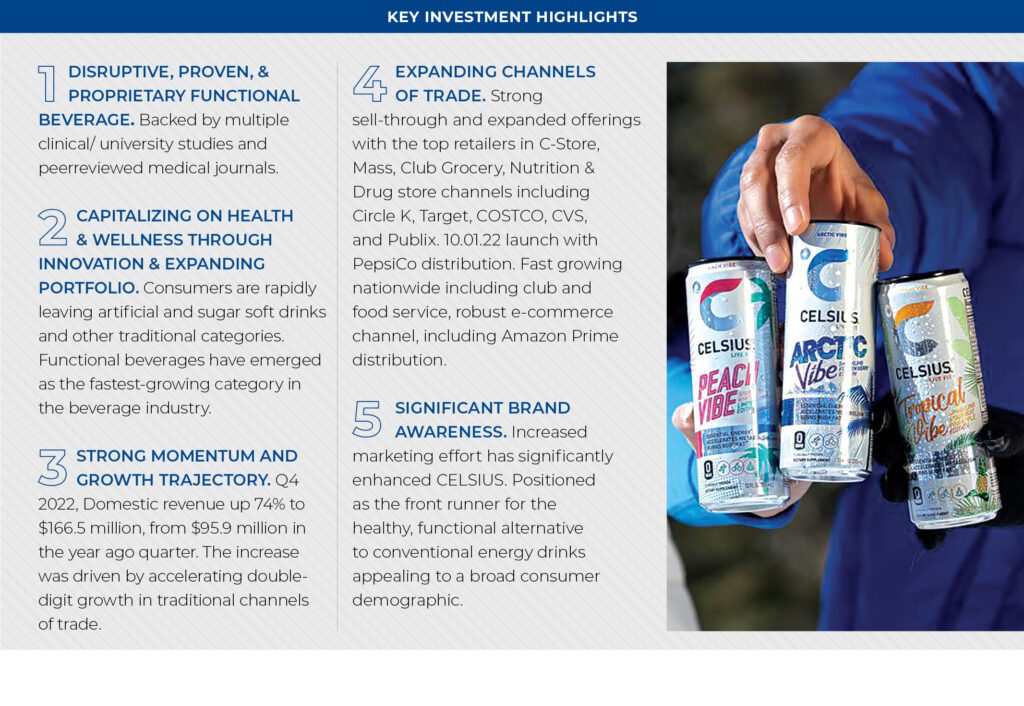 "One of the big opportunities we realized in 2022 was partnering with Pepsico and that has really set the stage for the future of the company……. allowing us to go broader and deeper into distribution and also have additional sales representatives supporting the company now, selling Celsius. If you think of the number of employees PepsiCo has, the exponential opportunity that that transaction has opened is really going to set the stage for years to come with the company."
Celsius was the leading driver of growth in the energy drink category in 2022, responsible for 21% of growth and driving $474 million of incremental sales. Even now on on Amazon Celsius has a 16.9% market share. And in the club channel the company managed 247% growth year-over-year.
But Fieldly is looking for new areas to expand the business.
"One big area of opportunity is food services," noted Fieldly. "College campuses is a new opportunity for us as well, being able to have access to college campuses and CELSIUS is a great energy drink, a better-for-you energy drink that provides that essential energy and we do extremely well in resonating with the college students of today."
Since the Pepsico distribution launch Celsius has added over 1,600 locations in colleges and universities. One of the major trends the company has identified is the changing role of athletic fashion in society.
"If you look back five or seven years ago there was a new segment called athletic leisure wear, which did not really exist prior to that in the mainstream," notes Fieldly. "Today it is a whole huge segment. So many news brands are in the category of the athleisurewear as well. Just look at the expansion of brands like Lulu Lime and Gymshark and other new clothing lines that didn't exist to mainstream consumers many years ago. Now this same thing is happening in food and beverage."
The Celsius brand is now delivering on the promise of healthy, functional drink for a fitness lifestyle. The company added 1,600 healthcare locations with the Pepsico agreement. And fitness is now one of the mega-trends in the industry for all consumer products.
"The Pepsico partnership gives us the opportunity to see how high "high" really is."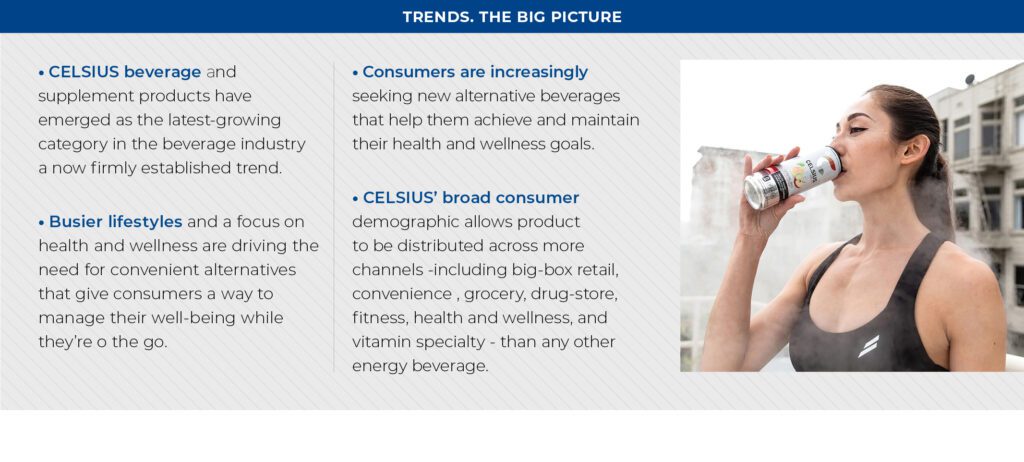 "So now we are positioned for broad mass appeal with todays health-minded consumer," adds Fieldly. "If you weren't thinking about fitness prior to COVID, post-Covid you are definitely thinking about fitness, you are thinking about what you are putting in your body, you're thinking about the ingredients, you're thinking about your lifestyle."
As people leave artificial or sugary carbonated drinks out of their diets in pursuit of a healthier lifestyle, Celsius is well positioned to fill the new demand.
In the long-term the company hopes to make use of the opportunity to be a major player, not only in the energy category, but also in the beverage category. Fieldly has seen the potential for the the food service aspect of the company's market in its own lunch room where employees drink Celsius at lunch or with a food item, while five years ago Celsius was sold mainly as a pre-workout drink.
The company has also set its sights on global markets which are increasingly adopting US trends and where Celsius has had a presence since Swedish tourists discovered the drink in Florida and started bringing it to Scandinavia.
"Two individuals from Sweden found the product back when they were vacationing in Miami and brought it to Sweden and grew it in Sweden to a double digit market share," recalls Fieldly. "We have learned a lot from the success in Sweden. But Pepsi has broad distribution to over 126 countries. We see this not only has a total beverage opportunity but also as a global opportunity."
The company recently closed a nationwide distribution agreement for China with Qifeng Food Technology, opening a vast new market, while the company hopes to grow in Europe using its Nordic success as a guidebook.
As Celsius grows the roles and responsibilities of employees have become a major focus of the company.
"Highly efficient teams really need to be collaborative and cross functional as well," said Fieldly. "We are really big on cross functional which allows us to move really quickly versus some of the competition. We try to break down silos everywhere we can to have cross-functional collaborative teams."