Medical technology is a difficult act to keep together.
Text by Chief Executive Officer Staff
B. Braun Medical has increased its size significantly in the US market during the last decades, and the German company is pulling out all the stops to grow even larger and adapt to a demanding commercial environment set up by stringent health regulatory processes and the power of large purchasing groups.
Caroll Neubauer joined Melsungen, Germany-based B. Braun nearly three decades ago looking to develop a career as a legal counselor for the medical equipment company's headquarters, and for a few years that was the case. With law degrees from both German and American universities, the New Jersey native spent a few years going back and forth between countries for the company first as legal assistant to Chairman of the Board Ludwig Georg Braun and later as general counsel for the company.
But as contact with the operational side of the company increased after his appointment to the medical equipment company's board, Neubauer says his business acumen started to grow and he was asked in 1996 to take over North American operations, then a niche, US$200 million a year unit.
"Knowing that the US was going to be a focus market in the future hit me quite by surprise," Neubauer says of his start as head of the US unit in 1996. "Now we're talking nearly 20 years later, and we are about 10 times the size we were, or at least we're going to be that before I retire, that's for sure."
The B. Braun Group, known worldwide for medical products for the treatment of diabetes care to infusion therapy, including dialysis, pain management and nutrition among others, supplies hospital equipment, outpatient products and the like to almost every country in the world, with operations in more than 50 of them. In North America it is increasing its footprint and is preparing large investments to widen its market position. "Just over the next four years we will invest over a billion dollars in the US to grow our presence and increase our capacity," says the executive. "The only thing that's keeping us from growing even more than we are now is that we are running out of capacity on every corner of our factories here in the United States, and over 70% of the products that we sell here are manufactured locally."
EFFICIENCY AND INNOVATION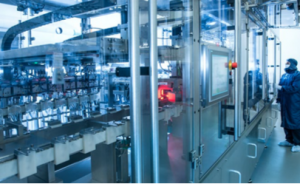 Medical technology is a difficult act to keep together. Between the increased demand of services by a longer-living population, with more affluent clients in industrial countries and the demands of cost-efficiency and low price in developing ones, as well as dozens of agencies in charge of regulating human-health related devices, services and products, a company like B. Braun must act as a very competent juggler. People's well being is a very serious business.
"Product innovation has been a driver for B. Braun all along. I could give you a huge list of first products, innovative products that B. Braun is responsible for. That is certainly something that sets us apart. We're not a "me too" company, we're a company that develops new things and also brings efficiency and effectiveness, but also new treatments," Neubauer adds.
Efficiency and the advantages of scale and streamlining are part of what helps the company thrive. B. Braun is constantly looking at how to make its everyday products more efficiently, he says. Digitalization is a part of it and the company is very much aware of the discussion surrounding Industry 4.0 standards of connectivity and automation.
Customers also play a big part on how the company tackles efficiency challenges. "We have to constantly work with our customers to make them more effective and more efficient to face pricing and cost pressure, we have to work with them on systems now, and make our products and our systems work as effectively and efficiently as they can to bring this effectiveness and efficiency into the hospital setting, which is going to be one of the large challenges," Neubauer says.
The company, he adds, is devoting attention to making its systems available to customers to help them do just that. And it is working heavily to gain even more traction with group purchasing organizations (GPOs), large consortia of hospitals and healthcare facilities, some of which handle tens of billions of dollars in contracts every year, from bandages to hospital beds. "We have an excellent portfolio of group purchasing agreements that will provide us the opportunity for this growth."
All of the agreements, all of the investments serve one goal: taking a larger share of the market for B. Braun's top of the line solutions. The company is looking at its largest investment program for the US market in its history. "We have all these projects, there's a lot of balls up in the air that have to be juggled and that is a challenge of its own. We have increased our team materially, we've increased inside knowledge and brought knowledge from the outside to make these things happen. That is one part, and we have a regulatory environment, which of course is going to have its own challenges. All the new products, and all the things that we're do- ing have to go smoothly through the most rigorous regulatory process in the world, which is the US."
A large and able workforce and heavy manufacturing muscle are also an advantage for this difficult task. Close to 60,000 employees in the B.Braun Group carry considerable clout. "In comparison to our revenue we have a lot of expertise in manufacturing and making our products ourselves. We don't go out and buy, we keep this special knowhow in making products ourselves and setting up manufacturing lines," Neubauer explains.
A WORLDWIDE SUPPLY CHAIN
B. Braun has a particular focus on making its own products, and particularly for the US division, it boasts of making at least 70 percent of the products it sells in that market locally. But no company stands alone and a well-oiled supply chain is a big part of success. "Most of our products are B. Braun products, so we have our own way of course." But suppliers enter the system to increase efficiencies. "We buy from Malaysia and Japan, we buy from Germany, Italy, France. Working with our internal and external suppliers on the one hand to be more efficient is obviously a driving force."
That diversification is achieved through stringent quality checks. "We have to make sure that the quality systems of the supply chain are a quality chain all the way through. It is more than just getting it there fast and cheap, so we have to work with suppliers who we can completely rely on, who can document and work with us and take no shortcuts. That's one important part in keeping our organization running and assuring that we keep the quality of products that everybody can expect from B. Braun.
As the company makes most of its end products itself, it is raw material suppliers that B. Braun demands the most of. "Our API (Active Pharmaceutical Ingredients) suppliers are very supportive and important, our plastic suppliers, too. For a company that makes practically most of it from scratch that is very important. And yes, we do have very important strategic relationships, like with Philips in regional anesthesia just being the latest."
The company is not resting on previous achievement either. Looking into the future, creating more integrated treatment and therapy systems is something that needs to be in the pipeline. "And it's not only products, we are going to have to continue following up our product offering with services in education. One of our strongest educational platforms is B. Braun's Aesculap Academy, which is one of the largest continuing education platforms for healthcare professionals in the world. B. Braun worldwide has been very good in providing this additional education. Services are another part, our pharmacy network, compounding pharmacies throughout the United States that help hospitals provide better pharmacy services, more effective, efficient and cost effective. These kinds of services are going to continue to increase their importance, as they strive for effectiveness and efficiency, and bring the costs of healthcare expenses down in this country."