Tony Geheran
Executive Vice-president and Chief Operations Officer
TELUS provides a range of telecommunications and information technology products and services in Canada. Chief Operations Officer Tony Geheran shares his insight into the company's priorities, above and beyond the performance and reliability of technology infrastructure.
The global pandemic forever changed the world's approach to work, education, and countless other aspects of life. In the meantime, it shifted the trajectory of the telecom industry. At a time when the human connection has never been more critical, TELUS Corporation's Chief Operations Officer, Tony Geheran, is leading an organization of over 5,000 team members called Customer Technology Excellence.
Geheran joined TELUS in 2001, bringing a wealth of experience in the telecommunications industry, having previously led several teams in the United Kingdom and the Republic of Ireland. He graduated from the Cranfield School of Management with a Diploma in Professional Marketing from the Chartered Institute of Marketing. He also holds a Professional Certificate in Business Administration from Open University and received his Professional Qualifications in Mechanical and Electrical Engineering while serving in the Royal Navy.
The momentum at TELUS is a good match for Geheran's level of energy and drive. Since 2000, TELUS has invested CAN$220 billion in network infrastructure, operations, and spectrum to expand and evolve its networks and technology to create an agile delivery model with a global scale to support next-generation, digitally-led customer experiences. The company's approach to innovation includes applying methodologies and technologies internally to evaluate viability and scalability before deploying those solutions to its clients.
This ongoing momentum continues both organically and through acquisition. When TELUS acquired WillowTree in January 2023, it resulted in the addition of over 1,000 team members and operations in 13 delivery locations and expanded its number of countries with operations to 30, further setting the company up to be a one-stop experience shop.
"Business is a team sport, and no one business unit or leader can be successful if they don't have an effective network and collaborative structure to bring the whole organization along."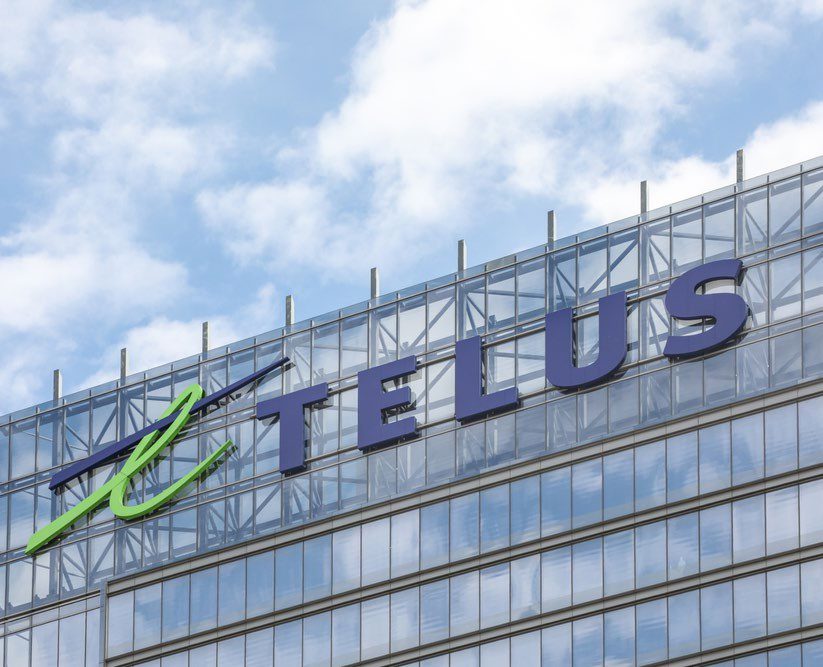 Today, Geheran and his team manage every aspect of the company's technology infrastructure, including the build, performance, and maintenance of networks. His team is also responsible for cybersecurity. According to Geheran, TELUS is well-equipped to meet the ever-expanding demands of the industry.
"In a Canadian context, and even with our international business, we're really well positioned, " he says. "We started many of our investment cycles earlier than many of our peer groups, which means that we're very far down the road to retiring legacy copper line and upgrading homes and businesses to the most advanced broadband technology."
It's clear that Geheran feels enthusiastic about fully deploying fiber infrastructure for TELUS consumer and business customers. "That fiber infrastructure underpins our mobile networks," he explains, adding that, with that foundation in place, the company has an underlying flexibility that allows it to layer on state-of-the-art services more quickly, efficiently, and economically than most of its competitors. "Our expansive fiber infrastructure equips our 5G wireless network with reliable backhaul technology, delivering higher speeds, lower latency, and greater capacity for our wireless customers."
Robust Financial Outlook
In addition to robust operational capabilities, TELUS' financials are strong. Its net income for the twelve months ending September 30, 2022, was $1.577B, a 56.32% increase year-over-year. At the end of Q3, it reported an Industry-leading total Mobile and Fixed customer growth of 347,000, up 27,000. On January 23, its shareholders received a quarterly dividend of $0.3511 per share.
TELUS' revenue continues to grow steadily in each strategic vertical market. During the year ended December 31, 2022, revenue for its Tech and Games, Communications and Media, eCommerce and FinTech, Banking, Financial Services, Insurance, and Travel and Hospitality industry verticals increased 15%, 8%, 10%, 71%, and 21%, respectively, compared to the year ended December 31, 2021. One of the critical components to the company's successful growth and differentiation in the marketplace is its ability to attract and retain top talent.
Social Purpose
Though the revenue is impressive, social purpose remains a solid pillar of the company's brand. While at a glance, TELUS may appear to be like other leading telecoms, its sensibilities are different because, as a global leader in social capitalism, the company is committed to using its resources to support positive social change. Its varied initiatives have added up to make it the most giving company in the world.
Part of this social purpose is driven by Canada's unique and varied geography and population distribution, which Geheran explains can make technology access difficult, especially for rural and Indigenous communities. Therefore, closing the digital divide is a top priority for TELUS.
This challenge is compounded by the fact that Canada is the only country in the world with policies in place that actually reduce the already-limited amount of spectrum available. In Canada, Spectrum – the radio waves that make wireless connectivity possible – is a scarce public resource. This situation is especially true in rural, remote, and Indigenous communities.
TELUS is working with the government to put as much spectrum to use for Canadians as quickly as possible. The company has partnered with government-funding bodies to connect every underserved community in Canada to high-speed internet by 2030.
The company continues to build on its longstanding history of supporting people across the country with access to technology to keep them connected. There have been great strides in bridging the digital divide through collaboration between the private sector and the government. In 2014, only 79 percent of Canadians had access to high-speed internet. Today, more than 90 percent of households have access, including 504 rural communities and 577 Indigenous lands whose citizens this new connectivity dramatically improved lives.
It's worth noting that TELUS is the first technology company in Canada to launch a public Indigenous Reconciliation Action Plan. The company remains committed to Indigenous engagement as a cornerstone of its actions moving into 2023 and beyond.
"Connecting Indigenous communities is so much more than building cell towers and laying fiber-optic cables. It also means developing meaningful relationships built on openness, trust, and reciprocity, and harnessing the limitless possibilities enabled by our world-leading networks to create better health, education, economic and cultural outcomes," says Geheran, who adds that he feels privileged to work with Indigenous leaders, organizations and government to invest in a future in which all Indigenous communities are connected.
TELUS has been working with indigenous communities for well over a decade. There are over 630 Indigenous communities across Canada. In order to best serve those unique communities, TELUS strives to know what connectivity would mean to each community and then discern how their team can best work to satisfy their specific needs.
"We find that we get much better outcomes when we take the time to listen and learn as to what the specific needs are to be addressed, and how we can bring the technology in to be best utilized," Geheran says. He adds that it's essential to acknowledge that much of his team members' work takes place on the traditional Indigenous territories of many first nations.
That situation further underscores the need for an acute level of cultural awareness to support Indigenous Peoples in the ways they want to be supported.
Geheran says that the addition of technology has been transformative to them. "Connectivity is an essential service," he says, pointing out that in today's world, communities without connectivity can't begin to compete with connected communities. Working alongside Indigenous governments and organizations, TELUS continues to expand the reach of its networks, helping to enable better healthcare and education outcomes, economic development, and language and cultural revitalization. The pandemic, of course, underscored those needs.
To ensure Indigenous ways of knowing are represented in TELUS' Reconciliation Action Plan, TELUS established an Indigenous Advisory Council consisting of Indigenous leaders, subject matter experts, and Elders to provide ongoing guidance on implementing the company's commitments and targets.
TELUS has also provided relief to Indigenous communities affected by fires, floods, and mudslides across British Columbia. When those disasters struck, its network team worked around the clock to maintain and repair service to keep customers connected and donated hundreds of mobile devices. It also delivered more than 8,650 pounds of food and essential goods, including PPE, by boat, car, and helicopter to those residents in need.
Knowing that connecting a community doesn't end with building infrastructure, TELUS has expanded its Connecting for Good programs to help over 3 million Canadians in need.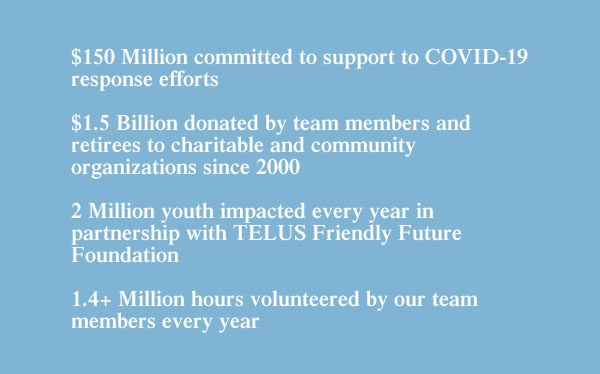 The company offers subsidized internet to thousands of citizens. Since connectivity also requires devices, TELUS Mobility for Good program provides free or subsidized mobile phones and plans for low-income seniors, youth aging out of care, and Indigenous women experiencing or at risk of violence.
"We've done a lot over the last three years in terms of putting fiber where, economically, most people would have considered infeasible and making sure that every constituent in the community gets connected. In situations where their economic situation doesn't enable them to take advantage, we offer subsidy programs for services, hardware, or rate plans so they can access digital services or have a device that allows them to communicate or even propel their business forward effectively."
Geheran explains that a well-rounded and well-considered approach will better support people in various locations and situations across Canada, creating a more cohesive and empowered community.
It's important to note that the company has committed funds to a broad spectrum of causes, including $150 Million to support COVID-19 response efforts and $1.5 Billion donated by team members and retirees to charitable and community organizations since 2000.
Among its many programs is Health for Good™ which is working to transform healthcare in Canada. It now serves marginalized Canadians in 22 communities by bringing mobile primary healthcare clinics and mental health support directly to people in need. Meanwhile, 12.6 million Canadians are now covered by the company's Health Benefit Management solutions.
In the interest of sustainability, the TELUS Pollinator Fund For Good program connects sustainable small businesses to the skills, expertise, and money they need to scale and grow. At $100 million, it's one of the most significant corporate impact funds globally, having already invested nearly $20 million by it´s second year. Forty percent of which are for-profit startups led by women, and fifty percent are headed by Indigenous and minority leaders.
"Our approach to partnership is based on a series of strategic criteria, and it's always grounded in our commitment to improving social and economic outcomes for Canadians."
The TELUS Friendly Future Foundation® connects youth to various educational and enrichment opportunities through grassroots charities across the country. It is also committed to giving them the technology they need to succeed. Each year, the Foundation supports the well-being of over 2 million youth each year who face obstacles to reaching their full potential, providing them with access to the technology, health, and education resources they need to thrive.
In addition to monetary contributions, team members invest a total of 1.44 Million hours volunteering every year.
Looking Ahead
When asked about future plans, Geheran mentions a project called Falcon that TELUS began about ten years ago. "The objective was to completely rebuild our existing copper network with the latest 5G fiber technology. At the outset, that was one of the largest strategic capital investments we had ever made."
Geheran says that TELUS viewed the project as a transformation program and that the capabilities that would come from that investment would shape and shift the way TELUS would operate as a business.
"Now, 10 years into that program, we're largely complete on the extensibility of fiber where economically viable, but we've got a few years of long tail investment left in that path. New opportunities arise all the time as communities grow or as immigration drives population growth, and cities densify, so there are still opportunities to do more, but by and large, the heavy lifting has been done," he says.
According to Geheran, the fiber installed due to the Falcon project has allowed TELUS to analyze the impact of an upgrade on that level. That information helps the company directly in how they operate the networks and run the business processes supporting those services.
Keeping an eye on trends has allowed TELUS to deliver technology its customers can use to stay ahead of the curve.
"There's a major shift to cloudification of the platform and system architecture that runs business systems and network operating systems' capabilities," Geheran says. "We're also really far down the road in terms of digitizing our go-to-market so that we've got a very effective omnichannel for inbound and outbound sales and sales support activities."
He adds, "We're always looking at what we can do with technology to really transform the way we engage our customers and make our services available. To do that, the digitization of the business model has got to be critical."
Geheran says that the journey TELUS started early on served them well through the Covid pandemic. When the world began to open back up, TELUS could see the value of value taking its initiatives even further. "When you look at base technology in terms of the network, it's harmonized around fiber and 5G," Geheran says. "Meanwhile, our operating platforms are moving into the cloud and being digitized. That unleashes a wealth of opportunity for transforming core business processes and the way our customers can do business."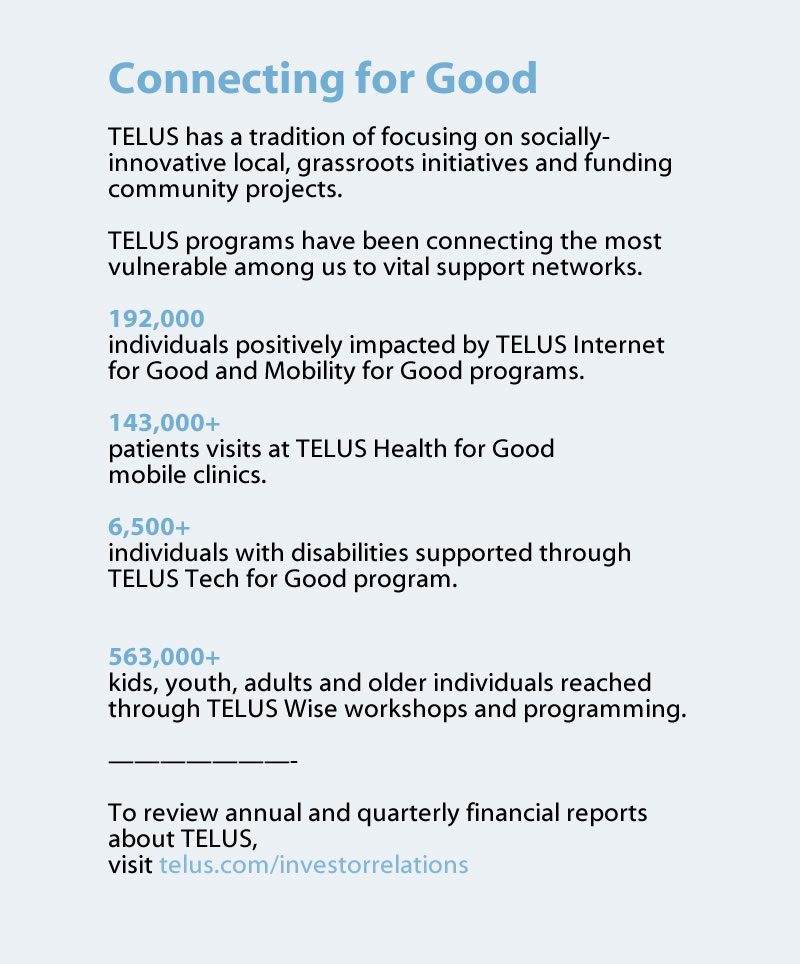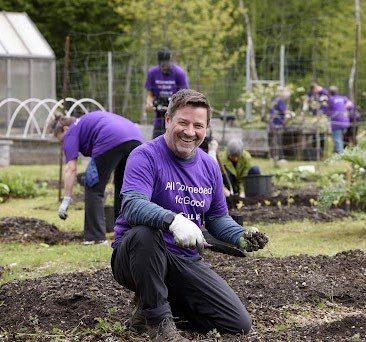 Making an impact
97%
of participants said the program makes
it easier to stay connected to friends,
family and support workers.
90%
said the program helped them foster
a personal sense of security.
86%
said the program helped them find
resources in a crisis.
37,000
computers donated to the Government
of Canada's Computers for Schools Plus
program since 2001.
"What I look to achieve is understanding and evaluating where we are on our journey of digital transformation for creating a solid, sustainable platform for our business and our customers."