Romance, cheating and for fun. A recent YouGov poll shows the reasons why Americans use dating apps.
Since apps, going on a date with a stranger you met online is no longer a strange concept.
Millennials lead the charge on transforming the dating industry and making online dating universally accepted. A January 2018 Statista survey revealed that 12% of 18-29-year-olds admit to being in a relationship with a partner or spouse that they met online.
According to the Pew Research Center, between 2013 and 2015, online dating usage has tripled among those between the ages of 18 and 24 and doubled across senior adults in the U.S. According to Nielsen data, 1 in 10 American adults (55 and 64-years-old) spends more than an hour a day on a dating app.
The why… Romance and cheating
[ihc-hide-content ihc_mb_type="show" ihc_mb_who="3,4,5,6″ ihc_mb_template="3″ ]
According to a recent YouGov poll, men are three times as likely as women to use dating websites/apps for casual sex, while a third of Americans think they have killed romance.
The data from YouGov Omnibus also shows that 7% of people who have ever used dating apps or websites have used them to cheat on a significant other. One in six (17%) of current users of dating apps or websites say that cheating is one of their main reasons for using them. Millennials (11%), parents of children under 18 (11%), and people who are married (10%) are also particularly likely to say that cheating on a partner is one of the reasons they're using a dating app or website.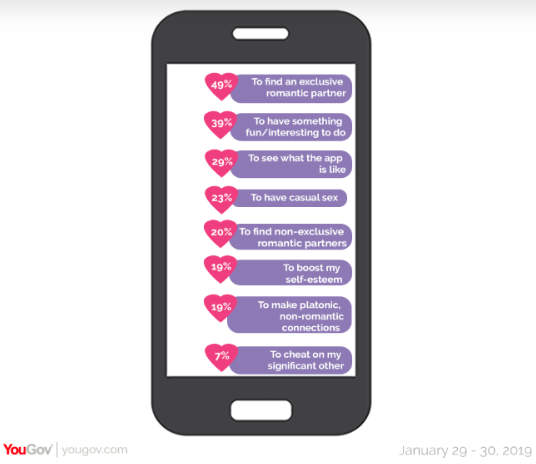 YouGov's research shows that nearly a third of Americans (32%) have ever used dating websites/apps, a figure that rises to 44% of millennials and 39% of Gen X'ers.
Tinder is the 103rd most popular mobile app and the 23rd most famous in the world. It is described by fans as: Amusing, clever, not for kids, addictive and good for people of all ages.
[/ihc-hide-content]