On Queen Elizabeth ll's official birthday, Britain's troops made history.
A Guardsman stood out at Queen Elizabeth ll's birthday celebration, marking a clear route towards tolerance and inclusion in the armed forces.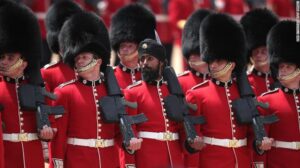 Charanpreet Singh Lall, of 22 years of age, became the first from the 1st Battalion Coldstream Guards to wear a turban instead of the traditional tall bearskin hat in Trooping the Colour, a military display that dates back nearly 270 years, where over 1,000 soldiers took part in the ceremony.
The India-born Sikh spoke about the hope he has that such act will encourage young people from all cultures and backgrounds to enlist in their armies.
"I hope that people watching, that they will just acknowledge it and that they will look at it as a new change in history (…) "I hope that more people like me, not just Sikhs but from other religions and different backgrounds, that they will be encouraged to join the army."
"My mum was crying on the day I passed out (after he completed training) so I wonder what is going to happen to her when she sees me in this."
A plan of inclusivity that had been cooking
Back in 2015, the British Army was looking at proposals to recreate a Sikh regiment, which has been suggested several times in the past.
In 2007, the MoD scrapped a similar plan after the Commission for Racial Equality advised it could be seen as divisive and amounted to "segregation".
The presence of Singh Lall was praised all over social network, calling it a change in history and an honor to see the first Sikh to wear a turban at #TroopingtheColour, who stood out for his identity and the culture he represents.