For World Water Day 2019, over 840 million people around the world still lack even basic access, according to the United Nations.
Access to water is a human right: it is vital for the dignity of each and every individual.
World Water Day is March 22nd, and the 2019 edition focuses on tackling the water crisis by addressing the reasons why so many people are being left behind.
With the theme of "Leaving No One Behind", it argues that fulfilling the human rights to safe drinking water and sanitation for all can also significantly contribute to the achievement of the broad set of goals of the 2030 Agenda for Sustainable Development: from food and energy security, to economic development and environmental sustainability.
However, reality is still at a low point, as 844 million people around the world still lack even basic access, according to the United Nations.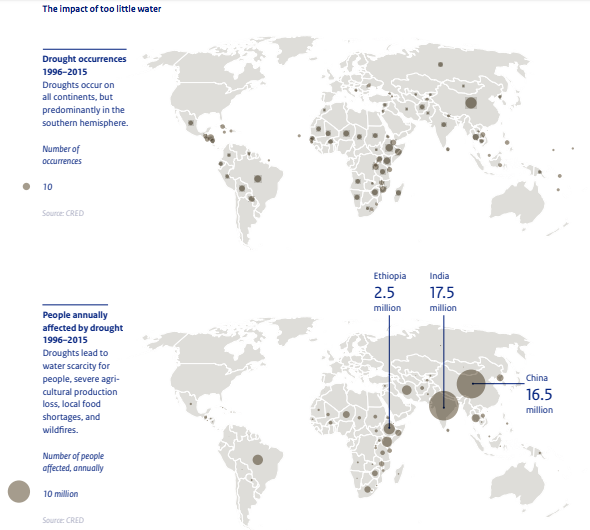 A problem for all, a crisis for many others
The lack of water and unsafe supplies hurt everyone and everything across the world, but women, children, refugees, indigenous peoples, disabled people and many others are often overlooked as they face discrimination in their attempt to access and manage safe water.
Unsafe water causes diseases like cholera, typhoid and hepatitis A. It is a bigger cause of human death annually than disasters and conflict combined, according to the Emergency Event Database and the Netherlands Environmental Assessment Agency, which also points out that infants and children are especially affected by unsafe water.
According to The United Nations World Water Development Report 2019, if women had the same access as men to productive resources – including land and water, they could increase yields on their farms by 20 to 30%, raising total agricultural output in these countries by 2.5 to 4%. This could reduce the number of hungry people in the world by around 12 to 17%.
Future: Uncertain
What the future holds is uncertain, but projections can be made.
Between now and 2050, under a Business-as-usual scenario, the combination of further population growth, further economic development and climate change is projected to increase the water-related stresses of water scarcity, water pollution and flooding.
As 70% of the world population is projected to live in an urban environment by 2050, water-related risks are also expected to be increasingly concentrated in cities.
The rapidly growing urban population strongly increases the pressure on local resources, local environmental conditions, food availability, labour opportunities, and public services. Reducing inequality, insecurity and poverty in cities may be some of the major challenges, on the path towards 2050.
Water is linked to many -if not all- processes and activities, affecting people, economical activities and ecosystems, therefore it is imperative to explore all possibilities of bettering the scenario, especially as global water consumption will not slow down.