A robot serving your meal is not a futuristic dream, it's a reality in several restaurants chains across the United States, possibly near you.
Restaurant chains are using automation and artificial intelligence to satisfy consumers' cravings.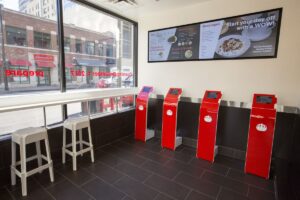 Wow Bao, a Chinese restaurant chain, "The newest of Lettuce Entertain You's chain of Chinese-style steamed bun carryout shops that doesn't tinker with success. Where you'll find the same fluffy bao stuffed with sweet, dark-red barbecue pork, spicy Mongolian beef or Thai curry chicken, and even a meatless option for the veg-heads as well as breakfast bao for that morning commute", Time Out Chicago wrote, is innovating more than anyone.
As of now, the quick-serving Asian chain, hid their cookers, silenced the noise of pans and dishes and replaced it with screens, aiming to use automation and artificial intelligence to satisfy consumers' cravings for speed, quality, and convenience.
So what does technology taste like?
Is has a slightly metallic flavor, like the tinny tang of circuitry and switches? Or is it actually steamed Asian buns? At a new highly-automated restaurant, technology doesn't smack of silicon — it tastes like hot dumplings.
When you arrive at Wow Bao you don't place orders with humans at a counter. Instead, you will use their smartphones or a self-ordering kiosk. When your order is ready, one of 12 cubbies with an animated LCD screen lights up, displaying the customer's name. A double-tap on the screen opens the cubby, which has been filled by kitchen staff never seen by guests out front.
"You never need to talk to someone," said Wow Bao president Geoff Alexander to IQ. "You walk in the door, order what you want, pick up your food and leave."
Customers like the convenience of a kiosk and the sense of hassle-free privacy that comes with it. Do they miss the human touch? We don't know yet. For retailers, self-service kiosks can really boost business growth. Humans can forget to upsell, but a kiosk never does. Kiosk maker Zivelo reports that customers are 200% more likely to get dessert when ordering from a kiosk.
Christie Rice, Intel's director of partner management for the Americas, said: "It's easier to tell a kiosk we want a chocolate shake than it is to tell a waiter. The analytics can really help with business insights and meet the ever-changing customer demands."
Rice said the technology that enables kiosks can help quick-service restaurants understand customer behavior — everything from how many touches it takes to complete a purchase, to what men buy versus women.
What's next on the tech menu?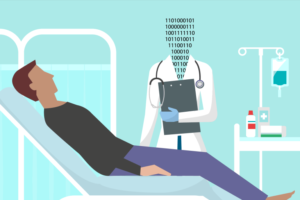 We already use voice on the drive-thru speaker, but one upcoming technology is voice ordering and artificially intelligent (AI), said Erik Thoresen, principal at Chicago-based foodservice consulting firm Technomic.
Chains like Taco Bell, Wingstop and Pizza Hut employ AI chatbots to power "conversational ordering" via social media. Eventually, Thoresen predicts, these platforms will be voice-activated and highly accurate as restaurants build archives of historical ordering data. Proximity sensing will also be influential in placing food orders, according to Perry Quinn, senior vice president for innovation and business development at the National Restaurant Association.
Now imagine you are late for a meeting and haven't lunched. You pass next to any chain restaurant of your food taste. You receive a message from the restaurant on your mobile phone: Do you want to order the usual? You answer yes, pick up your food and leave straight to the meeting. Amazon Go, the brick-and-mortar grocer that uses proximity sensing to let customers shop without having to go through the checkout, is exploring that type of service.
And it's not only food… drinks have a tech spicy touch too. Planet Hollywood boasts a bar in Las Vegas where robotic arms take drink orders, then mix and pour cocktails.