42 individuals own as much wealth as the world's poorest 3.7 billion people.
2017 was not a bad year for billionaires.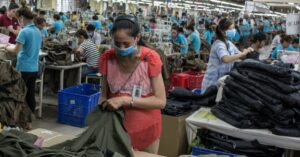 As 2018 came along, last year closed down on a total of 2,043 billionaires across the world, according to Forbes, and nine out of every ten are men.
Global economy pushed the creation of one billionaire every two days, growing their net worth 24 percent to $5.38 trillion in 2017.
Today, according to Oxfam International, just 42 people own as much wealth as the world's poorest 3.7 billion people who make up the poorest half of the world's population.
The "Reward Work, Not Wealth" report from Oxfam stated 82% of all wealth created in 2017 went to the top 1%, while the bottom 50% saw no increase at all.
When billionaires boom, economy stumbles
As last year saw the biggest increase in billionaires in recorded history, Winnie Byanyima, director of Oxfam International, referred to the billionaire boom as "symptom of a failing economic system".
On January 19th, he said through a statement: "The people who make our clothes, assemble our phones and grow our food are being exploited to ensure a steady supply of cheap goods, and swell the profits of corporations and billionaire investors."
This exacerbating inequality has come at the cost of weakening workers' rights and a building up on a corporate push to maximize shareholder returns.
The report continues to explain it takes just four days for a CEO from one of the top five global fashion brands to earn what a Bangladeshi garment worker will earn in her lifetime.
In the US, it takes slightly over one working day for a CEO to earn what an ordinary worker makes in a year.
Clash of opinions
On the other side, Mark Littlewood, director general at the UK-based Institute of Economic Affairs, stated "Demonising capitalism may be fashionable in the affluent Western world but it ignores the millions of people who have risen out of poverty as a result of free markets."
"Increasing minimum wage rates would also likely result in jobs being cut, harming those Oxfam intend to help", he added.
According to Credit Suisse Global Wealth datebook, a wealth gap on tax evasion, corporations' increasing influence on policy, erosion of workers' rights and cost cutting may be to blame for the enormous pay gap.
Read here about the economic gender pay gap across the world today.