Americans' trust in Government capability, press, and Congress is at a historic low-point.
Americans' trust in all of the most important democratic institutions has been falling for decades, especially for the government's ability to deal with domestic and international problems.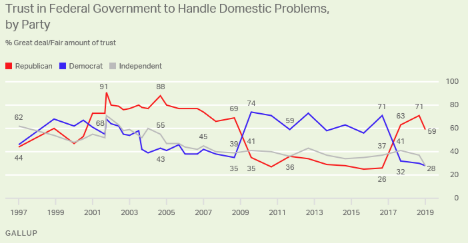 According to recent findings by Gallup News, Americans' trust in the federal government's capability to handle domestic and international issues has dropped to its lowest point in more than two decades, as only 35% of Americans said to have "a great deal" or "a fair amount" of trust and confidence in the ability of the U.S. government to oversee and deal with domestic issues, down from 45% four months ago. In that same period of time, according to the Gallup data, handling international issues has also dropped.
Trust in the federal government to handle problems at home and abroad has consistently been prone to swings in partisans' views, depending on the party of the sitting president, as members of the sitting president's party have been consistently more likely to express confidence in the government's handling of domestic problems.
This latest poll realized by Gallup was conducted January 21st to January 27th of 2019, as the longest partial government shutdown in U.S. history was in its final days. On the international front, the U.S. was dealing with the political crisis in Venezuela, while President Donald Trump's plan to withdraw all U.S. troops from Syria and his upcoming North Korean summit continued to draw widespread bipartisan criticism.
Where confidence has fallen
The federal government's capability to handle matters domestically and overseas is not the only democratic institution coming across trust deterioration. Newspapers, Television News, and Congress have also been part of the confidence decay from Americans, as SIGNAL reports that since 1990 to 2018, all of these institutions saw a plunge of over 15 points.
When it comes to the trust "winners", a survey conducted by Pew Research Center revealed that nearly eight-in-ten Americans (79%) said the U.S. military is either above average or the best in the world compared with militaries in other developed nations. This confidence comes after the U.S. Army fell short of its recruiting goal last year for the first time since 2005 and struggles to connect to the country's youth.
Additional data from Pew Research Center saw public confidence also stand out for the scientific community, becoming one the most stable among the 13 institutions rated by the General Social Survey (GSS) since it started operating in the mid-1970s, with 44% of Americans declaring to have a great deal of confidence in the scientific community, while 47% have only some confidence, and 7% have hardly any, according to the 2018 General Social Survey, released March 19.
Acting in the public interest
Americans expressed the most confidence in the military to act in the public interest, followed by scientists. In that survey, 79% of U.S. adults had either a great deal or a fair amount of confidence in scientists to act in the public interest.
By contrast, majorities of Americans had not too much or no confidence in the news media, business leaders or elected officials to act in the public interest.
Click here to see how the world sees confidence among Vladimir Putin and Donald Trump.