Disney debuts as America's most intimate brand in the 2019 Brand Intimacy Study.
Brands matter. Emotions too.
This is why during 2018, MBLM with Praxis Research Partners conducted an online quantitative survey among 6,200 consumers in the U.S., Mexico, and the United Arab Emirates to understand the extent to which consumers have relationships with brands and the strength of those relationships from fairly detached to highly intimate.
Since the 2018 index, a growing dominance of media & entertainment was palpable, and it continued all the way through to 2019, where for the first time in an analysis related to Brand Intimacy, Apple came in second, following Disney, the Bob Iger company.
The 2019 Brand Intimacy Study by MBLM has also become increasingly saturated with media & entertainment brands, as 4 out of 10 highlight as the most intimate brands of 2019.
Automotive has also increased its presence at the top shelves, although it slid from its #2 spot last year. Amazon maintains a strong position while fast food brand Chick-Fill-A aims for the top of the ranking.
This is the complete list:
Division by gender
Women and men in the U.S. share many of the same industries among their top five brands.
Each group includes two media & entertainment brands, one technology & telecommunications brand, and one retail brand.
Google, BMW, and Amazon dropped among male brands in comparison to last year's index. The women's top five includes almost all the same brands it did last year, with the exception of Chick-Fill-A replacing Jeep.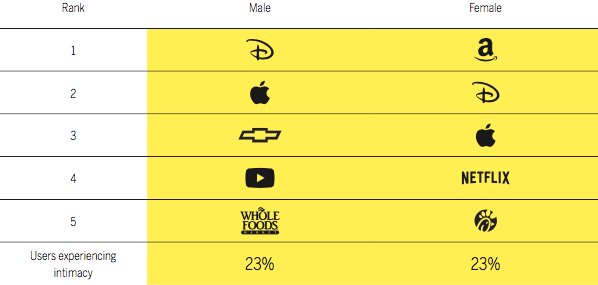 Brand intimacy considering age and income
Apple and Disney have built strong bonds with users under the age of 55, whereas Amazon has more success with older users.
Millennials, on the other hand, and users aged 35–54 are more intimate with media & entertainment brands, while older U.S. consumers don't have any brands from this category in their top five of preference.
Income demonstrates a varied view of intimacy, with only Apple making it in the top five of both groups (age and income).
Those making under $100K seem more attached to media & entertainment brands, whereas those with higher incomes prefer brands from the technology & telecommunications and retail industries.