The OECD has slashed its growth forecast for the world economy amid the coronavirus.
The impact of the COVID-19 outbreak is going to be severe, as least that's what the OECD states in its latest Interim Economic Assessment Report.
Restrictions and containment measures on movement of people, goods and services has the global economy and markets experiencing rough days, bringing considerable human suffering and major economic disruption, with output contractions being felt around the world through business travel and tourism, supply chains, and commodities. This is why OECD experts determined a 0.5 percentage point downward revision of its forecast for global GDP growth in 2020. This means that OECD now expects the world economy to grow by 2.4% in 2020, down from its November 2019 estimate of 2.9%.
These adverse impacts on supply chain, customer confidence, financial markets, and the travel sector contribute to the downward that could turn out to be the lowest level of economic expansion since the end of the financial crisis, particularly in all G20 economies in 2020, particularly ones strongly interconnected to China, such as Japan, Korea and Australia. The study also forecasts that the epicenter of the epidemic will be highly hurt, meaning that China growth could be slipping below 5% this year before recovering to over 6% in 2021. The organization also warns that new cases of the virus in other countries are also assumed to prove sporadic and contained, but if this is not the case and a longer lasting and more intensive outbreak of the coronavirus disease expands throughout the Europe, North America and the AsiaPacific region, global growth will be substantially weaker.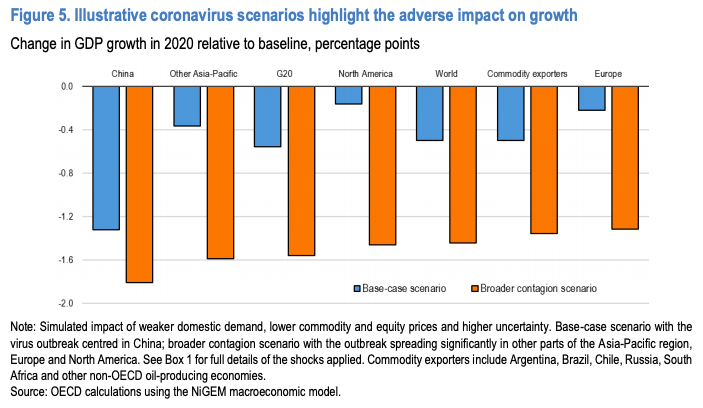 If this happens, governments could be faced with the challenge of having to respond to significant weakness at a time when domestic policy space is limited. However, despite projection, co-ordinated policy actions across all the major economies are needed to ensure effective health-care provision around the world and provide the most effective stimulus to the global economy. OECD shares that additional fiscal and monetary policy support and enhanced structural reforms in all countries would help restore growth, improve the confidence of consumers and investors and reduce uncertainty.