Our life on this world aims to be digital, always connected, but there's an audience who remains disconnected from the online world.
Overall, 77% of Americans go online on a daily basis. According to Pew Research Center, that figure includes the 26% who go online almost constantly, as well as 43% who say they go online several times a day and 8% who go online about once a day. But there's another figure, that of the audience who remains disconnected from the online world.
A new report from Pew reveals that these disconnected Americans tend to be older, have less education, a smaller annual income, and live in rural areas.
Variables
This 10% of U.S. adults not adopting the Internet is heavily linked to a number of demographic variables, including age, educational attainment, household income and community type. Seniors, for instance, are more likely than younger adults to say they never go online, as 27% of these senior adults still do not use the internet, compared with fewer than 10% of adults under the age of 65.
Household income and education are also indicators of a person's likelihood to be offline, as roughly three-in-ten adults with less than a high school education (29%) do not use the internet in 2019, compared with 35% in 2018.
Another 2013 report from Pew stated that among other reasons to remain offline, 34% of non-users stated that they do not go online because they have no interest in doing so or did not think the internet was relevant to their lives. Another 32% of non-users said the internet was too difficult to use, including 8% of this group who said they were "too old to learn." Cost is also a barrier, as 19% cited the expense of internet service or owning a computer.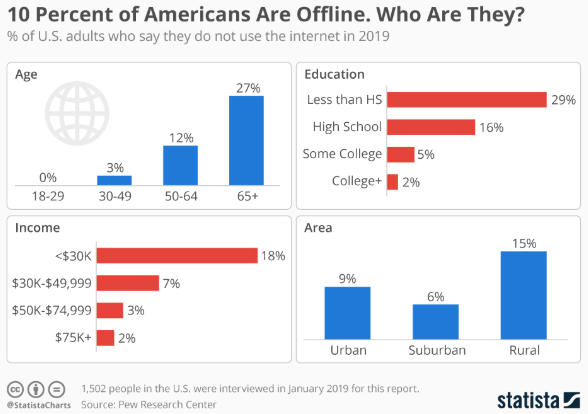 Rural America
The digital gap between rural and non-rural Americans has shortened, no doubt, even dropping 7 points since las year regarding online adoption, but there is still much to be done as spaces in rural America still face weak infrastructure and territories unable to adopt internet coverage.
Despite that 60% of the U.S. population lives in metropolitan areas, turning cities a primary sales and marketing target for technology vendors, rural America is still in need of adopting digital, as it shelters another 15% of the U.S. population and 4% of the U.S. economic output who could really benefit from the adoption of technology innovation.
The U.S. Chamber of Commerce study commissioned by Amazon finds that investments in digitally transforming rural regions could add more than $140 billion to the U.S. economy and create more than 360,000 full-time jobs in non-urban communities, driving as much as $84 billion in new economic activity each year. A nsearly 20% of rural small businesses in America generate the vast majority of their revenue (at least 80%) by selling their products and services online, southern states stand to reap the greatest return on investment in rural digital transformation.
A battle vs offline
Our life on this world aims to be digital, always connected, so we could say there is a clear battle towards an offline lifestyle and the offline population, who has been dramatically shrinking since 2000, when 86% of adults ages 65 and older did not go online in 2000 (today that figure has been reduced to 27%).
The U.S. government, spearheaded by the FCC, has been rolling out programs to encourage Americans in underserved communities to adopt the internet.