The World Cup is the greatest show on earth, but the drama hits staff productivity around the world.
As the 2018 FIFA World Cup kicks off in Russia today, the eyes of the world will be watching. But this also means that those eyes are focused on things other than a hard day's work.
Various studies show that staff productivity dips during the tournament, which is the most watched sporting event in the world, and that certain regions are hit harder than others.
The 2018 World Cup features 32 international teams competing for the biggest prize in soccer and will take place from June 14 to July 15.
As the cup is being held in Russia, the impact of games on productivity will depend much on how the games coincide with working hours. In Western Europe, the games will be held from early afternoon through the evening. In the Americas, from 7am through mid-afternoon.
Taking these factors into account, Statista Research has published a list of major cities where productivity is expected to suffer the most. Rio de Janeiro and New York top the chart while Tokyo and Melbourne are expected to be least affected given that games will be played during late night and early morning hours in Asia.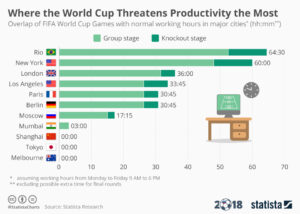 According to FIFA, the world soccer governing body, the last World Cup, held in 2014 in Brazil, reached a global TV audience of 3.2 billion people, with the final between Germany and Argentina alone attracting more than 1 billion viewers.