FIFCO started out as a family-run business in Costa Rica. Today, CEO Ramon Mendiola is overseeing its international success.
When Ramon Mendiola became CEO of the Florida Ice and Farm Company (FIFCO) in 2002, he moved from a multinational business environment to a family-run organization and immediately sought to combine the best of two very different worlds.
The results have turned the Costa Rica-based food and beverages maker into not only one of the largest and most successful companies in the Central America region, but also a burgeoning player in the North American marketplace with the 2012 acquisition of North American Breweries Holdings for $388 million.
The move was the largest that FIFCO had ever made and the first in a leading market, surprising many. Yet in some ways, it was typical of the thinking-big attitude that Mendiola has brought to FIFCO.
"When I joined the company, I saw various opportunities," he says. "But the most intriguing thing for me was the opportunity to be more efficient in the way we were doing businesses. I was coming from a multinational company, so when I joined FIFCO, I saw the very best of a family-run company, but also the opportunity to bring some methodologies on accountability from a multinational."
FIFCO is headquartered in the province of Heredia, Costa Rica, and has a catalog of over 2,000 products sold across fifteen countries. It is currently structured as a holding company with three subsidiaries: Florida Bebidas (food and beverages), Florida Capitales (investments in bottling facilities), and Florida Immobiliaria (investments in resort hotels.) As of 2017, the company enjoyed total revenue of $932 million worldwide.
Of the family-run atmosphere at FIFCO, a company founded in 1908, Mendiola says he most appreciated the camaraderie among the workers, management, and directors.
Yet what was missing in his view was a greater level of accountability, and ultimately, efficiency, to drive productivity and enhance areas such as supply chain and product innovation as well as having FIFCO grow outside its core business and beyond the borders of Costa Rica. In recent years, he has certainly achieved this, and more.
Moving a company forward
"I hired third-party consultants to help me make a diagnosis," Mendiola recalls of the time he took over FIFCO and began look- ing at taking the company in a more ambitious direction than it had traditionally been known for.
"For me, the most important thing was to be able to achieve greater efficiency. I did this by establishing special business units in different segments of the company and also increased our focus on innovation. We went through all of that, and by 2006, I felt I had the house a little bit more in order. Then I wanted to focus my attention on top line growth."
"I set a challenge for our management team that we grow the company by twice its size in terms of revenue and profits," he added. "I suggested that we look at a two-year framework with a goal of 100% organic incremental growth and 30% non-organic. I really believed we had opportunities insofar as we were growing 1-2% at the time, but as we increased innovation, especially in terms of customer services, we found that we were able to grow 10-11% for three consecutive years."
"Then, in 2007, we started to enter new markets like Guatemala with soft drinks, and we started our expansion outside Costa Rica," Mendiola continued. "By 2008, we had doubled in size. It was not because the board was pushing us to do that. It was because we believed we had a tremendous management team in place, and we were ready for a bigger challenge."
American dream
2012 represented another turning point for the company. FIFCO began adding to its already impressive range of products with the headline-grabbing acquisition of North American Breweries Holdings (NAB), whose portfolio includes the Magic Hat, Portland Brewing, Pyramid and Seagram's Escapes brands.
In February 2018, Adrian Lachowski, the general manager of Florida Ice and Farm Co.'s (FIFCO) Central American beer and FMB business, took over as CEO from the outgoing Kris Sirchio.
Prior to joining FIFCO, Lachowski spent over 20 years in the beverage industry, most notably with Anheuser-Busch InBev.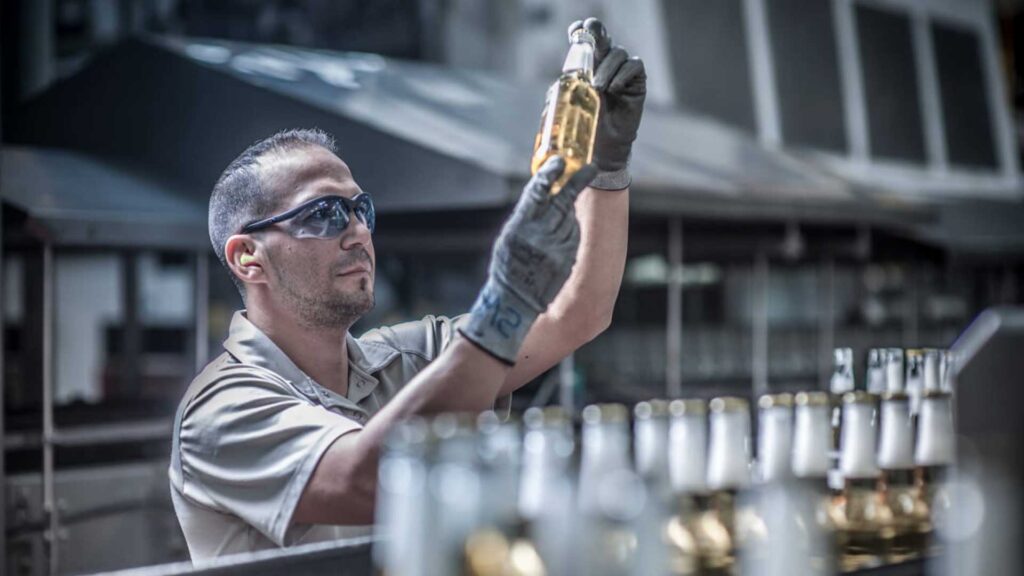 "Under Kris' leadership, NAB has made significant progress integrating our triple bottom line strategy," Mendiola said in a press release at the time. "He improved the company's financial performance, transformed our supply chain, and engaged our employees while increasing our community impact and improving our environmental footprint each year."
The switch comes as Mendiola plans to "simplify the company structure by aligning NAB's practice areas to FIFCO."
"We've selected an innovative leader who has proven experience at FIFCO," Mendiola said. "He has spent more than two decades in the industry, and for the past ve years has transformed our beer and flavored malt beverage business in Central America."
"In 2012, we managed to make four acquisitions in just eighteen months," he recalled. "We entered into new categories like wine, we entered dairy, we integrated with retail operations. en we entered the United States, and that was a really important part of our strategy. We grew rapidly from about 3,000 employees to almost 6,000 during that process."
Yet the rapid growth of the company also made Mendiola feel like he was losing touch with his employees, and he quickly looked for ways to address the issue, his goal being to retain the loyalty and pride of a family-run company in the guise of a quickly expanding multinational.
The key, according to Mendiola, was finding common purpose.
"I started thinking about the reasons I went to the o ce every day," he explained. "If you know your purpose, you connect with your employees in a whole different manner. I was looking for something to bind us all together, but that had to begin with the executive team. If you go to a mountain retreat with your top executives, at the end of the third day, you'll know what the purpose of your organization really is.
"We did it, and it was very interesting. At the end of the third day, we discovered that the purpose of our company was to make a better way of living for people. at idea made us look at things in a whole different way."
Looking ahead
FIFCO currently has a 2020 strategy which Mendiola sees as crucial to taking further steps not only to growth—to double the size of the company again by that time—but also in the realms of social and environmental responsibility.
Dubbed FIFCO 2020, he describes the strategy as a "way of systemizing FICO's business, almost like producing a manual on the FIFCO way."
"I divide it into two areas: one is the supply chain, and the other is the commercial side of things," Mendiola explained. "We have come up with a way to structure the supply chain of FIFCO across all regions, countries, and business units, and we are establishing a way of working with them to share their best practices. On the commercial side, in this regard was to become a water-neutral company, inspired by Heineken, while it also currently recycles 75% of all its products—up from 14% when Mendiola first took over as CEO—with the goal of reaching 100% by 2020.
"Let me give you an example: last year, Imperial Beer became the first brand in the world being water positive," he said. "That means we not only became neutral, now we are giving back more water than we take from our planet because we are not only able to compensate our footprint, but also to create positive value and that is a game changer. We work with the Global Report Initiative, which is one of the top firms on sustainability, and we are sharing these practices with our suppliers."