CEO Paul Reitz has led a restructuring of Titan International to better prepare it for the future.
When Paul Reitz joined Titan International as Chief Financial Officer in 2010, Titan's end-markets were exiting a cyclical downturn that was giving way to the company entering a period of global expansion.
By the time he was appointed President in 2014 and later CEO in 2016, the markets had reversed course again and were in the midst of a significant, prolonged downturn.
Therefore, Reitz was well aware of the demands in leading a company through challenging circumstances and went about planning a reorganization of Titan to put it in better stead for the future.
"The needs of my position were different in 2014 then than they are now, and also different then from when I first started with the company back in 2010," Reitz told CEO Magazine. "At Titan, we needed to take the base we have with the long-standing tradition of the products we produce, and reorganize and transform our culture and the processes of how we operated".
Titan International is a US-based corporation traded on the New York Stock Exchange since 1993 that was formed in the early 1980's by Maurice M. Taylor Jr. when he acquired Electric Wheel in Quincy, Illinois. Titan has a long heritage in the off-highway wheel manufacturing business and is still today the world's largest manufacturer of off-highway wheels.
Through acquisitions and organic growth, Titan has expanded from wheels to become a leading global manufacturer of off-highway wheels, tires, and undercarriage products and in 2017 recorded $1.5 billion in net sales worldwide.
Titan also manufactures under the Goodyear Farm Tire brand in most parts of the world.
"When I became President, I knew that Titan had a really strong presence in the markets we were serving and a long tradition of taking care of customer needs," Reitz said. "For any company, it starts with your brand and your products, and Titan has proven itself for many years in those areas. From the time I joined Titan, I viewed it as a good opportunity to come into a company that really knew who they were and what they were doing."
Transforming a culture
What separates Titan International from its competitors is that it is the only company in the world that specializes in the off-road wheel, tire and undercarriage business for agricultural, construction, mining, and forestry vehicles.
Yet in his early days as president and CEO, Reitz believed his priority should be focused on transforming the culture of the company with the ultimate goal of changing the way the company operated and how daily decisions were being made.
"My task was building a strong team around a culture of 'ONE Titan,'" Reitz explained. "We're an organization that produces similar but different products in many different parts of the world, and we needed to react quicker to the changes that were happening around us as the market was in the midst of a significant downturn. Making those good, quick, timely, effective decisions on a consistent basis really became a mantra.
"Through our One Titan framework our team has responded very effectively to a downturn that saw 40% of our revenue disappear in a matter of less than two years, and then positioned us well with a strong base that propelled us back into strong growth for the last couple of years."
Reitz explained that the aforementioned changes were achieved by forming a task force whose job was to learn as much as it could from the main users of the company's products, absorbing both their knowledge and experience, and forming a direct connection between Titan and its end users, an initiative that he believes has helped the company in a variety of ways.
"It's given us two things: a lead in the marketplace, and it's built up our brand," he outlined. "It really gives us a competitive edge when we can say we have this particular line of products that's leading the marketplace and it's going to do something for the end user that, quite simply, other products aren't capable of doing. That direct connection with the customer has given us a unique platform to launch from as well."
Connecting with customers
Reitz views Titan's goals over the medium-to-long term as continuing to connect with its customers around the world.
He says he sees an advantage in Titan being a leading company in many of its global markets where it manufactures and one which is rooted in having strong capabilities to engineer, design and manufacture market leading products.
"For us, it's really important that we continue to identify efficiencies across operations and share best practices with our production and technical teams, no matter where they are in the world," he explained.
"The other piece of that is just having a relentless, day-to-day focus on the metrics that drive those efficiencies and having our employees making the best decisions possible on a daily basis whether you're working in manufacturing, corporate, or management. It's something we're really pushing on a daily basis to our entire team, and it's a challenge they have shown willingness to embrace."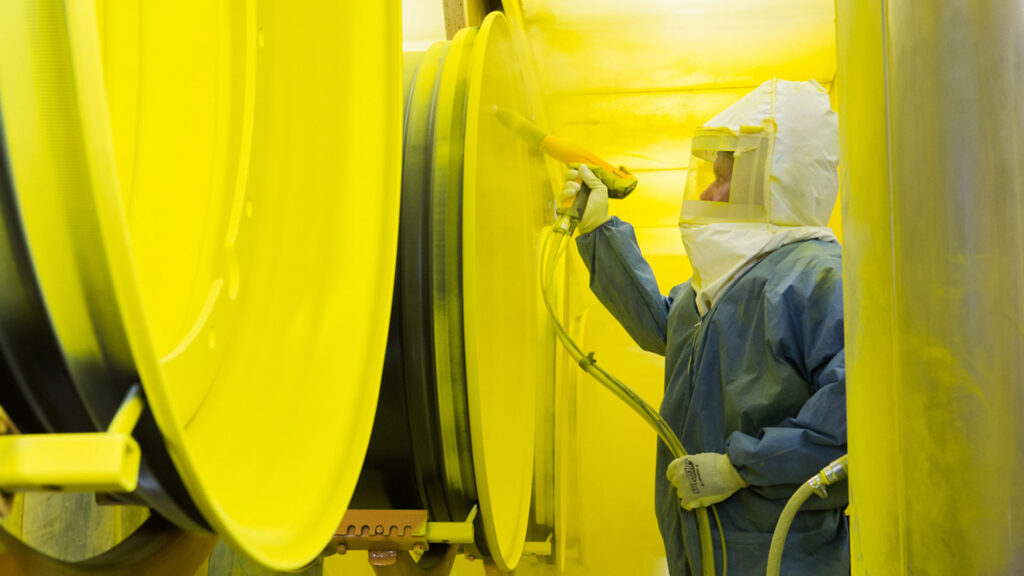 Critical partnerships
Titan sources a tremendous amount of raw materials around the world and has established strong relationships with a number of critical suppliers.
However, its wheel business has gone a step further to build a more effective supply chain which includes supplying components from Titan's own lower-cost manufacturing facilities to its plants in developed locations and by utilizing a global network of components suppliers, notably in China and India.
"A lot of our products—approximately 90% with wheels, 70% for undercarriage and 50% of our tires—go to Original Equipment Manufacturers (OEM), so we're part of a wider supply chain as well and it's very important we keep our costs down," Reitz said.
Ultimately, with 18% year-over-year growth since he took over, Reitz believes that the future is bright for Titan and the company can continue to grow, serve its customers, and innovate within a fast-moving market.
"What differentiates us, fundamentally, is our products and our people," he said. "Our niche in the market enables us to build extensive knowledge about our product range, and we gather that knowledge on a global basis to make effective operating and strategic decisions. Nobody has the global reach and knowledge in the off-road specialty area that we do."