Eric Clark
Chief Executive Officer / Americas Division NTT
NTT Ltd. is a leading, global technology services company. CEO Eric Clark explains the how the company's culture, strategy and values drive its success.
NTT is based in Tokyo and operates in a wide range of domestic and overseas markets. It has been at the forefront of technology innovation for over a century. With over 300,000 employees worldwide, the company has undergone a series of strategic transformations over the years, including the formation of NTT Ltd. in 2019.
NTT Ltd. was formed when NTT combined a staggering 31 companies together to create one of the largest IT Services providers in the world. That mega-merger was intended to better marshal and mobilize the company's collective strength by increasing investments in research and development and giving its clients access to a greater range of services outside of Japan.
The second wave of this strategy was bringing together NTT Ltd. and NTT DATA in 2022 to form NTT DATA Inc., to create a market-leading IT services powerhouse with revenues of $40 billion, $18 billion outside of Japan, and 140,000 employees worldwide.
On October 1st, NTT Ltd. named Eric Clark its Americas Division CEO. With over 25 years of multi-national IT experience and having lived and run businesses out of Singapore, London, and the US, Eric most recently served as the Chief Digital and Strategy Officer at NTT DATA Services. The company determined that he's well-positioned to drive growth, support innovation, and steer new goals to fruition.
Clark has a passion for bringing value-oriented digital solutions to clients. "Since I was appointed, I've had the opportunity to go on a listening tour and interact with more than a hundred customers and partners and really listen to what their priorities are and get a pulse on their biggest needs and how NTT can best serve them,"he says in this exclusive CEO-North America interview.
"It starts with culture. One thing that's very clear to me is that to be a client-focused company, you must be an employee-focused company."
Clark added that, in addition, one of the essential things on his ambitious agenda is to continue to build the NTT culture — both internally and with the company's clients.
"NTT is a company that really puts our clients and employees first. We have a passion for ensuring that we're building both the skills and the culture to provide what our clients need, while we also helping our employees thrive." He adds, "The company's history stems from the Japanese culture of advancing technology for good. That is more than just words on paper. It is truly part of the DNA and heritage that NTT has built over more than 100 years. As a result, it allows us to put clients' needs first and think about making sure that we're in a strategic partnership with them to help them achieve their goals."
Aligning Strategy to Meet Market Needs
NTT recently released the findings of its annual Innovation Index, a survey of one thousand business and IT executives looking at how organizations prioritize their business strategies, digital investments, and innovation to create value. These data insights help shape how NTT goes to market.
The findings revealed that organizations continue to adopt digital technologies to improve employee and customer experiences. Mobile application adoption in- creased 2x from a year ago, edge computing deployments tripled, and usage of composite applications has nearly quadrupled.
The past few years have seen a push in digital technology adoption and better user and customer experiences, and NTT sees that continuing. However, as the indus- try enters a time of economic uncertainty, companies are shifting their innovation agenda to focus on efficiencies and agility. Technology plays a more critical role than ever in those new priorities.
"We are starting to see companies shift their innovation agenda to achieve operational efficiencies, such as managed services, so they can focus more on their core business," Clark says. "Again, this plays to NTT's Data Inc. strengths because we can offer services across that area, allowing companies to focus on what they do best while NTT manages their IT."
"It's in times of uncertainty that our clients need us most," he says. "As a matter of fact, one of the findings from the Innovation Index revealed that organizations have high confidence in their partners to keep them safe, become more profitable and plan for disruption and agility. To do this, they need partners that can help them with the entire stack, not just piece parts."
Strategic Partnerships
Another aspect of NTT's growth strategy is its alignment with strategic partners. NTT takes a multi-vendor approach and establishes alliances with partners focused on co-innovating and building industry specific solutions, leveraging its expertise with their platforms. This extended partner ecosystem is key to ensuring NTT is providing best-in-class technologies that underpin a digital transformation agenda for its clients.
NTT partners with hundreds of companies across the globe.
The COVID-19 pandemic brought lasting change to the workplace globally, includ- ing hybrid and distributed working. This historical event has irrevocably changed the future of network architecture, security, and technology. Not knowing what unexpected changes might follow, today, businesses must operate at breakneck speeds.
The partnerships NTT forms focus on collaboration and co-innovation; Clark explains that the company's continued success is directly due to having sound strategic ecosystem alliances. Partners rely on NTT for its industry-led consulting experience and global systems innova- tion. In turn, NTT relies on its partners for technologies that enable innovation.
"Our clients respond most favorably when we take the work out of navigating all of the supporting components that enable them to focus on the digital experience, workforce transformation, business resilience and data-driven enterprise," Clark continued. "I think the major benefit of the strategic ecosystem alliances is market relevance and market growth," Clark says. "For example, it's mutually advantageous to partner with hyperscalers on how to best use their technology."
Hyperscale refers to specific way servers are grouped to form a network to improve the performance they provide. This configuration is essential for managing big data that global companies need to keep their networks fast and effective. Examples of companies that offer hyperscale services include Amazon, Microsoft Azure, and other digital companies of compara- ble size and scope.
"The same is true if you think about the data space, whether it's Snowflake or enterprise apps across SAP or ServiceNow. The more we're aligned with these partners, the more we can create value for our clients."

Snowflake, SAP, and ServiceNow, are Cloud-based platform partners, as is Salesforce. Meanwhile, NTT works on developing the proper certifications and competencies to ensure the seamless delivery of joint solutions that bring thought leadership to market together.
NTT's partnership with Salesforce includes joint solution development to build upon NTT strength in insurance claims. NTT has recently acquired Apisero, a large Salesforce and MuleSoft provider to continue rounding out its capabilities. With ServiceNow, NTT is excited about the recent roll out of their new partner program and their value proposition around the platform of platform. The two companies announced a strategic partnership to fuel private 5G innovations. NTT's partnership with Snowflake is focused on driving actionable insights from AI and Data to deliver rapid business results. They understand what it takes to work in an ecosystem of technologies.
"We segment partners for different pur- poses," Clark says. NTT's strategic partnerhips span the Cloud, data platforms, ERP applications, and product-centric partnerships like Cisco. Cisco and NTT have been long-standing partners for 30 years, delivering agility and automation into technology solutions and services from infra- structure to applications. Cisco recently named NTT its Global Managed Services Partner of the Year.
"We can have more success working with them when we're aligned with them."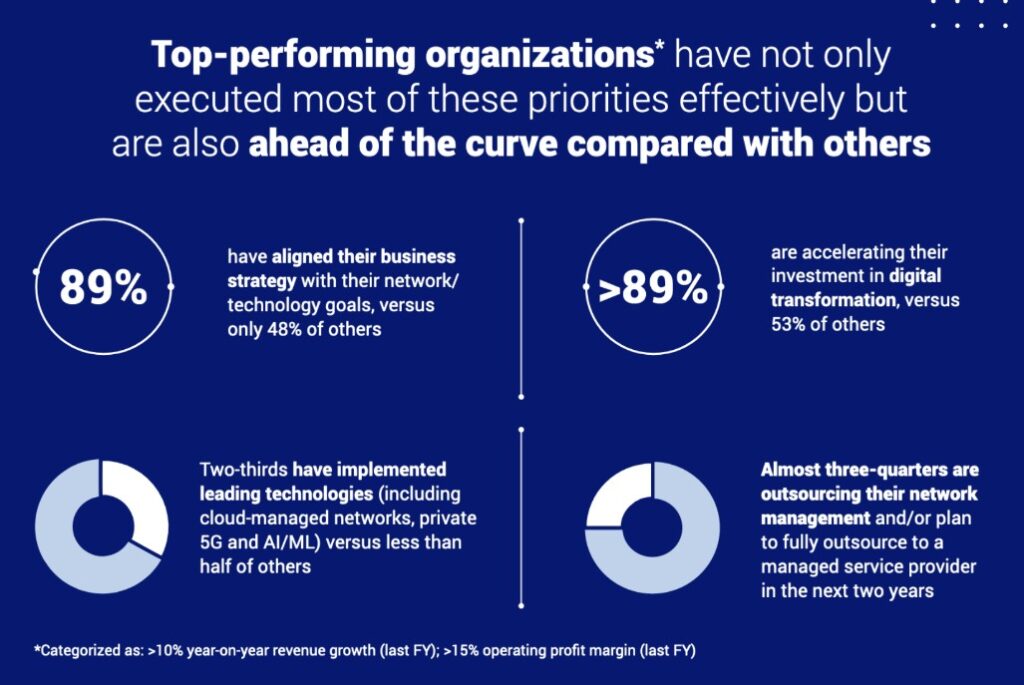 NTT DATA Inc.: A Springboard for 2023
The next wave of NTT's expansion outside of Japan was the formation of NTT DATA Inc. in 2022. That consolidation combined the best of NTT DATA and NTT Limited into one company. The result is an IT services powerhouse with total revenues of approximately USD $30 billion, and USD $18 billion generated outside of Japan, by a team of 140,000 professionals serving clients in more than 80 countries.
The combined companies strengthen NTT's ability to provide differentiated services and solutions in areas such as systems integration; managed services across applications, edge to Cloud infrastructure, BPO, digital consulting; industry solutions; and global data centers.
"These capabilities align with the priorities we are hearing from our clients," Clark says. "We've aligned our customers priorities into four areas: digital experiences, workforce transformation, business resilience, and data-driven enterprise."
NTT's focus has always been on aligning its business and capabilities to meet customers' needs. The combination of NTT DATA and NTT Ltd. gives them even more ability to do that. "NTT has been at the forefront of technology innovation for years, and I value the synergies in our client-centric approach and co-innovation with clients and partners."
I'm excited about bringing the next phase of NTT's strategy to fruition through NTT DATA Inc. We make sure that we're looking at every challenge with the full spectrum of our capabilities instead of focusing on just one piece of the problem. We understand that our technological solutions and services must tie back to our clients' business priorities and board directives." Clark says.
With a vast network of formidable partners, a financially solid parent company, and a culture of collaborative innovation, Clark is enthusiastic and optimistic about speeding NTT Ltd. along its tried-and-true course to delivery robust, agile technology solutions that make a difference to its clients, partners, and society.