Clean energy, leadership and community aid are the main drivers for Xcel Energy today. The company is ready to keep benefiting from its privileged location and making the difference for millions across the US.
---
When Bob Frenzel was appointed Xcel Energy CEO last August, he knew the most meaningful challenge of his career was just starting. Leading a company that has literally changed the life of millions of American families over 150 years was more than an honor, it was also the opportunity to step forward as a leader in clean energies transforming utilities.
"I was thrilled, excited and honored to lead an organization that has such history like ours. A company that has a great reputation both in our communities and nationally," he told CEO North America after remembering his early days in the company as CFO and COO.
Xcel Energy was the first energy company to announce the goal of being carbon free. Being able to accelerate a clean energy transition for the company and for other sectors has been a personal mission for him.
What sets the company apart from its competitors is the unique advantage of delivering clean energy in a privileged location . "I think that is a differentiator between us and our peers across the country. A location advantage is going to distinguish Xcel Energy vis a vis our peers in the investor community. We hear this day in and day out".
Renewables, transmission, electric vehicles, clean fuels and resiliency are the key areas where Xcel Energy is moving forward. "Resilience is another area of investment for us," he says.
Today, the company has a reported revenue of $13.37 billion and is moving forward to strengthen its operations even further.
Working on the company's communities is always on top of the agenda. "We are recovering from a two-year pandemic. We are headquartered in the city of Minneapolis where George Floyd was murdered. There is so much struggle in the community today and now we are facing high inflation and supply chain pressures."
Bob explains that Xcel Energy is embedded within its communities with billions of dollars of assets and 11,321 employees working hard for customers who are increasingly aware of the importance of turning towards clean energy.
He is convinced that influencing the relief and recovery effort after two very challenging years "and maybe a third in front of us", is also an opportunity to strengthen its commitment with communities and stakeholders.
"Clean energy, leadership and community relief recovery. I believe this summarizes our priorities today", says the former United States Navy nuclear engineering and weapons officer who also has a MBA from the University of Chicago Booth School of Business.
Maybe because of his unique background Bob always puts community first, but he does it based on a comprehensive business strategy.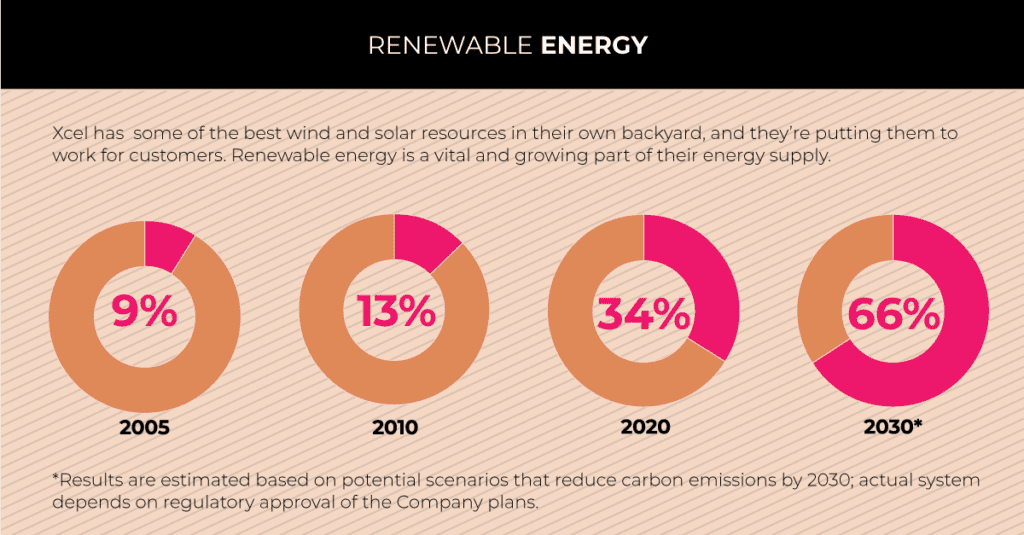 A key geographic advantage for clean energy
With operations in eight states, going from the upper peninsula of Michigan all the way down to south eastern New Mexico, and serving almost 6 million customers in electricity and gas, Xcel Energy's location is unparalleled.
"We are advantaged because we have enormous diversity of economies and also diversity of natural resources. Pretty bluntly, we serve customers where the wind blows and the sun shines," Bob says. "So, our ability to lead a clean energy transition for our customers can be affected more cost-effectively and faster than probably most other areas of our country".
He explains that by helping his customers improve their emission levels, Xcel Energy is also an economic driver for Minnesota, Michigan, Wisconsin, North Dakota, South Dakota, Colorado, Texas and New Mexico, the states where they have operations.
The growth areas for the company come from their strategic priorities. Leading the clean energy transition and enhancing the customers' transition while keeping their bills affordable. "We are going to double the number of renewables on our system over the next eight years".
Renewable and clean energy, where the people are
Bringing quality renewables for the people is another big sales growth opportunity for Xcel Energy.
According to Bob, as renewables are becoming more cost effective, the company is doubling down on investment opportunities. "We are talking about 100 megawatts, probably a $15 to $20 billion of capital investment, this is a big area to focus. When you have the generation, you need the transmission and the networks to deliver the wind and the sun to where the people are".
Electrification of transportation companies is one key sector where Bob sees a greater business opportunity. "Another opportunity is helping lower the emission profile of the home and building heating sector. Putting cleaner fuel through the gas distribution pipes of the country".
He explains that in an era of increasing climate change and natural disasters, and with people more and ore dependent upon energy, the company needs to be resilient to overcome harsh weather conditions.
With that in mind, Bob sees operational excellence as "a hallmark of who we are as a company". Owning and operating infrastructure assets across the U.S. represents a commitment to keeping people and communities safe. To achieve this goal, a continuous improvement program is already making the difference.
"Inside the company we have a program called "One Xcel Energy Way" which is a continuous improvement program", he says. "We look at our operations, ways to improve processes, to advance automation, and the use technology to improve machine learning and artificial intelligence. This program has delivered hundreds of millions of dollars of savings over the last five years."
Also, as Bob emphasizes, "sometimes we have to put our money where our mouth is". This is why the company also has internal incentive programs.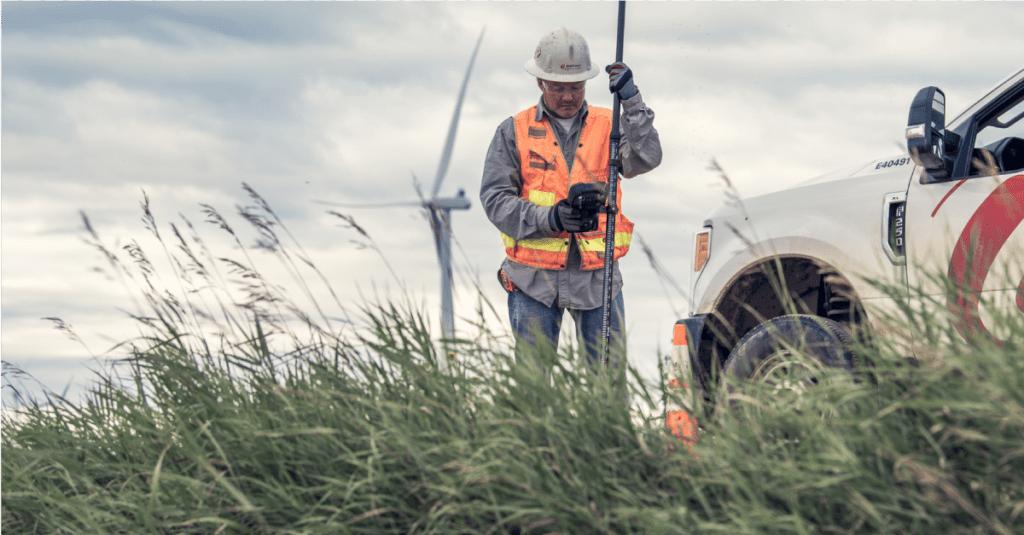 Clean energy: Procurement strategy
Bob highlights a strategic move the company made during the pandemic after hiring Sangram Bhosale as new supply chain head. "Sangram came from an oil and gas company and brought a terrific commercial lens to our business". Bob explains that the new addition to the team is leading the effort to take the company's relationships into the next level in terms of capability.
"We are a company of 150 years and we are going to be around at least for that long going forward. Managing these relationships is critical to us," he says. "This is why having an open and trustworthy relationship with vendors is critical. It's the only way to achieve the $5 billion of capital that we are making every year," he says.
Bob is absolutely convinced that Xcel can be the best partner any company can have.
"The message I give any CEO is: your utility can be a great strategic partner enabling your transition into a clean energy future with ESG issues at the forefront of every public company and almost all private companies," he says. "We are great partners for our companies and are always in a close dialogue assessing improvement areas."
Local and federal governments are among the extended list of key businesses. "We have terrific growth opportunities over the next decade and a very attractive ESG profile for our investors. We have delivered on our financial commitments for 17 years in a row," Bob notes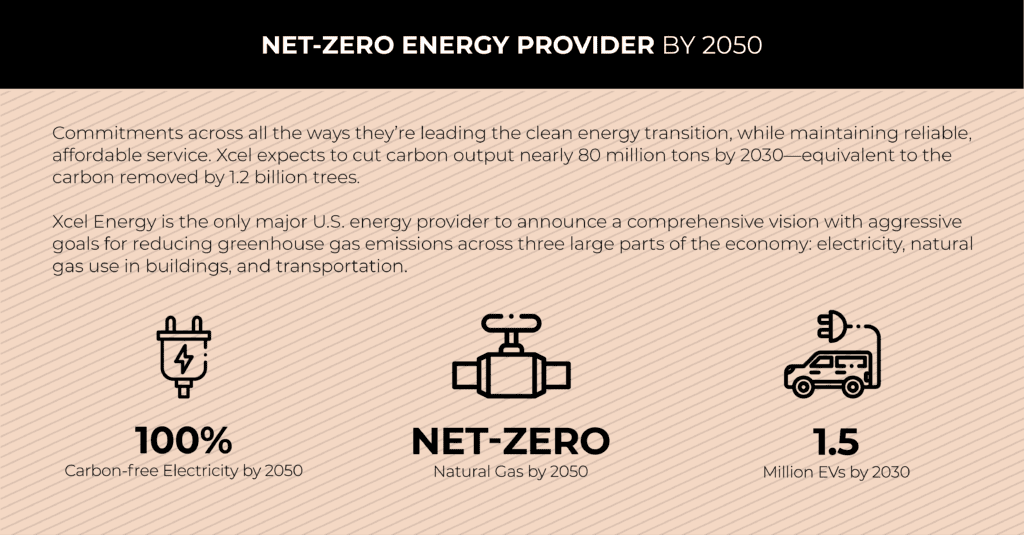 Solid first quarter results
Xcel Energy reported 2022 first quarter earnings of $380 million, or $0.70 per share, compared with $362 million, or $0.67 per share in the same period in 2021. Results reflect capital investment recovery and other regulatory outcomes, partially offset by higher depreciation, interest expense and operating and maintenance expenses.
"Xcel Energy achieved solid first quarter results, and we have reaffirmed our 2022 earnings guidance," said Bob Frenzel. "We reached constructive regulatory outcomes on several key matters, including approval of our Upper Midwest Resource Plan, the Colorado Power Pathway transmission project and an electric rate case in Colorado".
The CEO explained that the Upper Midwest Resource Plan adds approximately 5,800 megawatts of wind and solar energy to Xcel's system, extending the life of the carbon-free Monticello nuclear plant to 2040 and retires the coal fleet in the region by 2030.
"The Colorado Power Pathway project is a $1.7 billion investment that will enable approximately 5,500 MW of new renewables, including access to some of the richest wind resources in the region," says Bob.