Blue Diamond Almonds CEO Mark Jansen discusses how a laser focus on almonds has led to an innovative portfolio of products reaching consumers in every segment of the food industry.
"I continue to be impressed by the perseverance of co-op and its farmers," noted Mark Jansen, President & CEO of Blue Diamond Almonds, the mammoth cooperative of almond growers with approximately 3000 members, in 2019. "Global trade wars, government bureaucracy and especially weather make resilience a defining attribute of our team."
Since then even more resilience has been required. California produces approximately 80% of the world's almond supply, and has had to overcome the disruptions of the Covid-19 pandemic. They have had to compete for shipping space in a tight and chaotic container market. And 2021 saw a record breaking 3.1 billion-pound crop in the mid of the pandemic, 20% larger than any the cooperative had seen before.
Blue Diamond Almonds which unites approximately half of California's farmers came out with flying colors, its model of complete dedication to a single product, vertical integration, extensive partnerships and a broad base of small producers vindicated.
The coop saw its commodity shipping volume jump by 53% in 2021, delivering to 104 ports worldwide. In the 2021 fiscal year the company saw 52% sales growth in Asia and 47% in Latin America on the back of plant-based beverages. On the long-term annual eleven year grower payments have increased by 2000%.
In 2022 Blue Diamond is a consolidated global company, its commitment to innovation resulting in a broad portfolio of products reaching consumers in every segment of the food industry. Its snack almond business has a more than 50% market share in the US, its Almond Breeze brand is the leading almondmilk brand in the US, South Korea, Thailand, Brazil and South Africa.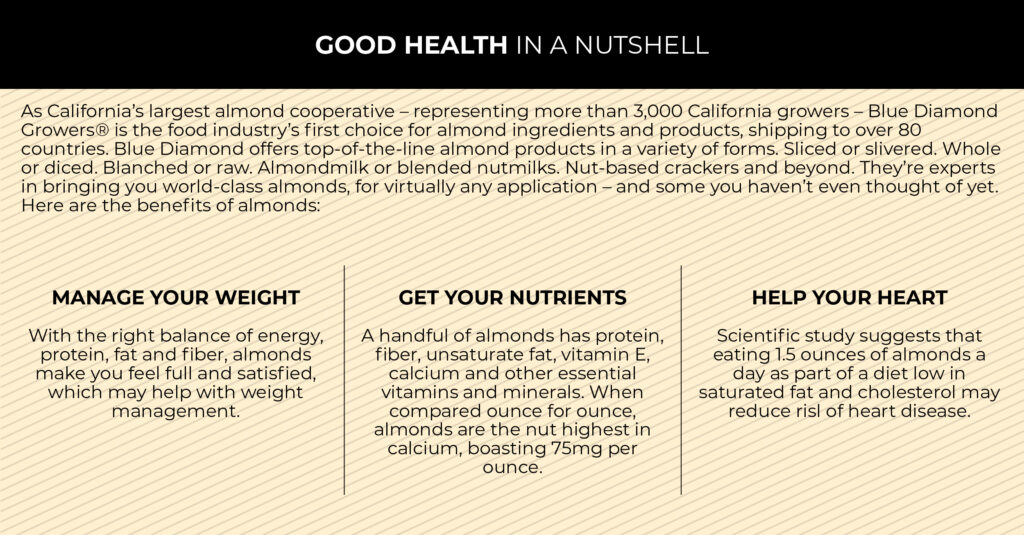 The Draw of a Healthy Product
Jansen has brought Blue Diamond Almonds a long way since he started as its CEO.
"Twelve years ago I was given a call by a recruiter from Blue Diamond Almond Growers to become its CEO," Jansen told North American CEO. "The idea of working on a healthy product was highly appealing to me. After working as a brand manager on Häagen-Dazs, then executive positions on pizza, pie, and ice cream businesses, the idea of working on the healthier side of the food business made sense from a personal value standpoint. Equally important was the strategic insight that there would be increasing opportunities in the health and wellness space of food."
Blue Diamond at the time was not very well known despite having great potential. Though known as a trade brand it had been undermarketed, underbranded and not really invested in. But it was already the largest almond company in the world and globalization was in full swing.
"Blue Diamond was selling to almost one hundred countries but had no brand to speak of outside the US market place," adds Jansen.
The combination of a healthy product, an underperforming brand and a global market proved irresistible for Jansen.
"This was a co-op which despite being owned by farmers understood that their future likely would be in consumer packaged goods," remembers Jansen.
Almond farms, often multi-generational family operations, blooming light pink in February, cover central California's San Joaquin and Sacramento Valleys.
"They were willing to take the risk of bringing an outsider in who could bring expertise, who knew how to run a global branded food company and would have the opportunity to do so at Blue Diamond," says Kellogg University alum Jansen.
Within three years Blue Diamond had doubled its revenues through global almond product innovation.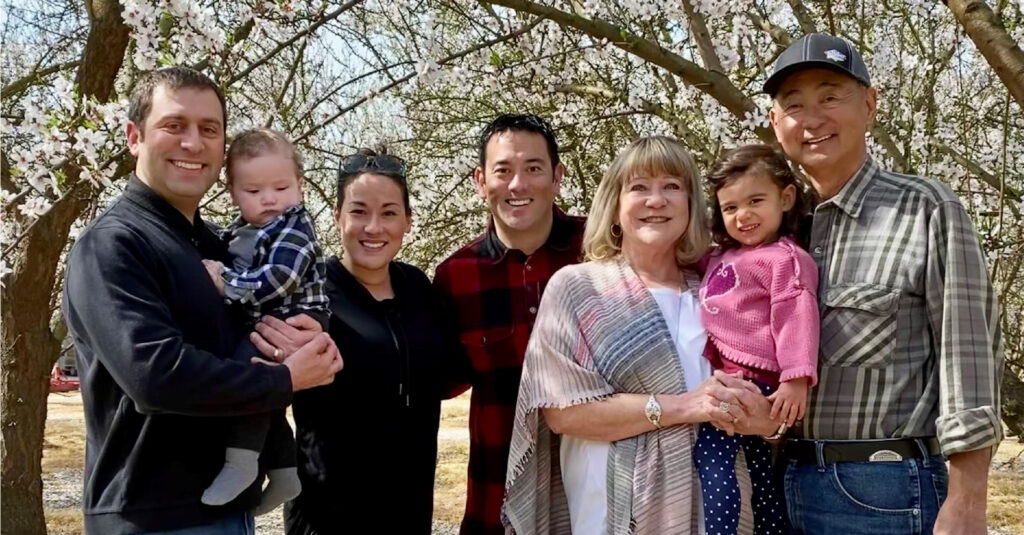 Twelve years of results
The gritty resilience of the farmers willing to take a long shot on consumer packaging back in the day has paid off. During the pandemic Blue Diamond was hit by supply chain disruptions, port congestion and cost inflation in almost every area of business. Yet the co-op barely broke its stride continuing a record of spectacular growth with a 53% jump in volume shipped globally.
"We have been one of the most consistent and fastest growing food companies for a number of years," says Jansen. "Revenues have tripled in size. Profitability for our growers has grown 2000%. From the standpoint of track record, we're there."
Since Jansen started the investment in marketing has increased 1000%. In 2013 the company opened a state-of-the-art almond innovation center dedicated to developing cutting-edge almond products.
"We have a portfolio of product innovations and technology that we are able to bring to scale," adds Jansen to North American CEO Magazine. "Our branded products are now available in over 65 countries – not only for snack almonds but also with our world leading Almond Breeze almond milk franchise."
In this time Blue Diamond has developed a network of ten licensee, co-manufacturer, partners around the globe making sure that the Blue Diamond almonds connect to local markets.
Almonds and nothing but almonds
History is hazy on the place of origin of almonds with various sources indicating some part of Asia or the Middle East. The Bible's Book of Numbers speaks of Aaron's rod blossoming and bearing almonds. Almonds arrived in California with Franciscan padres in the 18th century. And the Blue Diamond co-op was founded in 1910.
One of the secrets to Blue Diamond Almond's success could well be its laser-like focus on only one nut.
"We have avoided the temptation to branch off to other tree nuts or peanuts or other categories," notes Jansen. "As a core guardrail we constrain ourselves to being only about almonds. That intense focus from a viewpoint of deployment of human resources and technological resources has been an accelerant for us. We are truly the experts on all things almond."
One of the questions Jansen regularly faces is whether Blue Diamond will have enough almonds to keep up this spectacular rate of growth. This is where the cooperative nature of Blue Diamond becomes a strategic advantage.
"We have a long list of almond growers who would like to join our co-op," explains Jansen. "Our owners are small, in most cases multigenerational, family farmers whose average size is 90 acres. They give us their year's work in the form of their almond crop. Then we process, market, sell and collect on it. We pay them progress payments throughout the year by which we distribute their profitability back to them. It has become significantly more profitable to be a Blue Diamond almond grower than not to be a Blue Diamond almond grower."
Growing the future of almonds with partners
In reality it is growth of the value-added businesses such as the global consumer segment and selling almond ingredients to the world's major food companies, which determines the rhythm of Blue Diamond's growth.
"We partner with large food companies on product innovations involving almond ingredients," notes Jansen. "Whether it be high-protein flour, oil, diced almonds, or almond paste we innovate to create new markets for almonds. That's another big growth vehicle for us."
The cultivation of partnerships seems to be in the co-op's DNA. The co-op itself has almost 3000 grower-owners. Blue Diamond also has extensive relationships with licensees and manufacturers.
"We are not a beverage company, yet we have a billion dollar franchise with almond milk because we work with partners," adds Jansen. "We develop the technology and the process but our partners are the ones that develop retail execution. Blue Diamond handles the product innovation and brand."
Adapting to the New Normal
This complicated network of partnerships has made supply chain agility a key advantage for the co-op when availability unexpectedly became an issue for consumers and businesses amid the shortages of the pandemic.
"I think we are in a sweet spot as an organization where we are big enough to compete and supply the largest players in the world yet we have not allowed ourselves to become a big company in our approach to speed," says Jansen. "We have been very nimble in sourcing supplies so that we have never had to shut down or been unable to supply our customers."
During the pandemic the company was forced to become more sophisticated with regard to global freight and logistics. The company is moving to digitalize many of its supply chain processes to ensure its technologies are fully leveraged.
"Importantly at a moment where shipping capacity is so scarce, shipping companies tend to want to service those customers who make them more efficient, who can forecast their needs more effectively and have their loads ready and on time," explains the CEO and president of the co-op.
Choosing for growth
The growth of Blue Diamond Almonds has not been a coincidence, rather it has been the consequence of a mindset.
"We are a growth company by choice," says Jansen. "We realize the need to keep on investing in new markets, brand creation and innovation. We feel fortunate that we have a unique raw material in the almond itself that allows us to be great."
But the beauty of the Blue Diamond brand lies not only in its shining numbers. Rather it is the rectangular fields with rows of beautiful trees dotting California's central valleys and the deep connection of the family owned farms to the land giving the Blue Diamond Almond name a sheen of authenticity hard to beat even in today's slick marketing environment.
"We are truly owned by 3000 small farm families who we serve and it gives us a sense of a purpose which unites us. We are working for these people who trust us with their year's work in the form of the almond crop," remarks Jansen. "That creates a unique culture."