By Fritz Spiegel – CEO North America
The electric vehicle and sensor market is taking off at breakneck speed. According to the International Energy Agency the global stock of EVs will go from11 million in 2020 to 145 million in 2030. The first self-driving car taxi service was offered to the public in Phoenix, Arizona in 2020 by Waymo. In the space of years tech development has taken off, and it was either keep up or stand down for integrated circuit manufacturer Allegro MicroSystems when the company started looking for a new CEO in 2016.
Finally the board selected an internal candidate, their COO and the former Senior VP of the Business Development, an engineer, Ravi Vig, with 32 years experience at the company.
"As CEO, one of my initial discussions with the board was that there was a real need for us to evolve from a manufacturing centric company to an innovation centric company," Vig told North American CEO. "We needed to embrace being a company with a focus on products, technologies and customers rather than on manufacturing assets and production expertise. And that was a tough discussion."
Allegro MicroSystems' future hinged on being able to evolve its manufacturing DNA into a primordial drive for innovation. And it seems to have worked.
Now in 2022 there are more than a dozen Allegro MicroSystems devices in the typical vehicle and the company has more than 1200 active patents globally. In its fiscal 3Q22, sales increased 13% year-over-year to $186.6 million. And the company's design win revenue metric was up 25%, with wins up 100% in its emerging growth markets.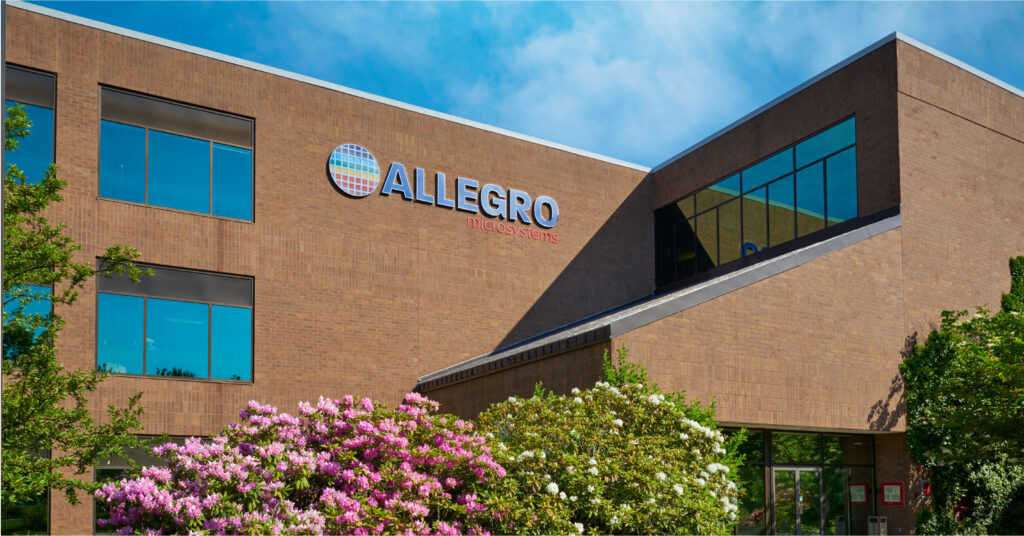 Allegro MicroSystems 3Q 22 quarterly report was triumphant.
"In Fiscal Q3, we delivered revenue and gross margin above the high end of our guidance.," said Vig, President and CEO of Allegro MicroSystems, in his commentary on the quarter's results. "With good visibility and strong demand across our end markets, we expect annual growth of about 29% for fiscal 2022. We also have confidence in our long-term growth prospects. We continue to benefit from multiple tailwinds including automotive content expansion, design win momentum, and alignment to high growth end markets."
Five years later that tough discussion paid off.
"The shift from manufacturing was a response to an existential threat for us," remembers Vig. "If we didn't change, we wouldn't survive."
But more than survive, the company has excelled in a rapidly transforming market.
By 2020 in a popular mid-sized 2020 SUV the Allegro MicroSystems' content increased by nearly 50% when the model transitioned from internal combustion engine to electrified vehicle. With a long list of examples like this, the company's innovations and capabilities are at the center of today's key technology transitions.
Allegro MicroSystems had kept pace with one of the most dynamic business sectors of our time. But none of this was a sure thing in 2016.
"The roadmap we laid out then was that in four to five years we could totally transform the company's growth story and operational performance," recalled Vig. "The first major focus in our transformation was to restructure our manufacturing footprint away from a fabrication heavy, asset heavy organization to a fabrication light, optimized asset light organization. In doing that, we brought on great partners such as United Microelectrics (UMC) and Taiwan Semiconductor Manufacturing Company (TSMC)."
In 2018 Allegro MicroSystems, the market share leader in magnetic sensor integrated circuits, signed an agreement for UMC to continue working as primary foundry wafer manufacturer, as part of this asset light strategy.
"Our relationships with our partners are not just transactional, but they are real partnerships," notes Vig. "They are our partners not just for a cost for capacity perspective but also in terms of innovation."
Meanwhile the company shrank its footprint by divesting its wafer manufacturer facility Polar Semiconductor and closing a manufacturing facility in Thailand.
"What this allowed us to do as a management team is focus more on innovation rather than putting all our efforts on manufacturing optimization," explained Vig. "Our external partners brought to us great capabilities that allowed us to develop our technologies much faster than we would have done on our own."
When Vig was hired the EV market was on the cusp of exploding after several years of exponential yet small growth in absolute terms. The first EVs were introduced in 2010. In 2016 there were 2 million EVs on the road globally compared to more than 10 million in 2020. The US market was even smaller with only 600,000 EVs on the nations highways in 2016, growing to 1.7 million in 2020.
"We looked at our markets in 2016 and saw we had great opportunities here," remembers Vig. "There was electrification going on, and there was discussion of autonomous vehicles at that point. We saw superb opportunities for magnetic sensing and motion control. So, as a second pillar of our transformation, we focused our R&D on three fast growing markets, electrified vehicles, advanced driver assistance systems and power and current measurement products for industrial and data center."
That was easier said than done. Allegro MicroSystems had to address its R&D strategy, a third pillar in its strategic transformation. The company almost doubled its design team over the next four years to support the development of transformational products. and invested in design centers globally to take advantage of these new markets.
The final strategic pillar of Allegro MicroSystem's roadmap to getting on the cutting edge of a dizzyingly dynamic sector was restructuring sales.
"Our sales organization was really focused on giving great service to select key customers," says Vig. "We broke our sales strategy into three parts; focus on key global customers, focus on key regional customers and then really investing in connecting with over 10,000 customers in distribution to expand our share. This new approach offers us great market enhancement."
In October 2020 Allegro MicroSystems went public on NASDAQ under the ALGM ticker at $14 dollars a share. Since then, the company has improved its gross margins by more than 500 basis points. Gross profits were up 13% year-over-year at the end of the 2021 fiscal year.
Since its IPO, the company has also outperformed both the Philadelphia Semiconductor Index and the Nasdaq Composite Index, going as high as $35 dollars per share in January 2022.
And Vig is just starting. Building out from foundational innovations and relationships in automotive, such as with its current sensors in Toyota's Prius inverters, has allowed the company to position itself for even more growth in electrified car market of the future.
"Success in our target markets with leading auto makers and industrial suppliers is not aspirational – we are shipping to these customers in our target applications today.
We now have one of the broadest portfolios of magnetic sensors that provide information on power measurement for electric vehicles," adds Vig. "This is a rapidly expanding area. Every motor, every power supply uses multiple power measurement systems, and this is accelerating with electrification. But in addition, we have deep history in advanced safety systems in automotive. Our reputation for quality really helped us participate and innovate in advanced driver assistance systems like steering and braking."
In August 2020 Allegro Microsystems acquired Voxtel, a light detection and ranging (LiDAR) company for $35 million. With more than 20 years of experience, Voxtel had made a business of developing cutting-edge solutions for military, space, automotive and surveillance applications. With its 38 patents and eye-safe 1550nm technology for long range LiDAR, Voxtel was a futuristic complement to Allegro's suite of power and sensing semiconductor solutions for advanced driver assistance systems.
This acquisition strengthens Allegro Microsystems's position in the fledgling advanced driver assistance system market which is expected to boom as this technology moves from being exclusive to luxury vehicles to the mainstream vehicle market.
But aside from automotive, the explosive growth of data centers due to cloud computing underlines that the energy management possibilities offered by Allegro's semiconductors are pivotal for the 21st century economy.
The company hopes to surf the wave of new green energy technologies, which will require power and sensor semiconductor solutions that can function in high-temperature, high-voltage and high-reliability conditions.
"We are really proud of the impact that our products make on society through energy efficiency and improved motion control," notes Vig. "Our solutions are key enablers of safety and low emissions. I think we are in a great place for our shareholders, as well as our employees."
One of the fundamental cultural changes that the company underwent to position itself for this expansive future is to stop seeing itself as a US-centric company but rather as a global company.
"We had to recognize that the center of the universe is not the East Coast of the US," jokes Vig. "We had to recognize we had great partners, employees and contributors in South America, in Europe, and in Asia. We have sales and applications team members located all over the whole world to be close to our customers, so the question becomes how can we further foster global collaboration in a way that brings great solutions for customers? That is the journey that we are on."
Read more exclusive interviews with CEOs and Executives from Nu Skin, Wolfspeed and more…