CEO Diane Leopold aspires to lead Dominion Energy, Inc. and the broader industry into a more sustainable and collaborative future.
When Diane Leopold was appointed president and CEO of Dominion Energy's Gas Infrastructure Group in 2012, she already boasted twenty-five years of experience within the company's gas and electricity segments. Yet with two major acquisitions completed in the past three years and significant changes sweeping the power and energy industry, Leopold faced both fresh challenges and new opportunities—not least the responsibility of leading the push towards a more sustainable natural gas industry.
Dominion Energy, Inc., the parent company for Dominion's vast network of electric and natural gas businesses, was founded in 1983 and is headquartered in Richmond, Virginia. The company supplies electricity to 3.4 million utility customers in Virginia, North Carolina, and South Carolina, and serves 3.3 million natural gas utility customers in seven states from the Rocky Mountains to the Appalachian Basin and Southeast. In 2018, Dominion boasted revenues of $2.7 billion across both segments.
When I came back to the natural gas side of the business, it was during the infancy of a very important market change which involved significantly reconfiguring our assets," Leopold told CEO Magazine. "Seven years later, I'm very excited about our position with respect to meeting and shaping the market needs of the future."
A clear path to growth
Leopold sees Dominion's Gas Infrastructure Group embarking on three different kinds of growth in the coming years, namely its distribution and transmission businesses, and new business growth.
On the distribution side, Dominion has traditionally operated in the Ohio-West Virginia area, yet its recent expansion into the Salt Lake City basin and the Carolinas have also presented the company with a wide range of customers in Utah, Idaho, Wyoming, and North and South Carolina. "In the Utah area and the Carolinas, we're currently experiencing enormous customer growth as a result of both population and business growth," Leopold explained. "In the Ohio-West Virginia area, we're seeing growth from pipeline replacement and pipeline infrastructure projects, as well as a lot of industrial growth. A lot of manufacturing demand is coming back into that region."
Dominion Energy completed two highly significant mergers in the past three years—Questar Gas, which enabled it to acquire its natural gas assets in the Salt Lake City basin, and SCANA Corporation, which opened the door to markets in the Carolinas and Georgia. "On the natural gas side, we now have 3.3 million customers and are the sixth largest gas distribution company in the country," Leopold highlighted. "As a result, we have unique insights into what the customer needs and where the market may be going in different parts of the country with respect to demand.
"We also understand the electric grid very well and because of the customer demand to electrify and add more renewables, we're looking at how we can be part of the solution, and I think we're uniquely qualified because of our position as a large combo company."
On the transmission side of their business, Dominion operates more than 100,000 miles of natural gas pipelines and one of the largest natural gas storage systems in the country. Leopold described the natural gas network as a "hub and spoke system," with over a trillion cubic feet of natural gas storage connected to large regional transmission and distribution pipeline systems in premier markets. The company also operates the only liquefied natural gas (LNG) export facility on the East Coast.
"About a year ago, we finished our Cove Point liquefaction project on the Chesapeake Bay, and now we have another mega project, the Atlantic Coast pipeline, which is bringing natural gas to the local distribution companies and electric utilities in Virginia and NC, where the supply is highly constrained," she explained.
"There's also an area we call resiliency, which means investing in the gas grid to help meet the needs of the electric grid in the future. So, it could be projects to enhance physical and cybersecurity, or increase storage deliverability and offer more flexible services so that the electric grid can add more renewables into the system."
A sustainable future
Dominion is currently taking key steps to invest in renewable natural gas and modular liquefied natural gas to transition away from higher carbon fuels and move towards the company's vision of sustainability.
Yet Leopold stressed that Dominion's aim is not only based on the need to fulfill growing customer demand for sustainable energy, but also intended to set a standard for the wider industry.
In February, the company announced plans to reduce its methane emissions by 50% by 2030 based on 2010 levels, a move unprecedented in the sector. The initiative will prevent more than 600,000 metric tons of methane from entering the atmosphere, the equivalent of taking 3.3 million cars off the road for a year or planting 250 million new trees. This voluntary initiative builds on the significant progress Dominion has made in reducing methane emissions over the last decade, which prevented more than 180,000 metric tons of methane from entering the atmosphere, equivalent to taking almost 1 million cars off the road or planting 75 million new trees.
"We have a very high focus right now on energy efficiency and having our customers use less of our product," Leopold elaborated. "As an example, we've been promoting and installing smart thermostats in low income homes in Utah. We're also partnering with homebuilders to help them design net-zero homes. There are a whole host of projects to help our customers lower their own carbon footprint, just as we do the same."
In addition, in November 2018, Dominion announced a joint venture with Smithfield Foods called Align Renewable Natural Gas (RNG) that will capture waste methane from hog farms and convert it into clean renewable energy for residential home heating and power for local businesses. The historic initiative—the largest in US history—promises to transform the future of sustainable energy and agriculture and will begin with four projects in North Carolina, Virginia, and Utah.
Core values
Embracing the change sweeping through the energy sector by setting goals for sustainability is one of five core values that Dominion is currently looking to implement through an initiative the company calls Owning our Future.
These five values are safety, ethics, excellence, the aforementioned desire to embrace change, and teamwork.
"These principles stand whether we're trying to reduce methane emissions or improving operating efficiencies and working smarter by eliminating processes," Leopold said. "Maybe it comes in the form of trying to improve the use of electronic bills to reduce printing. Maybe it's automating the stations that are currently having to be manned twenty-four hours. We're trying to accelerate the pace of innovation to focus on efficiencies throughout the operation."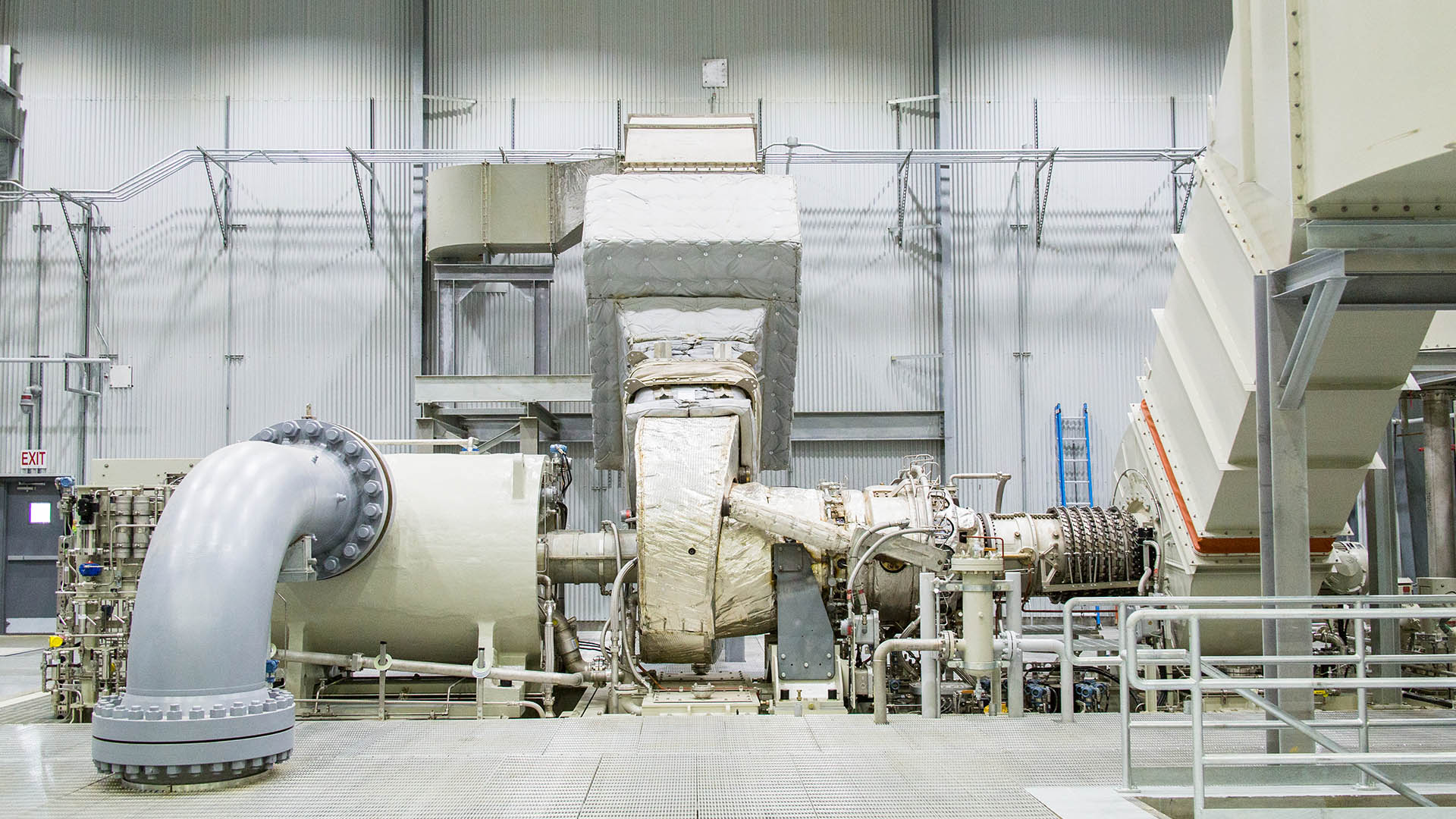 The principle of collaboration
For Leopold, the principle of collaboration has been a key part of Dominion's recent strides forward. Across its natural gas and electric segments, the company as a whole buys $6 billion in goods and services every year.
Leopold states that as Dominion has grown its number of customers and the number of states in which it operates, they have increasingly sought to take a more holistic approach to procurement, while the company's sustainability initiative has also seen it diversify its supplier base. "We manage our supply chain very collaboratively across the company, and even being CEO of the natural gas group, I really look at this as a One Dominion Energy effort," she insisted. "We recently started an initiative that's called Buy Smart. There are some items that we might buy for natural gas only, but there are many others that our electric business buys too. We're also looking at our sustainability initiative as it relates to improving our supplier diversity. In 2018, we worked with more than 750 diverse companies.
"We just finished our $4 billion Cove Point facility, which from a capital perspective is the largest private facility project ever built in Maryland," Leopold outlined, by way of example. "You certainly can't do that without an enormous amount of outreach to strategic suppliers. Now that the facility is up and running, we're really in the process of making sure we have the right suppliers that can help maintain the reliability and efficiency of the facility. In almost every case, these suppliers are ones that we will leverage across different parts of the natural gas business because we want to work with them again."
"I would go back to where I believe we have an advantage in being uniquely situated in terms of our assets in given regions. We're a company that's both local and super regional. We try to understand our customers at the local level, but in all of those regions we also have a very large presence in terms of our gas and pipeline transmission storage assets, which enables us to be able to serve them in a unique way."