Nielsen's latest Total Audience Report shows that radio still maintains its high mass reach.
Digital media has made us forget the true power traditional media still has.
According to the most recent Total Audience Report by Nielsen, radio really beats TV in terms of its weekly reach.
The findings proved that 227 million Americans aged 18 and older listen to the radio at least once a week, equaling a reach of 92% of the adult population.
92% of adults listen to radio during the average week, more than any platform, while 19% of U.S. adults listen to podcasts each week.
These are other key findings from the Nielsen report, which states the evolution of video use, social media, devices and total time spent on devices.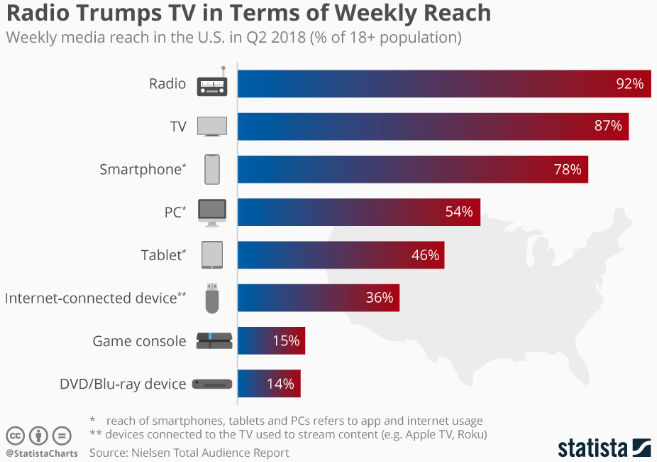 TV, still here
[ihc-hide-content ihc_mb_type="show" ihc_mb_who="3,4,5,6″ ihc_mb_template="3″ ]
TV came in a close second with a weekly reach of 87%, while 78% of U.S. adults now use apps or browse the web on a smartphone in a given week.
While radio does win in terms of sheer reach, TV remains unparalleled with respect to average daily usage. According to Nielsen's measurements, U.S. adults spend an average of 4 hours and 21 minutes a day watching TV, which is more than 2.5 times the amount of time they listen to the radio.
Video use
Overall video use—time spent with a TV set, video on a computer, and using video focused app/web on smartphones and tablets—among adults is 5 hours and 24 minutes per day.
This is down from 5:57 in Q1 2018 but closer in line to the 5:27 in Q3 2017.
30.6% of millennials have stated they see more than 2 hours of video per week, while another 11.7% has said to see more than 5 hours per week, all using their data connection while doing so.
Some operators already adopt a "mobile first" strategy to reach millennials who are twice as likely to watch videos on their mobile devices than on a television.
Social networks
Social networking usage is not nearly as prone to seasonality as video usage and has remained consistent since Q3 2017.
Adults spent 44 minutes per day engaging with social media in Q2 2018, whether that be reading, commenting, or viewing video across various platforms.
Time on media
Digital usage is also remarkably consistent for an even longer period of time throughout the day.
U.S. adults are spending 10 hours and 24 minutes per day interacting with media, whether that be watching, listening to, or reading content across all of their devices, comprising 43% of the total minutes available in a day.
Simultaneous use of devices
With the vast amount of device usage that occurs throughout the day, simultaneous TV viewing and digital device usage is naturally symbiotic and expected.
According to a custom survey of Nielsen's Media Enthusiast Community, 45% of respondents watch TV while using digital devices very often or always.
Audio and TV are less correlated, as only 6% often watch and listen to different content at the same time.
[/ihc-hide-content]