A KPMG index reveals the countries with best legislation and consumer acceptance for self-driving vehicles.
A few years ago, the concept of a driverless car seemed something out of a science-fiction movie. Today, however, it's a reality.
As the technology has turned more widespread, a larger amount of countries are becoming prepared to harness it.
Just inside the United States, about 50 companies are testing autonomous vehicles (AV) in California, plus, according to a report by Autonomous Vehicle Pilots Across America, more than 50% of US cities are currently preparing their streets for self-driving vehicles, up from less than 10% three years ago.
In China, government policies and consumer attitudes have quickly shifted toward autonomous and vehicles, violently pumping sales and mobility initiatives. According to Michael Dunne, president of China automotive consultancy ZoZo Go, "China will be the first to commercialize at scale simply because the regulators will pave the way with pro-autonomous policies."
Surprise at the lead
[ihc-hide-content ihc_mb_type="show" ihc_mb_who="3,4,5,6″ ihc_mb_template="3″ ]
However, despite that Europe isn't attracting as much attention as the U.S. or China, a KPMG study found that the Netherlands is actually the country with the highest level of readiness for autonomous driving as it came first with a score of 27.73.
KPMG also noted that the Netherlands provides an AV readiness model with excellent infrastructure, a highly supportive government, and enthusiastic adoptions of electric vehicles.
Singapore comes second with 26.08 after it made progress by introducing an amendment to its Road Traffic Act in 2018 which allowed self-driving cars to be tested on its streets.
The U.S. ranked third given its ambitious testing program and the fact that it has 163 companies developing self-driving technology, the highest number of any country.
India, Mexico, Russia, and Brazil are the bottom four countries, indicating they may be slower to adopt AVs and reap the economic and societal benefits.
The study rated countries on 26 variables within 4 pillars: policy & legislation, technology & innovation, infrastructure and consumer acceptance.
Click here to consult the full KPMG index.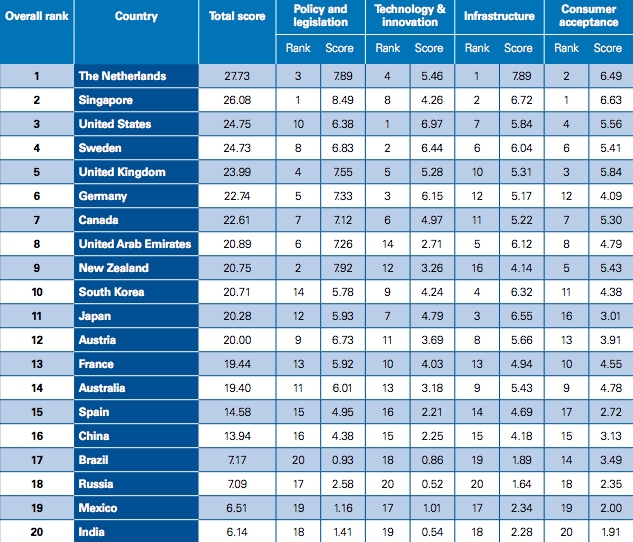 [/ihc-hide-content]