Mobile is quickly becoming a hot commerce channel for the food industry: Research from App Annie.
Some people have started noticing: shops are relatively empty, but sales are also better than ever.
Hungry customers are taking advantage of the different tech innovations to still eat restaurant food– just not at physical restaurants, driving ordered meals on mobile 130% more in 2018 than in 2016, and global downloads of the top five delivery apps grew 115% during the same period, according to research from App Annie.
Plus, the NPD Group, one of the largest market research companies in the world, predicted that restaurant digital orders will triple in volume by the end of 2020, with mobile leading the way.
A peak for apps
This consumer behaviour shift has also meant a win for others, in this case, apps.
The number of food delivery app downloads is up 380% compared with three years ago, according to market-data firm App Annie.
An eMarketer retail forecast predicts that for 2019, 82.6% of the US population will be mobile phone users, and 229.5 million people will use smartphone apps.
This uptick is driven in part by the eager quick service restaurants (QSRs) who are more than ready to get in on the action.
[ihc-hide-content ihc_mb_type="show" ihc_mb_who="3,4,5,6″ ihc_mb_template="3″ ]
Who is doing it and how?
According to eMarketer, McDonald's launched "McDelivery" in partnership with UberEats in 2017 and celebrated hitting 5,000 US locations in 2018 with "Global McDelivery Day."
Not to be outdone, Burger King recently announced that delivery is available in 3,000 of its 7,000 US restaurants. The chain saw its app hit the No. 1 spot for daily downloads of food and drink apps in the US last December after a promotion for 1-cent Whoppers.
Panera, Starbucks, Moe's and Chipotle have followed suit. Panera CEO Blaine Hurst told Business Insider that those who don't hop on board could be left behind. "If I decide I want to try delivery, and they don't have delivery as an option, I'm going to try another restaurant," Hurst said.
A key for the future… but beware
Research firm Cowen and Co. predicts that U.S. restaurant delivery sales will rise an average of 12% a year to $76 billion in the next four years.
However, despite growth promises, the mobile opportunity isn't risk-free.
Companies are not safe from cold, soggy fries and other delivery woes. This implies that partnerships and innovation over innovation is the only way to get things done.
From fees to tracking, to logistics and job postings, there are many setbacks you must be willing to deal with if you decide to enter the digital delivery way. Just last year many companies struggled that there weren't enough drivers to keep up with the harsh delivery lifestyle Americans are adopting.
A lot needs to be done, but the future is here, no doubt. From automation and now digital orders, food is not safe from innovation and change.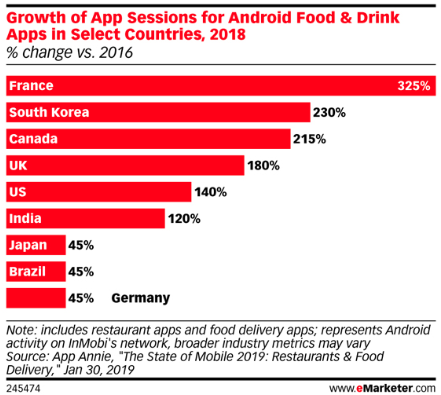 [/ihc-hide-content]©eMarketer