PwC released its annual "Women in Work Index", listing the best nations for female workers.
Companies and countries report that they are highly committed to gender diversity, but that commitment has not yet translated into meaningful progress for all.
PwC's Women in Work Index 2019 named Iceland the best nation for female workers.
Nordic countries were the ones to show the best results, and have done so for a while, as Iceland and Sweden remain the top 2 performing OECD countries in the ranking, while New Zealand joins the top three ranks for the first time since this Index was first published. Norway fell to 5th place, having been overtaken by Slovenia
English-speaking economies, on the other hand, have a lot of work to do to improve their reality.
[ihc-hide-content ihc_mb_type="show" ihc_mb_who="3,4,5,6″ ihc_mb_template="3″ ]
Canada was the highest in PwC's ranking, achieving 11th place while the U.K. came 13th. The U.S., where McKinsey reports that men hold up 62% of manager positions, while women hold only 38%, only managed a score of 61.1, meaning it comes in 23rd.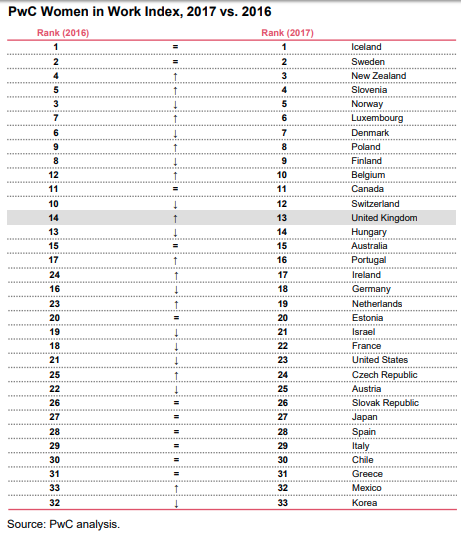 Everyone could benefit
It's true: if female employment rates grow, we all benefit, and especially the U.S.
An increase in women in employment could boost worldwide collective increase in gross domestic product (GDP) to $6 trillion.
Individually, the U.S. is expected to gain the most, as much as $1.8 trillion, nearly three times as much as the next biggest winner, Italy.
Closing the pay gap by increasing female average wages to match their male counterparts would also generate substantial benefits.
While gains to female labour earnings from closing the gender pay gap could be over US$2 trillion across the OECD, the U.S. achieve the most gains in absolute terms from closing the pay gap, with total female earnings increasing by $816 billion.
[/ihc-hide-content]