Strength in average daily rate now expected to drive 2022 RevPAR above 2019 levels
Despite an initial pull back in the recovery timeline caused by a surge in infections from a new omicron variant of the COVID-19 virus in December and January, continued improvement in top line metrics for US hotels is expected for the remainder of this year and next. While leisure travel continued to drive much of lodging's demand in Q1, individual business travel and group business has started to emerge as we head into the warmer months. Strong leisure business is expected to cause demand compression over the summer, driving room rates and resultant RevPAR levels to new highs. If tensions ease in Ukraine, and immunity levels continue to increase domestically, a stronger Q4 driven by a resurgence in business transient and group demand is expected. We expect annual occupancy for US hotels this year to improve slightly from our November 2021 outlook, increasing to 63.1%. As in our last outlook, the big story remains room rates. Average daily room rates surpassed comparable 2019 levels in every month of Q3 and Q4 last year, and in February, March and April this year (January missed by $0.28). RevPAR in March and April exceeded comparable 2019 levels, and this is expected to continue through the forecast period. We now expect average daily room rates to increase 16.9% for the year, with resultant RevPAR up 28.1% – – approximately 106% of pre-pandemic levels, on a nominal dollar basis.
RevPAR percent change, US and chain scales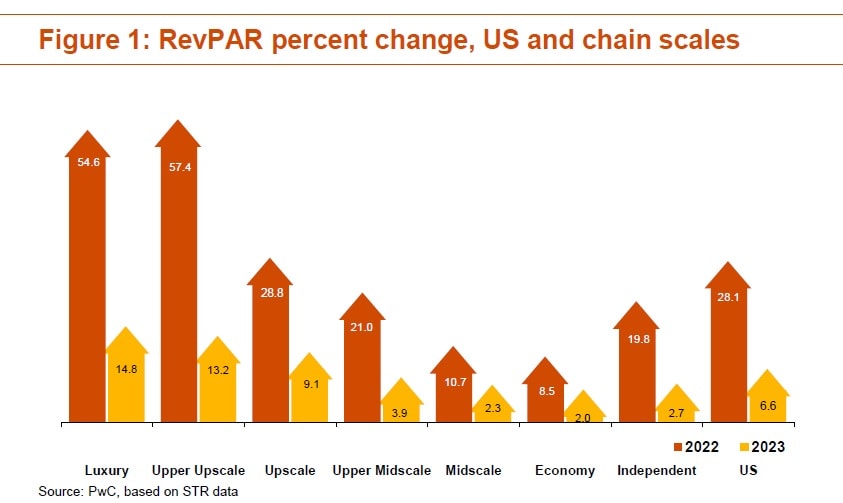 Trends and highlights
With slowing vaccinations rates (66% of the US population was fully vaccinated as of May 17, 2022, according to the Mayo Clinic) and new variants continuing to infect, coupled with volatility in the financial markets and geopolitical stress resulting from Russia's invasion of Ukraine, lodging's recovery could still be bumpy this year.
In 2023, we expect demand growth from individual business travelers and groups to more than offset a potential softening in leisure demand (as international leisure travel continues to recover and people who took vacations domestically over the past two years, venture abroad). Growth in both occupancy and ADR is expected, with a year-over-year rebound in RevPAR of 6.6% – – approximately 114% of pre-pandemic levels.
Challenges to this outlook include the ongoing conflict in Ukraine, potential impact of the Fed's increases in interest rates on the US economy, and any new variants of the virus.
About Hospitality Directions
PwC Hospitality Directions US is a near-term outlook for the U.S. lodging sector, commonly used by industry decision-makers and stakeholders to better understand the impact of policy and other macro-environmental factors on the sector's operating performance. Our outlook includes metrics for the overall sector as well as for the chain scales, and is used by our clients for strategic planning and capital, allocation purposes, demand and supply, occupancy, average daily rate and revenue per available room.
(Courtesy PwC. By Scott Berman, US Hospitality & Leisure Practice Leader, PwC US. Warren Marr US Hospitality & Leisure Managing Director, PwC US)