The market has once again been gripped by recession fears at the same time that geopolitical and policy risk are flaring up.
By Allison Nathan | Editor at Goldman Sachs
The market has once again been gripped by recession fears at the same time that geopolitical and policy risk are flaring up.
Some of these risks—like the US-China trade war—are feeding recessionary fears, while others—like the attack on Saudi oil facilities that led to the largest ever daily disruption in oil supplies—have gone almost unnoticed by the markets. And this despite the fact that oil shocks were one of the most common causes of recession historically. Whether this complacency is warranted, along with the vulnerability of the economy and markets to this and other geopolitical shocks, should be at the top of our minds.
Geopolitical shocks
We first asked Damien Courvalin, GS Head of Energy Research, why the spike in oil prices following the recent attack was so fleeting—with Brent crude oil prices soaring by nearly 20% in the attack's immediate wake before retracing all and more of this gain in recent weeks. His answer: in sharp contrast to past recessionary oil shocks, the nature of the recent attack, which damaged an above-ground facility rather than oil fields, suggested a relatively quick timeline for recovery, which Saudi guidance confirmed. This, combined with ample oil inventory to make up for any shortfall and increased supply flexibility from shale oil producers—who can substantially ramp up production within a matter of months—leave the market well-positioned to cope with even this magnitude of outage, especially in the context of weaker global growth and, in turn, oil demand.
But even if that weren't the case, Daan Struyven, GS Senior US Economist, argues that lower energy-intensity of GDP across the major economies—among other factors—suggests oil supply shocks are a less likely trigger of recession than in the past. In fact, he estimates that the drag on Developed Market growth from a 10% rise in oil prices owing to a supply shock has fallen sharply to less than 0.1pp today from about 0.5pp prior to the Great Recession.
That said, Courvalin cautions that a main take- away from recent events is that Saudi oil assets—still some of the largest single oil producing and process- ing assets in the world—are more vulnerable to disruption than ever expected. And the likely catalyst for the recent attack, which the US government alleges was perpetrated by Iran, remains intact: namely, Iran's insistence that if it can't export oil owing to stringent US sanctions imposed on the country following the US's unilateral withdrawal from the 2015 nuclear agreement, neither should its neighbors. So even if an oil-induced recession is less likely than in the past, the risk of further disruptions has increased.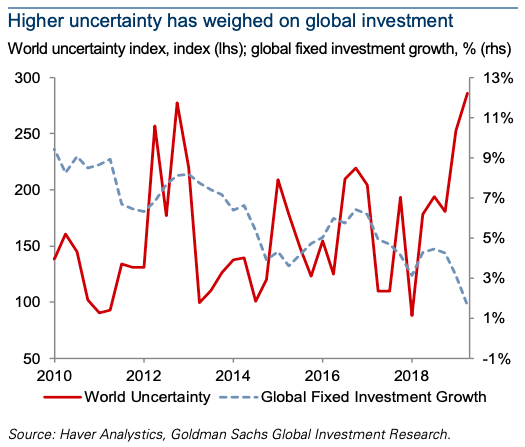 The importance of the middle east
Richard Nephew, Columbia professor and the US State Department's lead sanctions expert for the Iran nuclear negotiations, provides further insight on Iran's intentions and potential next moves. He argues that the Iranians are likely to take further action if they don't see sanctions relief. And he believes that the US's weak response to the recent provocations has potentially emboldened them to do so, sending a message to Iran as well as US regional allies that the US has little intention of defending its interests in the region. This message was no doubt reinforced by President Trump's recent decision to pull back US forces in Syria.
Richard Haas, President of the Council on Foreign Relations, provides a broader perspective on why the Middle East remains an important region within the geopolitical landscape despite reduced dependence on Middle Eastern oil. He emphasizes that global economic health is still tied to access to energy, and the Middle East is still the largest global supplier. But beyond energy, he identifies many ways in which Middle Eastern turmoil can spread, including terrorism, nuclear proliferation, and refugee flows. He says he worries about the current thrust of American policy to reduce the US's footprint in the region, which he argues began with the Obama Administration and will likely continue no matter who wins the US presidential election next year.
In short, he thinks the market is underestimating the potential for instability in the Middle East and warns that as the US continues to pull back and international institutions fail to keep up with new challenges, instability in the Middle East and in the world more broadly is likely to rise.
So, beyond the historical concerns of oil short- ages leading to recession that are much less relevant today, could this rise in geopolitical and policy uncertainty in itself have knock on effects for the economy and markets? Indeed, Ian Tomb and Kamakshya Trivedi from our FX and EM markets team find that even in the context of an oil shock, market perceptions of increased geopolitical risk around the shock matter for the reactions of risky assets, like currencies.
Rising uncertainty
More broadly, Jeff Currie, GS Head of Commodities Research, argues that rising uncertainty since early 2018 has already impacted the economy and markets as even low funding costs have failed to stimulate investment given reluctance to invest in long-term CapEx amid so much uncertainty. And the flipside of this has been a precautionary savings glut that has pressured real and nominal yields lower and risky assets higher. Given that this uncertainty is likely here to stay, he sees two potential outcomes ahead: CapEx weakness spreads to the services economy—so growth falls—or investors get paid more to invest amid elevated uncertainty—so commodity inflation rises.
Currie sees these outcomes largely playing out over the medium to-longer term. But Christian Mueller-Glissmann, GS Senior MultiAsset Strategist, notes that while the current weakness in growth leaves the market more vulnerable to geopolitical shocks, the market is already pricing somewhat of a growth shock. So an inflation shock is the bigger risk to watch