Canada just legalized pot for both recreational and medicinal purposes and the world is watching closely. Here's what you need to know.
Canada is legalizing cannabis sales, and the world is watching.
As of Wednesday, October 17th, Wednesday, Canada will become the highest-profile country to decriminalize cannabis possession and use, as well as to regulate, tax, and monitor its growth, distribution and sale.
This decision, which has been planned since Justin Trudeau was elected Prime Minister in 2015, is already rocking Canada's 13 provinces and territories as they set their own rules for cannabis regulation— including where weed will be sold and consumed, despite not all have been announced.
These are the insights of what you need to know as the Canadian high finally becomes a real thing:
In some Canadian provinces, weed will be legally sold only in government stores; in others, only in private stores; and there will be a mix in others.
As far as the legislation goes, no restaurant or bar is permitted to sell cannabis.
Ontario will have privately run stores starting on April 1. Until then, cannabis will be available legally only online, from a government-run site.
In British Columbia, buyers will also acquire from the government and mostly online, as just one store will be available in Kamloops.
Quebec will have 12 government-run dispensaries open on Wednesday 17th. The city's current law bans people from consuming cannabis wherever tobacco smoking is prohibited, as well as in some other locations.
Saskatchewan will have 51 all-privately run stores. Alberta will have 17, all private also, but the government will offer online sales for consumers.
Government employees will serve as cannabis counselors, and will advise on, among things, which marijuana strains induce relaxation or euphoria, as well as possible harmful effects.
Only fresh or dried flower, seeds, oil and plants will be available on legalization day. Legal marijuana will have lower levels of THC.
Pot-infused gummy goods and baked foods will not be possible, as the law will not permit cannabis-infused edibles until 2019.
The legal age for marijuana use will be of 19 years-old in most Canadian provinces. In Quebec, its newly elected government has vowed to raise the minimum age to 21.
It will be a federal crime to supply marijuana to minors — with a penalty of up to 14 years in prison.
Canadian weed users will be allowed to carry and share up to 30 grams of marijuana.
Good news for pot cultivators, up to four plants per household in most parts of the country are allowed to grow. However, Quebec and Manitoba have banned marijuana production at home.
In British Columbia, any plants that can be viewed from a public space solicit a fine of 5,000 Canadian dollars or three months in jail.
A fine of at least 1,000 Canadian dollars is possible if you get caught driving while high. Penalties can also include up to five years in prison for cases that do not result in injury or death, or life for cases causing death.
The medical marijuana system will continue, as over 330,000 Canadians are registered to receive medical marijuana, which has been legal in Canada since 2001.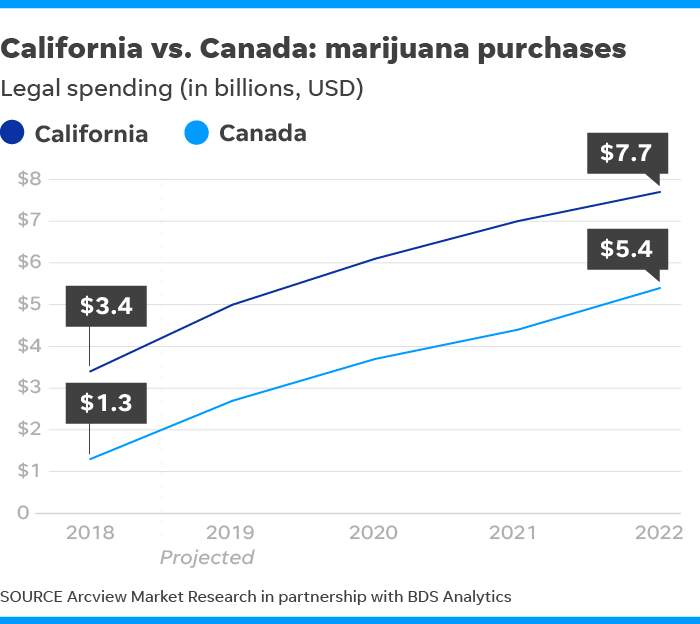 With information from The New York Times.