Santiago Manzur and Ivan Dario Orrego rely on their knowledge and strengths to guide Andes Global Trading to global success.
For Santiago Manzur and Ivan Dario Orrego, managing partners of Miami-based Andes Global Trading LLC, the rise from startup to burgeoning global player in the meat trading industry has been a rapid one, and they are keen to acknowledge the help and advice they received along the way.
In 2015, they hired an award-winning business coach called Aquiles Nuñez from the Gazelles International Coaches organization—a man dubbed the "coach of coaches" by Gazelles in 2018.
Their goal: expand beyond the Mexican market, where they exported 95% of their product at the time, to take on the world, and embrace the leading technology and logistics talent along the way.
"When I was working for a different trading company I noticed that not only that company but most of the key traders in the industry are very number-focused," Santiago Manzur told CEO Magazine of the inspiration behind Andes. "They were focused on the financial side, on making a better deal every day. I realized there was a huge opportunity if we looked at the business from the customer service side."
Founded in 2011, Andes Global Trading is an international meat trading company which is currently one of the fastest growing exporters to butcher shops, retailers, food distributors, and meat packers across Mexico, Latin America, and the Caribbean.
Andes Global Trading is a private held company in which both Manzur and Orrego believe establishing core company values early on has been the principal building block to success.
"Originally, we didn't know if it was going to work or not," Ivan Orrego admitted as to how far the startup could go. "We try to provide the customer with a lot of information in order to make decisions and not just try to get him the best price."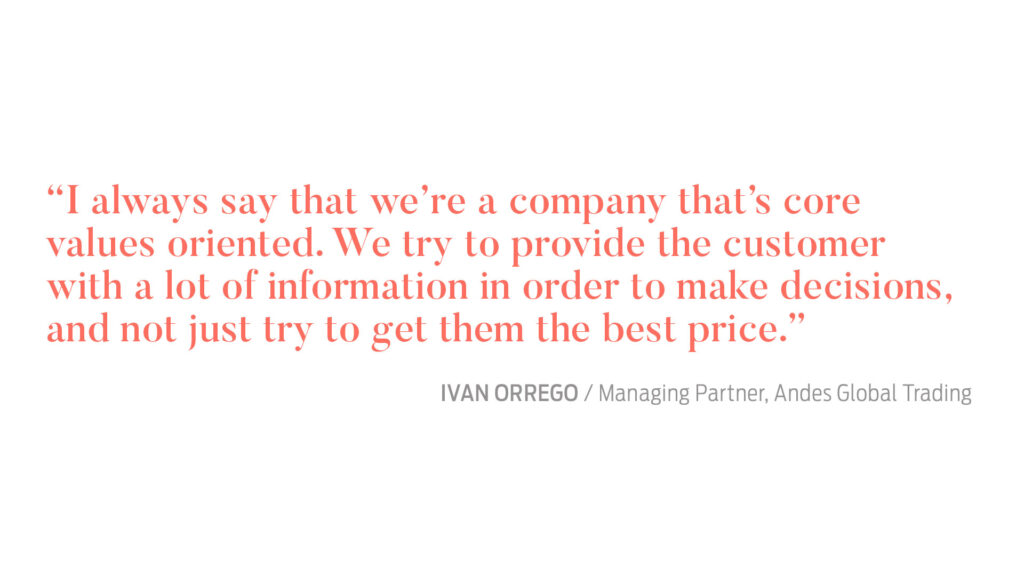 Core values
In stressing the importance of core values to the rapid growth of Andes Global, Ivan Orrego believes that an efficient and innovative use of information and communications are the keys to success in today's meat trading industry, especially when working across national borders and among different cultures.
"Our main market has traditionally been Mexico," he explained. "We're trying to change that a little bit, trying to diversify more, but Mexico being our main market, most of the meat importers were not well-informed about the industry, especially from the US and Canadian side. So what we're trying to do is inform our customers every single day with news, and we try to train our traders the best possible way so they can go to customers every morning with up-to-date information. Just last year, we launched our company newsletter which I would say is today one of the premier newsletters in the industry in Spanish."
As far as future plans for Andes, diversification is the key word. Three years ago, the company sold 95% of its product to Mexico, with 95% of that product being pork. Upon teaming up with business coach Aquiles Nuñez, however, Manzur says that he and Orrego began to look at the industry in a different way.
"Our goal for the next 3-5 years would be to continue to grow the Mexican market, but at the same time make it a smaller piece of the cake for the company. The same with pork. We want pork to continue to grow, but we want to focus a lot more on growing proteins like poultry and beef, and at the same time, continue to build our private label program with added value products."
Impeccable logistics
Succeeding in the global marketplace today means an efficient use of logistics, and as a company that is looking to expand globally, Orrego is extremely conscious of the need for an impeccable logistics department complete with the latest technology and top talent required to enable the smooth running of production, distribution, and sales.
"Being a fast-growing company with only seven years in the industry, there are a lot of things that need to be improved if we are to continue to offer our customers the best product at the right time, at the right price," he explained.
"For example, our website offers real time tracking information to our customer service team and this feature soon will be available to customers as well. We're still at the trial stage, but improving logistics with the latest technology and the best talent in the industry is our focus.
"A perfect example is our relationship with Consensus / SAP Business One, which contrary to being purely economic, is based on trust and experience, and has been part of our success story as a company."
"We at Consensus are honored to partner with Andes GT, a company with a great team, with a clear strategy and direction, as well as one which is very customer centric and which gives back to the community through several charity organizations," Andres Castrillon from Consensus International / SAP Business One told CEO Magazine.
Likewise, Manzur is keen to stress the way Andes is building a dependable and increasingly efficient supply chain with a number of its leading partners, which include big names in the meat and packaging industries such as Tyson Foods, Seaboard Foods, Smithfield Meat, and Indiana Packers.
"We stay in touch with our suppliers every single day to help them penetrate the market in a better way," he highlighted. "Especially Mexico. Our suppliers always think of us as the first customer for that market. So when they want to promote a particular item or introduce a new product, they always think of us first."
Above all, Orrego and Manzur are men who don't believe in resting on their laurels and recognize the desire for continual improvement as a crucial ingredient as Andes Global Trading embraces new and more ambitious challenges.
"Our company culture is extremely important to us," Orrego highlighted.
"We like our employees to wake up on Monday morning and be ready to kill it in their work. We don't just want people that are passionate about what they do, we want our people to be obsessed with what they do, and that's the way we want our customers to see us."
See the full success story here: