President and CEO Bob Philion is confident that the best is yet to come for PUMA North America.
A sensational comeback to the basketball market in the US, the signing of a number of high-profile celebrity endorsers, and a new flagship store on Fifth Avenue: Bob Philion, president and CEO for PUMA North America has a lot on the table in his office in Westford, Massachusetts.
Having been responsible for the sports brand's North American operations since 2017, Philion is busy with further growing the US business by enhancing the brand's visibility on and off the sports field and establishing a unique sports culture positioning.
The sports brand, which was founded in 1948 and is headquartered in Germany, is currently the world's third-largest sportswear manufacturer with global sales amounting to €4.6 billion in 2018.
After several years of lackluster sales performance and plunging profits, the company has undergone a successful turnaround and sales have been constantly increasing since 2014 – last year by an impressive 18%. The gross profit margin also improved by 110 basis points to 48.4% in 2018, while net earnings and earnings per share increased by 38%.
The turnaround was kicked off by the company's CEO Björn Gulden who took the helm in 2013 and introduced a new strategic direction that same year. At the core of the plan called "Forever Faster" was the return to a credible sports positioning, establishing PUMA as the "fastest sports brand in the world."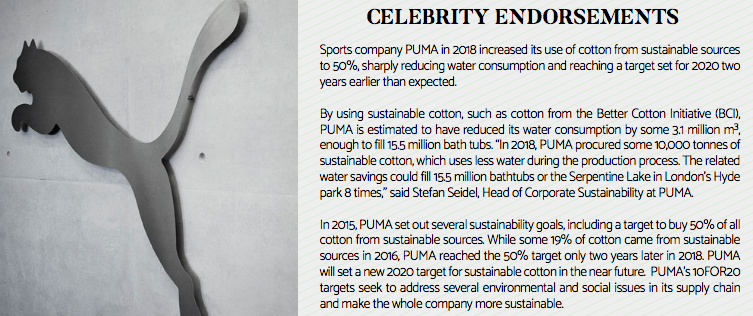 According to Philion, who had overseen PUMA's Golf business in California from 2005 to 2017, the company's change in fortunes has been based on four key strategic elements: Create Brand Heat, Fix The Product Engine, Improve Quality of Distribution, and Simplify Organization & Build Competitive Infrastructure.
An essential part of creating brand heat was the signing of high-profile teams and athletes in its core sports—soccer, running, motorsport, and golf—to increase PUMA's visibility. These famous names include soccer clubs Manchester City and AC Milan, world-class players Sergio Agüero and Romelu Lukaku, and sprint star Andre de Grasse, just to name a few.
In 2015, building a Comprehensive Offering For Women was added as a fifth priority for the company. "Over the last couple of years, we've really struck a chord on the women's side with endorsements by the likes of Rihanna and Selena Gomez and a very attractive sports-lifestyle combination," Philion told CEO Magazine.
Last year, the brand expanded its roster and signed super model Adriana Lima as a training ambassador for its Women's category.
Cultural storytelling
Philion expects PUMA to benefit from the current trend in the fashion industry toward athleisure, as well as retailers' efforts to diversify product offerings.
Yet he also believes that a new approach to product launches and the concept of "cultural storytelling" have been equally important. "For us, sports goes beyond the pitches, fields and tracks", he explained. "We also want to focus on the culture that surrounds sports, such as music, art, community, entertainment, and fashion."
In 2018, PUMA added another category to its core sports and returned to basketball, a sport it had abandoned in 2001. "In basketball especially, there is a strong connection between the sport, which continues to dominate footwear styles, and urban culture," Philion elaborated. "Our goal is to enhance and uplift performance basketball by mixing in the cultural elements." To make this happen, the brand partnered with none other than one of entertainment's biggest names: cultural icon Jay-Z.
"Our partnership with Jay-Z helps us connect with the American youth male consumer and really get into the fabric of American sports," he highlighted. To bring the brand onto the court, PUMA secured some of the top players of the 2018 NBA Draft such as Marvin Bagley III (Sacramento Kings), Deandre Ayton (Phoenix Suns), Zhaire Smith (Philadelphia 76ers), Michael Porter Jr. (Denver Nuggets), and Kevin Knox (New York Knicks).
"We were also proud to sign the WNBA's biggest star, Skylar Diggins-Smith (Dallas Wings), and we anticipate adding many more players from the WNBA in the coming seasons," Philion added.
Enhancing visibility of the brand is a critical piece of the company's growth plans. "Last year, we announced that we will open our first flagship store in the US on Fifth Avenue in New York, which is planned for back-to-school this year," Philion told CEO Magazine. "We feel like this is a major statement for PUMA."
And he is certain that the best of PUMA in North America is still to come.