A team of proven, dedicated professionals is the difference for Peak Utility Services Group. CEO Jason Pickett explains how the utility and telecommunication solutions provider wants to help others to power their path to success.
Becoming a top provider of maintenance and installation services for the telecom, electric and natural gas infrastructure industry in the U.S. is a challenge only a select few can take on. Yet having such diverse operations can represent both a commitment with final users of services that are crucial for the society, and also an interesting growth opportunity. At Peak Utility Services Group (Peak) they are aware of this and thus are working to become the best company helping others to power their path to success.
"We have a team of professionals with a proven track record of driving value for utility and telecommunication customers. Only by relying on this experienced group of men and women, we can provide both strategic direction and oversight to the group's commitment," Peak's CEO Jason Pickett told CEO North America in an exclusive interview. Owned by ORIX Capital Partners after acquiring the company in 2018, Peak has operations across 11 states and 50 locations through five operating companies with a combined work force of 1,600 employees.
The Broomfield, Colorado based Group was formed through a buy and build strategy of founder-owned utility contracting companies and currently operates through five divisions: Track Utilities, Kelly Cable, SiteWise, Riley Brothers and its most recent purchasing Superior Pipeline Services (SPS), an acquisition which, according to ORIX head Mohammed Khalil, has positioned Peak as a leading provider of mission-critical utility services.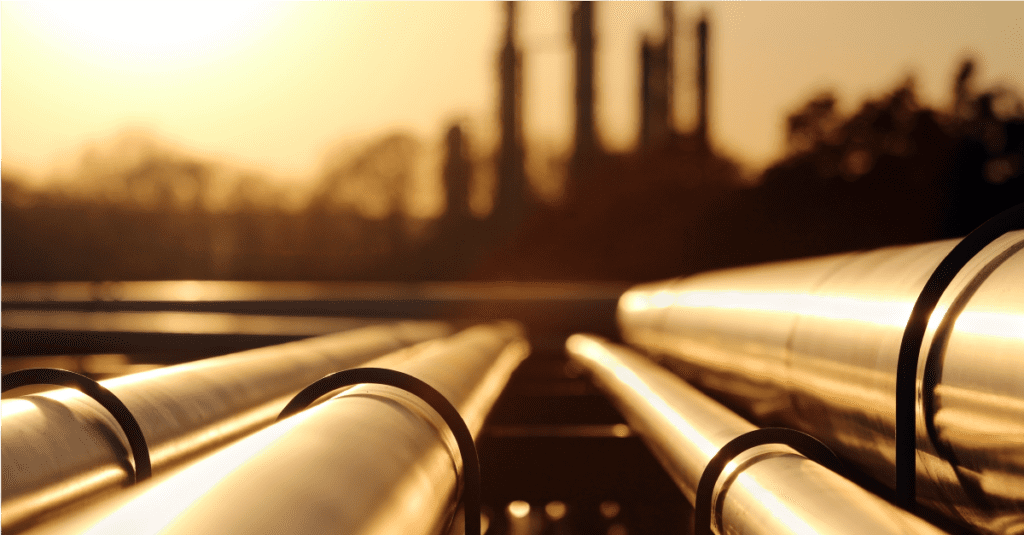 TELECOM, GAS AND ELECTRICITY
Through its subsidiaries, Peak connects customers to a broad range of telecommunications solutions. "Track Utilities and Kelly Cable are staffed with experienced telecom professionals who provide turnkey solutions for any copper and fiber needs," Pickett noted. The scope of work also includes cellular towers like FTTX, FTTH and FTTN projects.
"We always exceed any telecom needs while adhering to strict industry standards. We are proud to take an active role in connecting the globe, which is crucial for everyone" Pickett said. Regarding gas, the CEO explains that Peak´s goal is "to keep fueling the future", based on the broad range of natural gas services, constructing and managing pipeline systems that they have.
Subsidiary SiteWise specializes in pipe – line and steel IP steel distribution ser – vices, such as gas meter installation or exchange, anode installations, leak sur – vey, PE system reinforcement and joint trench service laterals. "We provide recur – ring repair, replacement, maintenance, upgrade and new construction services, to keep systems in compliance and running as planned," Pickett explained.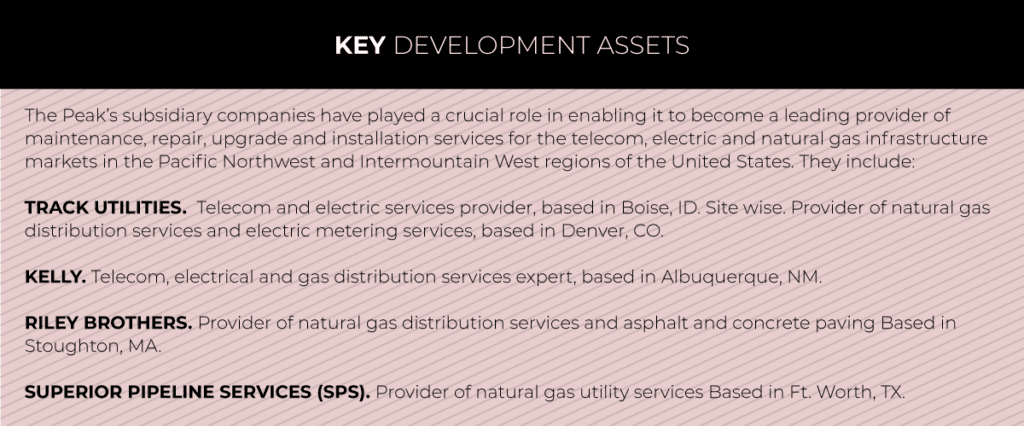 Peak's other player in the gas sector is Riley Brothers, which is one of the fastest growing contractors in the Boston area and skilled at installation of Gas and Steel Mains 2" – 16". Elsewhere, the company's electric utility operations are mainly focused in the Intermountain West and Pacific Northwest region.
Between renewable energy and distributed generation, our subsidiaries can lead the way toward a sustainable future. Our companies have the ability to tackle any electric utility project safely, on schedule, and on budget," said Pickett. According to the CEO, Peak's focus on safety and customer service is a guide for all the subsidiaries which are oriented on enhancing their ability to serve the communities where they have operations.
"Our focus is to ensure overall strategic execution, policy and procedural consistency along with corporate and industry compliance for all our subsidiaries," he elaborated.
EXPERIENCED IN GAS
Jason Pickett joined Peak in 2018 coming from SiteWise, where he served as President for two years. He started his career as a public affairs representative with energy infrastructure giant Kinder Morgan.
The Washburn University graduate in Business Management has a diverse background in utility construction services, and regulatory proceedings. By managing all these diverse competences, Pickett has been able to design and execute a complex growth strategy for Peak, where growth and consolidation are still the main drivers.
Click here to read the full August – September 2022 Publication